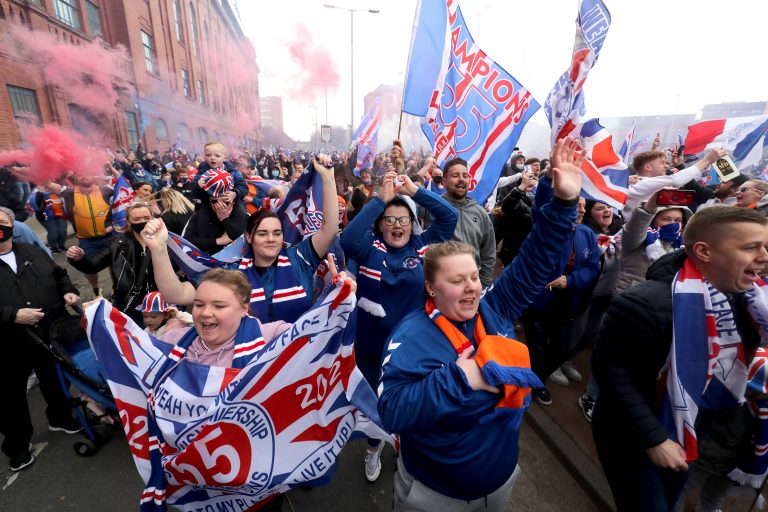 One day yours truly wrote a post on a modest-sized Rangers forum about how the club was struggling to compensate for the loss of Steven Naismith and how Ally was unable to balance that void.
This was well received by the forum, and they suggested fleshing it out so they could put it on their front page.
Which I did.
And realised I really liked doing this.
And on 11/11/11 Ibrox Noise was thus born – just as our Famous Glasgow Rangers were at the very, very VERY beginning of this Journey.
The lead in the SPL was dwindling, and things were starting to look bleak.
Ibrox Noise began life just as Rangers were declining, and the Journey the Club has been on ever since very much matches ours.
The nightmare of February 2012 as the bleak nightmare began, as the club struggled to survive, then the hell of Spring and Summer that year, as the Journey made its way to its lowest points.
We covered it all for you, and we grew – our audience got larger, and let's just say we made a LOT of enemies among the way. Enemies in our own support who didn't like our honesty. Enemies who we hope have now buried that hatchet. We hold no grudges.
And that's absolutely fine – we know what Winston Churchill once said about enemies, and we agree with it.
Years later, years of divisive in-fighting and replaced managers after replaced managers not to mention board fracas, court cases and fan protests later, we have made it.
The first Rangers SPL title in this website's life. I say website – but it's been more than that for many of you, thousands of you.
This is what we do, and we know so many of you feel a part of this family.
And you are all welcome – all we can now say is our Journey isn't over, far from it.
Just like Rangers, this is the moment we all waited for, our club to finally win the top flight again, for the first time since Ibrox Noise began.
And we continue on, with Stevie at the helm, and with you all by his and our side, and we just wonder what amazing adventures this manager and this team will take us on next.
Thank you all for being with us, whether you're new to Ibrox Noise or here since the early days.
You are all appreciated, and finally we have 55 to celebrate.
Worth the wait WATP