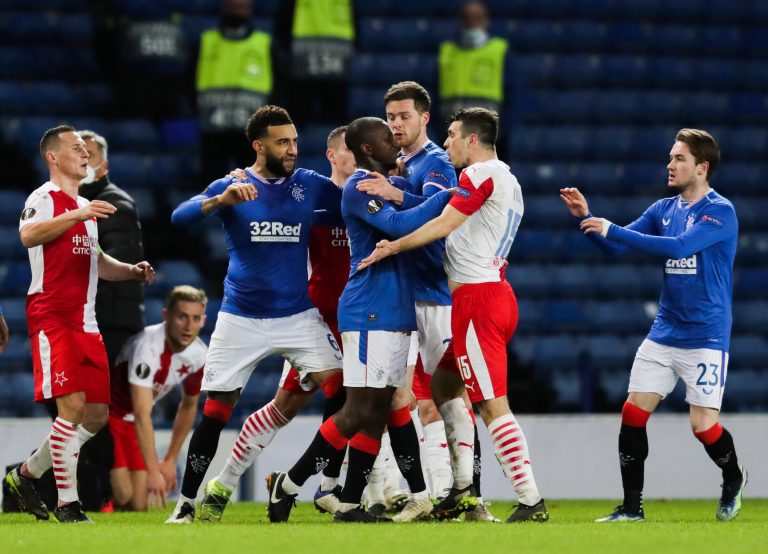 Simon Deli, Ibrahim Traore, Oscar Dorley, Peter Olayinka, Abdallah Sima – chances are you know one or two of those names, having been watching Rangers' 'adventures' against Czech side Slavia Praha over the past week.
Well, their club has just thrown them under the bus by denying Kudela's racism towards Glen Kamara, showing that they have no honour with this club.
And who's betting Praha's performances are going to suffer now, as a massive chunk of their team starts to underperform?
Every black player with this club has been told the clear racism against an opponent 'didn't happen' despite the absolute clarity that it did. They have borderline been told this act is acceptable and Kudela not only doesn't need to apologise for it, he doesn't even need to admit it.
Praha have now, unwittingly, defended a racist, and alienated half their first team in the process.
By refusing to condemn his behaviour, they've condoned it – in fact they've downright defended it, and made fatuous claims at Rangers about fictional acts of violence.
And now the black players, if not overtly, will certainly have that seed planted inside them, knowing now what Kudelka really thinks of them.
We know, it's a racist part of the world, and these players are used to crowds and their monkey chants. It happens there, and we know this.
But to have the players you live and die for smearing the colour of your skin, even if to an opponent, is just unacceptable and by backing him, Praha are the architects of their own downfall.
You reap what you sow.