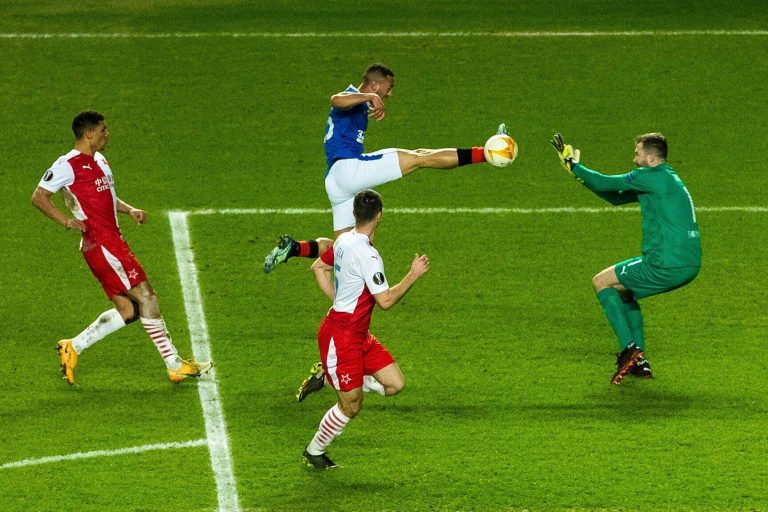 Ibrox Noise has been quite literally inundated by Czech and Polish football fans, especially those of Praha, and it's safe to say the greetings haven't been warm and friendly.
No, we're bewildered by the repeated 'defence' of what Kudela is alleged to have said being 'Roofe attacked our goalie'.
Every single time this topic comes up on Ibrox Noise, rather than any Praha fan admitting their man was potentially very out of line, they defend him and point immediately at Roofe's accident upon Praha's number one.
Roofe was rash, reckless, and completely deserved his red, but we find it staggering these fans refuse to acknowledge any accountability for racism, as if Roofe's dreadful tackle on the goalie justifies Kudela's rant at Kamara.
It's been a recurring theme for the past week – every time a Slavic (are they Slavic) fan comes on about this topic, they repeat their outrage at Roofe, rather than a single word of condemnation for Kudela.
Let us be clear – Roofe was reckless, dreadful, and completely deserved his red card. We've actually had some arguments that he 'grinned' at Kolar after the tackle, and yes, there is a bearing of teeth briefly, but it appears more of a grimace than anything.
But end of the day, he was dealt with properly, and he did apologise too – he said he felt bad and he didn't mean to hurt the man.
But no, apparently his accident with Kolar means Kudela's off the hook.
Well, it is with Czech racists anyway.