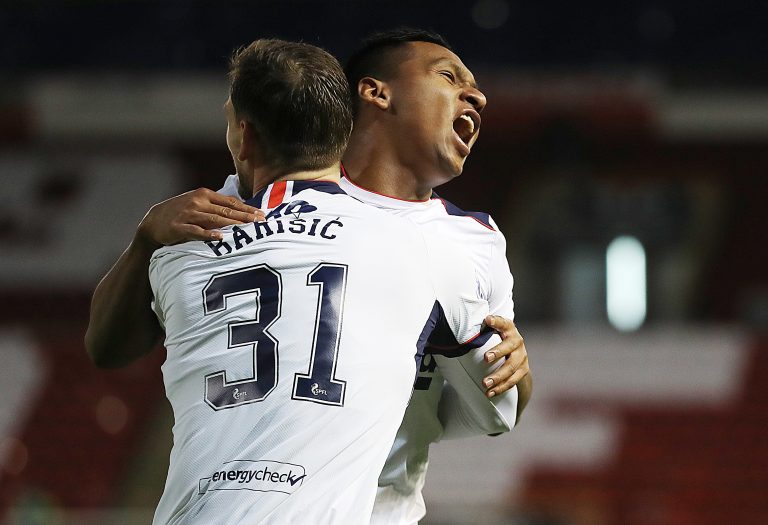 While Ibrox Noise's Kevin rightly made a very strong case for Alfredo Morelos as Man of the Match, yours truly would also like to propose an alternative choice.
Croatian star Borna Barisic had, by some distance, his best match in the shirt for months, scoring two penalties and peppering well over a dozen crosses, in a 90 minutes which absolutely took the shackles off his play we feel have been on in recent times.
Look at his numbers:
82% passing rate, 51 passes.
15 crosses, of which 4 hit their mark.
6 long balls, 3 of which were bang on the money.
3 key passes.
Touches – 79, second only to Davis.
And of course, two penalty goals on a huge stage for the Rangers.
Ratings wise only the outstanding Morelos was actually measured any higher than Barisic, and once again those two demonstrated that on this stage, they are absolutely peerless.
Remember last season and Morelos being top scorer in the group stage while Barisic was top assists?
They're at it again – both the Colombian and the Croat come alive at this level, and while Kevin made a compelling and convincing case for Morelos to get the award, Barisic could equally have received it and few would complain.
It was a glorious return to form for Barisic, whose level has dipped with the others in recent weeks – but in this one, back to the world class LB we know he is.
Sure, he had a really untimely slip early on, but strangely, we must admit Barisic's best play came the moment Tavernier went off injured.
Almost as if he knew he had to step up for the FB width and how.
Barisic also took on the balls of the penalties, and while one of them wasn't the best, the winner sure was. This showed his character too.
It was delightful to see so many of Rangers' big-hitters in form last night; Kenty, Davis, Morelos – but Barisic's return to similar was especially welcome.