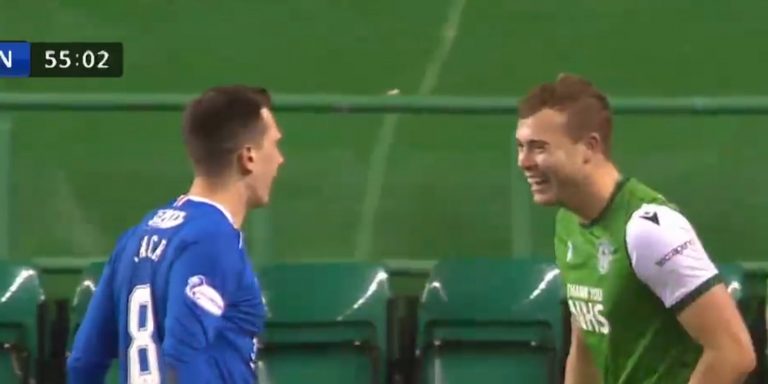 As we're discussing at the moment Scottish football is again attacking Morelos and ignoring bad tackles by others. Is it possible for Morelos to now fight SFA's decision to charge only him?
Though we don't want to say the SFA is being racist, it is now clear that Morelos is being singled out.
We all remember that Ryan Porteous was not punished for his horror tackle on Lassana Coulibaly, which was way worse than the incident that happened a few days ago on Wednesday.
And it was the same Ryan Porteous who carried out a horror tackle against Borna Barisic too.
And this Wednesday Ryan Jack was the next Rangers player on Porteous' fast growing list, who was again very lucky to escape uninjured.
This time the ever-innocent Ryan Porteous slid his studs over Ryan Jack's ankle (this occurred at 54 minutes and 28 seconds in Rangers TV live coverage) and in slow motion what makes this tackle far worse is the clear absolute unashamed elation Porteous had on his face.
This was just after he had slid his studs with his full weight over Ryan Jack's ankle.
I have looked at this tackle several times and it could be said that Porteous made zero attempt to try to lift his leg over Ryan Jack's ankle, to prevent a potential serious injury to his opponent.
But the press made the decision to ignore his tackle, and to ignore the obvious fact that Porteous was so incredibly happy when he made this very dangerous tackle.
And of course, not once did the press comment on his huge grin and his lack of concern that he could easily have caused a career ending injury.
Are we going to get an SFA investigation into this tackle? Of course not. It's trial by TV and the TV pundits are far more concerned about Morelos than Ryan Porteous.
So Porteous will get to sneak off once more and he will probably do another horror tackle the next time we play and again his huge smile will be dutifully ignored, and Morelos will probably be given a ban for another three matches because he just happens to be Morelos.
Being blunt, this stinks to the highest levels of the SFA….and we think it's time we started to demand some answers.