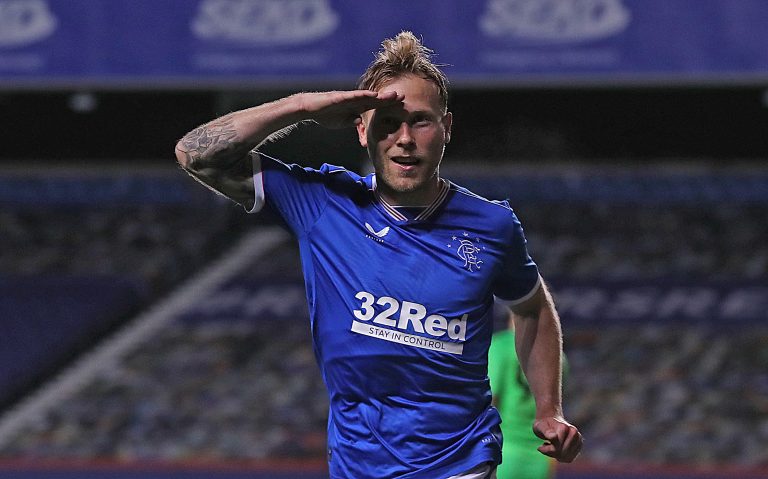 As we alluded to earlier, the absence of Scott Arfield has simply highlighted the reality that few Rangers fans really 'underrate' the 'most underrated player in the team'.
Regulars to the site will know we're absolutely massive fans of the Canadian Scot, and have never come close to understating his importance or impact.
Indeed many times we've described him as our best, or most important player, citing that we simply play better with him in the team.
And there's no coincidence the slight off-pace performances lately have appeared in his absence.
Since and including St Mirren, Rangers have not exactly been at the races – we've won all bar one, sure, but the performances have been below what they were, and that's bang on cue with Arfield's ankle issue.
No denying it, Rangers are a better team with the Canada captain lining up, and while the likes of Ianis Hagi and… er… ok just Ianis Hagi has done ok deputising, Arfield gives more.
More power, more strength, more workrate and more goals, not to mention leadership.
The front 6 of Rangers have looked a little rudderless without Arfield, and we simply cannot wait to get Rangers' most important player back.
It's not about Arfield's influence in terms of assists or goals, he's not really about that – it's his work rate.
If we go back to the last match he started, aside that ugly one v Motherwell's 5-5 formation, it was Tannadice.
His numbers reveal the truth. No one in the front touched the ball more than Arfield, with only Kamara and Davis in their deeper roles doing so. Arfield's 73 touches eclipsed everyone else around him, showing just how much he was getting on the ball and creating space for others.
He managed more shots that day than anyone, aside the-then in form James Tavernier and his PA was an excellent 81% given his advanced position.
Indeed, he was rated Rangers' most effective player, statistically, and there's just no overstating how badly missed he is now.
The sooner Scott Arfield is fit, the better.