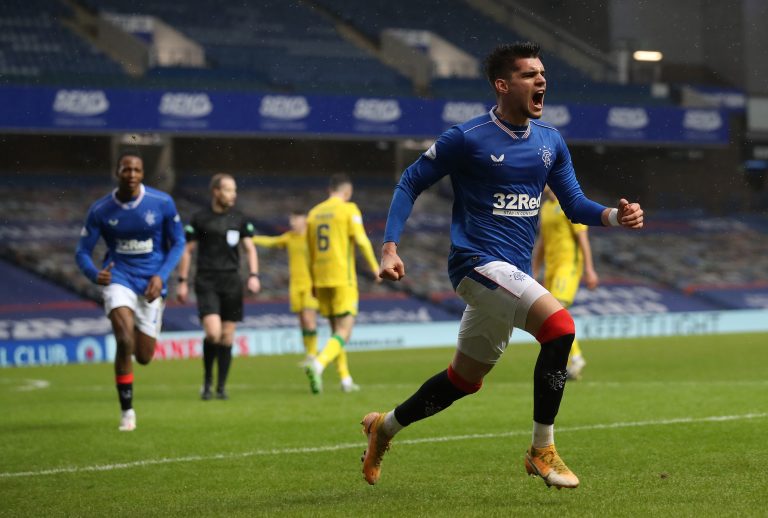 The stories around Romanian attacker Ianis Hagi, with the latest being his link to German giants RB Leipzig, simply highlight the fact the Hagi name is a huge brand, and while perhaps not as big as Steven Gerrard's, in concert with Rangers' manager and of course the Rangers name make him a lucrative commodity.
Indeed, Hagi was a fringe player at Genk and not really a big global name, despite the fame of his father, but since arriving in Glasgow suddenly in the past few weeks the £3M signing has turned into quite the coveted prize, with the speculation alleging Leipzig want him due to a new signing being injured.
The reality is with Rangers' lofty current status as flying high both domestically and in the latter stages of the Europa League, attention over all things Ibrox and those attached to it has become even bigger than it once was.
Add the Gerrard factor, the Hagi factor and of course his father, and suddenly Ianis' value is far higher than the £3M we spent on him.
It's turning into a wise, wise use of just £3M, a knockdown from the original £4.5M it was expected to be but for Sporting Director Ross Wilson's brilliant transfer acumen.
A £3M indeed which could hike much much higher, such are the kinds of teams looking at him and his growing stock thanks to recently impressive displays.
What's he worth? How long is a piece of string. We know his limitations, such as pace and power, but he's infinitely smarter than most players in his position and he has never complained about anything on the pitch.
And these attributes are certainly attracting attention.
We'll see how the January window unfolds…