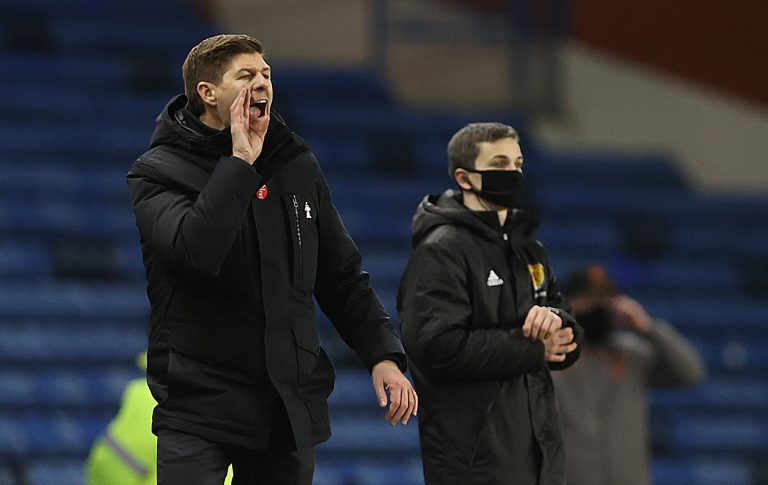 As we push on towards that historic 55, I thought it might be nice to reflect briefly on the individuals who'll go down in history as the squad that put us back where we belong. There have been so many magic moments already this season and as difficult as it was, I've attempted to pick just one from each player via shirt #– showing how each of them has contributed to the cause.
1 – Allan McGregor. It's hard to believe Greegsy is 39 on Sunday, his man of the match performance against Celtic on the 2nd was world class, especially THAT save from the Griffiths shot.
2 – James Tavernier. Though his form has dipped slightly in recent weeks, Tav has been incredible this season, holding his nerve to convert the penalty at Rugby Park for a hard fought 1-0 victory continued momentum and was a huge 3 points at the time.
5 – Filip Helander. Shades of Davie Weir, Carlos Cuellar and Richard Gough all rolled into one. The big Swede has been a colossus when he's played this season – you'll not see a better match winning clearance than the one he made on Wednesday all season, in any league in the world. Criminally underrated defender.
6 – Connor Goldson. An ever present this season along with Tav, and by the performances he's given, you can see why. Plenty of goals too, most notably the brace at Parkhead in October of course – still gives me goosebumps.
7 – Ianis Hagi. Arguably our best performer since Christmas, plenty of assists, but popping up with that winning goal against Hibs on Boxing day was crucial during a busy spell of fixtures.
8 – Ryan Jack – Very consistent and there's no doubt we're a better side when he's in it. Hard to pick a standout moment as he does a lot of things well. That goal at the weekend had me out of my seat though, brilliant to see him back, we've missed him.
9 – Jermain Defoe. Has been used sparingly this season and probably with good reason. Can imagine he's integral to the dressing room, stand out moment on the pitch though is undoubtedly his goal against Livingston at Ibrox, very fitting way to score your 300th league goal.
10 – Steven Davis. Another who's been consistently excellent this season, the model professional, his man of the match performance against Dundee United in the 4-0 win springs to mind although in truth, there's rarely a match he isn't a MOTM contender.
11- Cedric Itten. Really starting to show what he's all about now after a bit of a slow start, at the moment he's a brilliant impact sub (most used in SPFL) and boy did he make an impact against Motherwell…3 times. We'll go with his equaliser earlier this month though to maintain the unbeaten run.
14 – Ryan Kent. With the amount of speculation linking him with just about every club in England over the summer, it would have been easy to imagine his head being turned and his performances suffering. Not a chance. Looks as committed as anyone and that brilliant winner on day 1 set the tone for the rest of the season. Isn't in the 'visual' form we'd like but his stats remain top drawer.
15 – Bongani Zungu. Looking more and more like a "shut up shop" substitution – having made all 11 league appearances for us from the bench this season. He does it well though and looked particularly solid against Celtic earlier this month.
17 – Joe Aribo. Gary McAllister was quoted as saying that the team at one stage was very much built around Aribo and it's not difficult to see why. He ticks nearly every box, however his standout moment so far has to be the flick on from the corner for the goal against Celtic. Happy days.
18- Glen Kamara. Has established himself as a regular in that centre midfield and has a level of close control that is very easy on the eye. Similar to Jack and Davis, just consistent throughout the season and was particularly impressive against Hibs on Wednesday night, retaining the ball and doing what he does best.
20 – Alfredo Morelos. What can we say about Alfie, there's never a dull moment that's for sure. Has had his usual moments of madness, but also more than his fair share of magic. Those two goals against Aberdeen were of the very highest calibre and show why he's still the best striker in Scotland.
21 – Brandon Barker. Very much a squad player but he gives us another option with his speed and work rate, sealing the deal with a decent, much needed 2nd goal against County is his biggest contribution so far.
22 – Jordan Jones. Hard to choose anything other than that superb opening goal against Motherwell in the 4-1. We should've seen more of that from him and sadly we probably won't get to now.
25 – Kemar Roofe. In terms of technical ability, he's one of the best we've had at Ibrox for a very long time. Popped up with some big goals, most notably the 2 against Motherwell on 19th December, that all important equaliser and then putting it to bed with the third. If he stays fit, he might just end up top scorer in the league this season too.
26 – Leon Balogun. Used in rotation with Helander, the big man certainly wears his heart on his sleeve and has been a welcome addition this season. The quite superb block in the second half against Celtic in January has to be up there in terms of big contributions.
31 – Borna Barisic. So important to how we play and has been a model of consistency all season, always getting the ball into the box with that wand of a left foot. Big assist for Itten against Motherwell a few weeks ago is a textbook example of what he's all about, but he's hit so many amazing moments with that left peg you could pick any.
33- Jon McLaughlin. Played a huge part at the start of the season during that record run of clean sheets that even kept Greegsy out of the team for a while. Nice to know we're in safe hands with a top-quality sub keeper who would get a game in most other teams.
37 – Scott Arfield. Without doubt one of our best players this season, it's hard to believe that he had to fight for his place in the starting eleven for the first part of the season. His performance against Aberdeen in the 4-0 stands out, brilliant goal and an assist as well. Hopefully not too long before he's back.
Others –
Calvin Bassey and Nathan Patterson – both young lads who have had limited opportunities given how good Tav and Borna have been. They'll be learning a lot though and it will be nice to see them both getting a bit more game time towards the end of the season. Two for the future.
George Edmundson – Barely kicked a ball other than to put it into his own net during a cameo appearance at Motherwell. Hopefully he's learned from his error of judgement off the pitch and with fantastic role models around him, can get himself into the mix for the end of the season and kick on from there.
Niko Katic – Sadly still on the long-term injury list though we've no doubts that he would have done a job as one of our 4 main centre halves that Stevie always goes on about. We wish him a speedy recovery and hope that he's back in time to at least get on the pitch sometime this season.
Finally, we couldn't forget the manager himself. Since he walked through the door on 1st June 2018, we knew something special was brewing. Quite simply, the man is a winner and to get us to this stage from where we were is nothing short of a miracle. His standout moment for me was bringing Hagi on at half time against Celtic in January and the subs he made after that to see out the game. It's easy to forget how new to management he actually is and we've all been on that journey with him. Aided and abetted by a fantastic coaching team and assistant in Gary McAllister, Stevie Gerrard has now surely achieved legendary status and as much as he's adored by the reds of Merseyside it's been replicated and maybe even eclipsed by the blues of Glasgow.
To a man, you've been sensational, bring it home and take a bow lads.