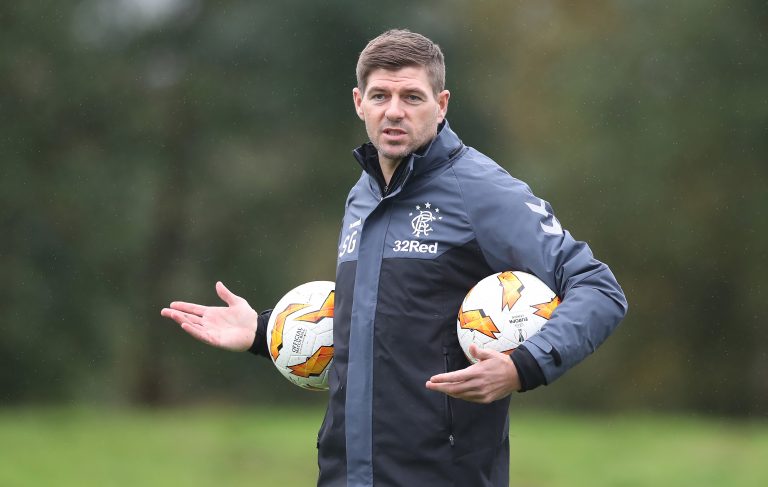 We held off from this one, given we didn't want to be negative after such a great result, but there was one downside of Rangers' win v Gala, and it was another big game in which Alfredo Morelos' lights were on but no one was home. The marauding hitman titan from last season a distant memory and now a pale imitation.
In a recent entry we suggested Rangers might be intending to hold onto him, on a mercenary basis, but on a fine night for Rangers in which he was the only one who didn't look interested, we have to hope a buyer comes in ASAP and we can move on from what is now becoming painful.
Hell, at this point we'd take Itten, Defoe and Roofe to get us by till January, because Lord knows Morelos isn't going to cut it.
Yes, on his day he's the country's best striker, but his heart isn't in it. Not any more, and if even Steven Gerrard impressing on him pre-match the importance of this match and how he has to rise for it doesn't work, it's a borderline 'f*ck you' from the Colombian to his manager.
We're not saying Morelos absolutely 100% tanked it. We scored him a 7, and he jogged a bit, he even managed a couple of half-hearted shots, plus of course did play deeper and his sheer presence dragged defenders out of position, but compared with the roaming juggernaut he used to be, this was quite the step down.
It was the only 'negative' on a brilliant night for Rangers in which every player played their bit. He did too, but it wasn't with the gusto and enthusiasm it used to be.
And that's very sad.
His heart isn't in it – yes, we'll get the odd match he'll turn up for a bit better than others, but in general he's been gone a long time.
A lot of fans discuss how his new deeper link up play is benefiting the team, and while he's not all about goals anymore. We can only wonder what the hell they're on about given his average passing success is 60% these days. Morelos gives the ball away more than anyone else in Rangers' team.
But either way he's not offering Rangers what he did, which was big heart, causing defenders mayhem and just being a menace.
Now he's far more passive and a player we just don't know what to do with any more.
Of course, there remains a debate – do we use a disinterested player who has a new deeper role which benefits his team mates, even if he himself isn't putting his soul into it?
Do we accept that he's playing as a false 9, that he isn't attacking or putting his guts into it, but his positioning is still benefiting the team as a whole?
That's one for our manager to know better than us.
Would we still sell? The new system is working, and he is part of it. But then it worked fine without him too.
Maybe we're better off with the circa €20M.