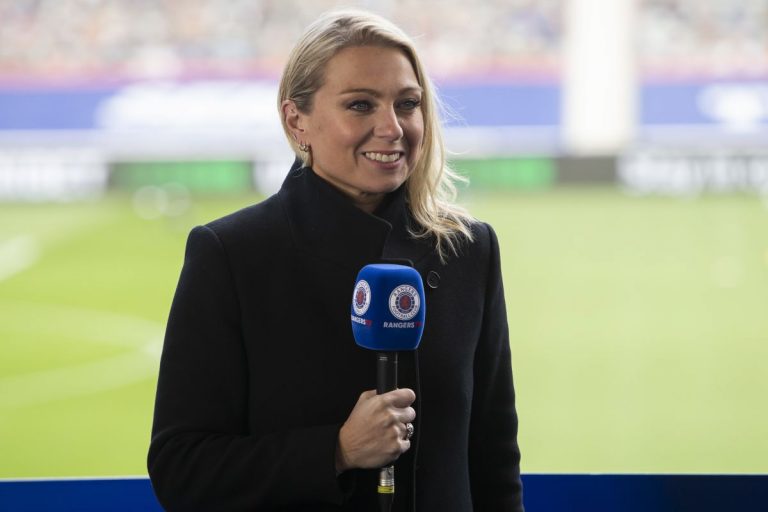 As we were alluding to earlier, Rangers have undergone an overhaul off the pitch in recent years, and one we've wanted to talk about for a long time is the complete face lift Rangers TV has seen.
In years gone by, the format of our homegrown channel has changed – it was once a TV network, with 24/7 broadcasting, presented by Alison Douglas and featuring the likes of Derek Ferguson, but as things evolved it became online only.
Up till a few months ago it featured Alice Hedworth as 'reporter' but the bulk of match day was commentor Tom Miller featuring a club legend sat in the comms booth. And that was basically the presentation.
It wasn't bad but it wasn't great, even if some of the co-commentators such as Alan McLaren and Steven Smith were very, very good indeed.
But as we all know, it got a radical and expensive upheaval.
Nowadays it has a 'studio' format of Emma Dodds presenting pitch-side, in concert with at least two Rangers legend pundits, and which has included the illustrious quality of the Great Walter and the Staunch Souness. Neil McCann and Alex Rae have also become regulars, and others including Mark Hateley and Craig Moore have been seen.
Verdict? Outstanding. It wasn't awful before, but it wasn't befitting a club of our size. Now it's a real, proper, serious presentation with some of the finest names from our club and its glorious past, and it feels right.
Emma Dodds is good in the role of presenter and host, and you can tell she's experienced and while we don't know if she's actually a Rangers fan, we do know she's a giant Steven Gerrard fan especially from her BT Sport days (she still does Premier Sport) of regularly interviewing him. So, she probably is one of us.
And then there's the commentary. Good old Tom is still there with his coats of paint, but he's joined now for rotational duties by Clive Tyldesley.
We'll be frank – we were never big fans of Tyldesley, his former commentary on England and other matches grated on us. But frankly, in this role, he's been absolutely great, and his knowledge is incredibly impressive. He doesn't deny he's not a Rangers fan, but he has embraced us and knows a tonne about our history and who did what last week. His only error was his dreadful pronunciation of Glen 'Camera' for which he humbly apologised.
In short? We love this new presentation. It's slick, it's high quality, and it's filled with folk who know what they're doing.
This is the kind of upgrade we are loving coming from the club.
Keep it up.