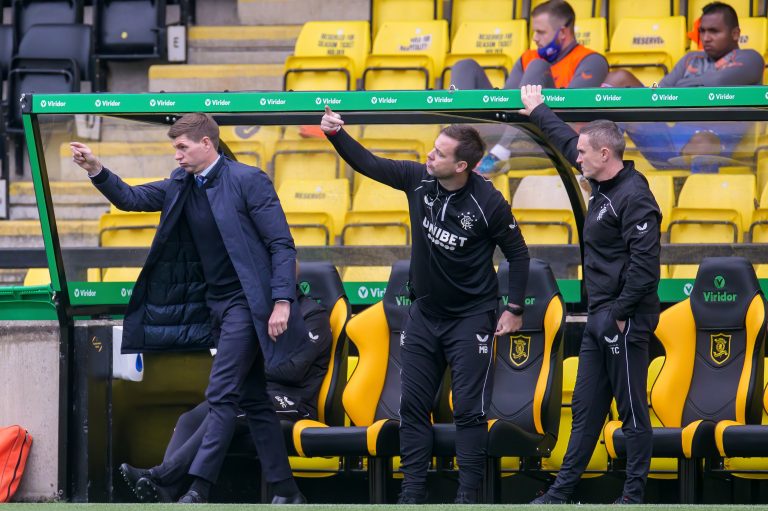 We've been banging on about Michael Beale and Steven Gerrard's new system for a while now, which is not only a new formation but a new shape and way of playing.
And while we've mentioned how James Tavernier has benefited from it, it's not unfair to say he's by no means alone.
A number of key players this season are showing up in ways we didn't expect thanks to the new setup, and Ibrox Noise takes you through each of them and how far they've come.
Ryan Kent:
The obvious one, the star of Ibrox these days with a market value into the £25M region, the winger has absolutely thrived on the freedom of the front three and is decimating opponents and scoring goals. He has been given a new lease of life, and after that patchy second season in which he didn't really look like he was justifying the £7.5M, it now looks a bargain after only 6 matches this campaign.
Joe Aribo:
Ok, he's still a little hot and cold, and of course has been out of action for a while, but the Nigeria international has shown in major spades this season just what talent he has, and the 10 position behind the striker has suited him gloriously. He's been rather impressive, but of course he has had to contend with being wide right too which just wastes him. When he's in the zone, he's remarkable.
Glen Kamara:
He didn't have a great season last term, but this one he's benefited from the double pivot with Ryan Jack and his play has been more disciplined. We did a piece on this here earlier, and it's clear he's starting to play for Rangers as he does for his country. Again, he's been out of the side since Livi, but it isn't down to bad play.
Ryan Jack:
This is an interesting one – he started out quiet this season, but this was the 'adjustment' period – basically Jack isn't a marauding dynamic midfielder now, he's a more reserved and considered DM. He's covering the back four and Tavernier, but also keeping the balls simple. He's playing differently to what we normally expect, but it's keeping Rangers ticking nicely. And he's quietly effective.
Brandon Barker:
Yes, he was off-colour at Hamilton, but there's no question Barker has had a new lease of life recently. His performance v Killie was excellent, and it's the first time we've seen him start to look comfortable in the shirt and his own skin. Naturally, he had a weaker match at New Douglas Park and so Rangers fans in their thousands turned back on him and called him a wreck (after singing his praises the previous fixture). That's the stuff that's caused him to struggle at Ibrox. But there's a player here, a very good one.
Borna Barisic:
He might have had an amazing August to December last year, but before lockdown 2020 was a return to the old useless Barisic, and his performances, like the team's in general, were very very poor. But under the new system, he's actually looking as good if not better than the one who burst into life last year – his crossing is superb, he's getting even more of it in, and he's starting to beat even more men than he used. The system suits him.
Filip Helander:
Had an awful first season at Ibrox, simple as that. Lack of pre-season didn't help, nor did his injury, but he was well off the pace. Now he's reading the game far better and positioning himself with far greater assurance. He's probably benefiting a little from Jack and partner in front of him, to give him a bit of a buffer, some protection, but when called into action, he's barely putting a foot wrong.
These are the main ones.
Honourable mention to Connor Goldson – he hasn't looked spectacular, but he's been a bit more comfortable alongside both in-form Helander, and new signing Leon Balogun.
Overall, the system is getting the best out of some players, and subtly improving others.
Ryan Kent is probably the biggest beneficiary, but Joe Aribo is not far behind.