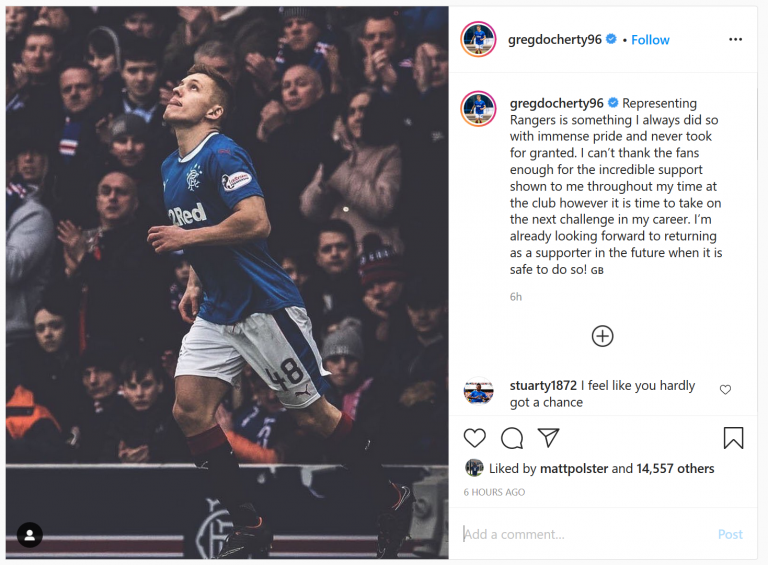 Now before we begin this piece, anyone who thinks Greg Docherty is 'garbage' and 'move on he's gone ffs' can kindly just close this browser, because this article just isn't for you.
For those of you still here, the sale for £350K (A 50% loss on a player signed in 2018) to Hull is in itself an insult to a guy who gave everything to this club for two years, to no reward, and was cast out for reasons we'll never fully understand.
We're not claiming he's Kaka, but he had a lot more to offer Glasgow Rangers than being farmed out on loan to Shrewsbury.
We've ranted this one till we're blue in the face but this was a guy with marginally better stats than Joe Aribo, in the same division, for a worse team than the Nigerian.
So it's undoubtedly not an issue of ability, because under Gerrard his few fleeting appearances brought him 3 assists in 5 matches, while he did it in the SPL for Hibs with yet more good numbers.
But that just wasn't enough for Rangers, and we don't know why.
Docherty will be absolutely devastated to have been binned by Rangers like this – only he knows what really went on behind the scenes to see him dismissed in this way.
It's not a move we endorse, and it frankly reminds us of how Lee Wallace was treated.
Played for his team, gave loyalty, sacrificed the best years of his career, and then got banned and binned. What happened to Docherty wasn't far behind that.
Our loss is Hull's gain – we'll follow Docherty's post-Rangers career with much more interest than we would with typical ex-Rangers, and if the displays and stats don't keep going, maybe the club was right to sell him. But we don't think that's going to happen.
Docherty will do well for Hull, then bigger teams will look at him, and maybe one day, under a different boss, this Bluenose will come home again and finally become the Rangers player he should be.
It's sad how this one turned out.
Were Rangers right to sell Greg Docherty?