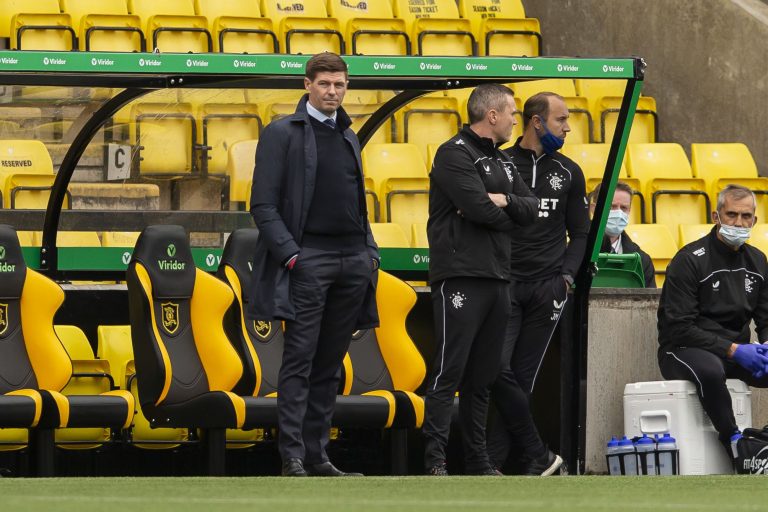 We gave you our ratings last night, so now we're going to go through the 'things we learned' as Rangers stumbled at Livi.
1: It's obvious, but Ianis Hagi simply cannot play wide right. He's wasted there. He's also wasted on that surface. Just has no finesse or control. If Stevie keeps playing Hagi as a winger it's bad management, pure and simple.
2: Into his third season, Gerrard still doesn't know how to deal with adversity. For someone who's presumably learned a tonne in 24+ months, it's curious that he still has no idea how to create a comeback or winner on 95% of occasions.
3: Ryan Kent, overall, is Rangers' best player this season, aside Borna Barisic. The winger has never hidden, and kept plugging away. Nearly pinched a wonder winner at the end. He tries, he works, and he is the biggest danger Rangers have. And before you mention Aribo, he blows too much hot and cold.
4: Alfredo Morelos' stats usually indicate he's working fairly hard, but it's evident what we see on the pitch that his heart is elsewhere. He's ineffectual now and the sooner we find a buyer, the better.
5: Kemar Roofe has potential – added energy yesterday, and for a while after he came on Rangers did lift. But he's miles off match fitness and will need minutes to get there.
6: It's early days but Cedric Itten has been distinctly average thus far. Looks awkward, clumsy, and at this point the name 'Lyndon Dykes' seems very topical.
7: Further word for Barisic – what a bright spark he's been this season. His quality shines through and he's one Rangers will do well to hold onto. Another decent show yesterday.
8: This new 4-2-3-1 formation works well enough in possession, but it struggles to break teams down. As we saw from Livi, a parked bus is hard to get past if you don't have width, and unfortunately Rangers lack that with just the full backs giving any.
And we're too grumpy to come up with any more.
Feel free to add your own.