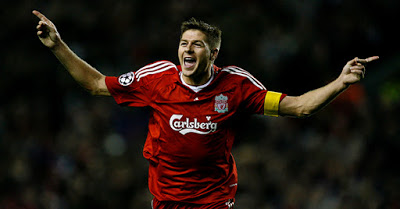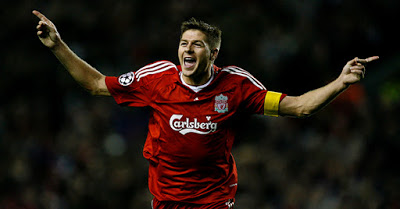 We know, this is a Rangers site, for Rangers fans – but the Liverpool connection, highly-plugged when Steven Gerrard joined on the dotted line (there was us thinking it was Celtic and Liverpool, but the moment Stevie signed up suddenly it was Rangers and Liverpool and always had been) means Liverpool's first title in a generation is something we can't ignore.
If you hate Liverpool, you're free to browse to the site's other articles.
But either way, this is an epic moment in football – many of our readers grew up with Man Utd as the benchmark in England, but quite a few more, of a certain vintage, grew up in the olden days when Liverpool were the kings of England and Europe. The Hansons, the Lawrensons, the Dalglishes, the Rushes – these guys took Liverpool to the top of the tree, aided and abetted by a number of great managers too.
But as we know, it dried up spectacularly and Liverpool fans had to wait three decades to taste the PL title for the first time in their history. That's right, in case anyone had forgotten, the last time Liverpool won the top flight, the PL hadn't even been formed.
Millions of their fans worldwide have grown up well into adulthood without knowing what it is to win a title, and it's understandable that their supporters are completely elated.
And of course, our manager is too.
It's bittersweet for him in a way – he should have done it himself, and it's one of the great crimes of football that Steven Gerrard never won the league. For those of a certain vintage, Gabriel Batistuta would have been in the same boat if he hadn't ditched his lifelong loyalty to Fiorentina and switched to Roma.
And as it came to pass, Stevie, thrilled though he will be to see his team finally win the league in his adulthood, will be a little bitter he never got to do it himself.
Just how good are Liverpool?
The answer is they're the best PL side in history. They've surpassed Arsenal's Invincibles because they've been this good for a long time, and Klopp has made a frightening machine out of them. They've put a world class Man City in its place and ritually humiliated them – whether fans would argue they're the best English team in history is another matter, but what they've achieved the past season, two if you include their staggering runners' up spot last campaign, is truly remarkable.
They're the new dominant force in England, and they have a chance at doing the same in Europe too.
But end of the day, what difference does all this make to Rangers? Who knows – we have very close ties with Liverpool these days, but whether we can exploit them to our benefit is doubtable. Ryan Kent is the main fruit of the 'partnership' so far and that's been a hit and miss signing to this point which cost a lot of money.
And their winning the title probably won't make a whole heck of a lot of difference to it.
But Stevie will be (mostly) very happy.