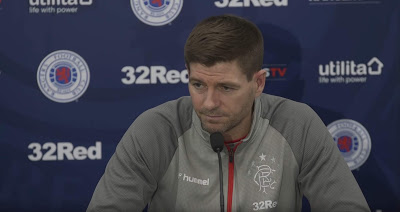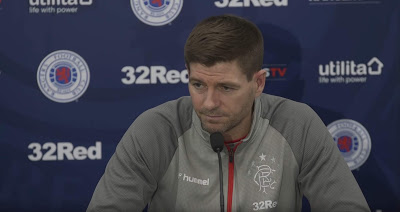 In an incredibly revealing presser, Steven Gerrard covered a wide range of topics, and went into a great deal more depth than he normally would. We have to admit his insight was probably the most useful media work he's done as Rangers manager, and reveal a tonne of priceless information without giving away too much private work done behind closed doors.
And one of the most interesting nuggets to come out of this astonishingly-telling media conference was about Nikola Katic and the project Gerrard is working on with the Croat.
As regulars will know, the 23-year defensive titan is both a huge favourite of Ibrox Noise and the fanbase at large, for his glorious work ethic, his head through brick wall mentality and his actual defensive ability – but these are the very qualities which the manager intriguingly explained are why the former Slaven Belupo stopper isn't quite 'there' yet and, indirectly, why he isn't quite a fixture in the first team yet.
In a stunningly candid reveal, Gerrard said:


"He's a much better player than when he arrived, that's credit to him and his hard work and dedication to improve first and foremost. It's only natural for central halves of that age that you have areas of your game to polish up on. But in terms of going out there and wanting to win and bravery and professionalism Niko ticks every single box."
So far, evidently Gerrard thinks highly of the Croat.
He goes on:


"It's my job to keep pushing him in certain areas of his game to improve. There's no doubt about that when he hits his peak which normally for a CH is a little bit later he can be a top player and it wouldn't surprise me if he goes on to be an international. That's got to be his goal."
But it's what he said next which really explains a lot for those still struggling to grasp his in-and-out nature:
"I don't think it's just about chasing the ball, it's more a case of Niko has 'I'll run through the wall' mentality so when you're dealing with players like that they want to win every single ball and every single challenge. If you look at the top top level CBs throughout world football with age they grow and they work out with experience which balls are 100% to go for, and some you have to just wait and be patient and sometimes the best side of defending is to be patient and wait. And this is the type of stuff Niko needs to work on. But we're delighted with him and he's a fantastic project for myself and the staff to keep pushing."
To cut a long story short, Gerrard rates Katic extremely highly indeed, but doesn't feel he's fully disciplined yet in the full art of considered defending, and if it's any consolation to Niko fans out there, and we include ourselves, he's bang on.
We recall quite a few times the Croat has naively been dragged out of position or been caught in the wrong place rushing to attack the ball or stop the man, so eager he was to work for the team that he forgot to concentrate and steady himself.
There's no doubt about the fact the 23-year old could go as high as Van Dijk in the game – he's young and is still learning the more polished side of defending, but he has everything else in his locker to be as good as any CB in the world today.
But we are absolutely delighted with Steven Gerrard explaining properly for the first time why Katic doesn't quite lock himself in the first team every match, despite impressing fans with his dedication and hard work.
It's easy to be a fan favourite purely by busting a gut for the team, but to achieve the best in the game you have to have the experience and intelligence to manage at that level – and that's the part Katic is still absorbing.
Bear in mind, he signed a new 5-year deal despite his lack of game time, so as we said some weeks ago, evidently he's invested in the project Gerrard has in him and is comfortable with how much he plays.
Still, he's set to play a massive role over the next two or three months with Filip Helander's injury so he may have to accelerate that development a little touch.