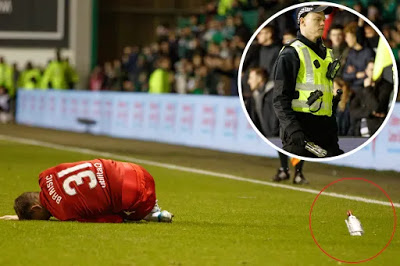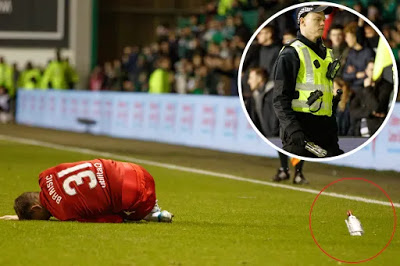 Article by: Derek
Wow, Hibs, you did yourselves proud.
You stooped to so low a level you became international news, with the story even getting airtime in Australia.
Isn't it ironic that we just ran an article on how some players in Scotland are now totally open about the fact they are being sent out to deliberately injure the Rangers players then just a few days later we get Ryan Porteous trying to do a leg hug on Barisic, that could have taken his leg clean off. Then the scum who support Hibs decided they wanted to also get into the act, by throwing glass bottles at an injured player.
Wow, Hibs. You really have sunk low. Are you proud of your team? Are you proud of your fellow supporters? Are you proud of yourself? Because just now you deserve far more negative press than you will ever get from the Scottish Media.
Yep, no screaming headlines shouting about Hibs thugs attacking a defenceless player. What a big surprise….
Looking at the other side of the equation, the officials in charge usually ignore the other team roughing up the Rangers players. However, on this occasion I have to say Nick Walsh's reading of the game was just about perfect.
Overall, we have to say this was an A-plus performance by the referee, and he didn't really put a foot wrong all day.
He tried his best to protect the players from bad tackles, but he did not let the tackles stop the flow of the game.
In one case he let the play continue, then calmly booked the Hibs player, after play had stopped.
After the horror tackle on Barisic, he didn't hang around and gave Ryan Porteous a straight red.
To be honest, there was really nothing more he could do to protect our players.
Sadly, the players on other teams have other ideas, and even though it was clear the referee was on the warpath, Ryan Porteous still chose to make that "tackle".
As Ally McCoist said after viewing the tackle,


"It's as bad [a tackle]as I've seen for a long, long time."
He continued:

"There's only one thing going to come out of that challenge and he's went in there to injure and seriously maim an opponent."
….anyone expect the Hibs management to give Barisic a public apology? Anyone?
I honestly think you will be waiting a long time, and that is the saddest thing about all this.
There are now people who care more about catching the bottle thrower, to try to make Hibs look good, than reflecting on a tackle that almost ended the career of the best left-back in the entire Scottish game.
This b***sh*t just has to stop. And as the managers of the other teams are not taking responsibility for the way their players behave, perhaps it's now time for the SFA to hit teams with huge massive points deductions.