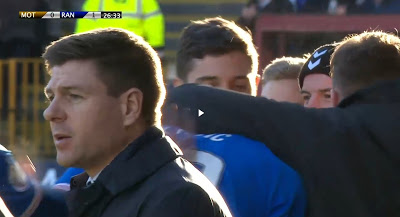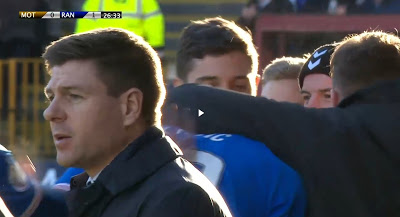 Rangers can be very pleased with their day's work at Fir Park – it wasn't the best the Light Blues have ever played but it was a fairly accomplished and professional performance at a notorious venue, one where Steven Gerrard's side have been known to struggle.
However, one subtle incident caught our eye and has us wondering what it meant.
Nikola Katic, having scored a wonderful headed goal, in which he powered past his man to bullet away a header, ran to the Rangers bench to share the celebration.
Only, there was a slight issue.
Katic ran straight past Steven Gerrard (who was stood hand out waiting) and went instead for Michael Beale and Jordan Milson.
Now, we don't want to make more of this than we need to, but we're sure many fans will agree with us that while our manager has done many, many things right this season, and we owe a lot to him, equally his handling of Katic has been puzzling at best and wrong at worst.
It seemed like Katic looked like he was making a point, that his manager wasn't the subject of his thanks/celebration/admiration, and while on many levels this may seem a little petty, equally we can understand Katic's frustration at being sidelined no matter how well he plays.
His last two performances, in 180 minutes, have been more impressive alone than all of Filip Helander's put together.
We do hope all is well between manager and player, and Gerrard gets over the curious mental block he has with the Croat and just keeps him in the team now – make no mistake, Katic has the ability to be as good as Van Dijk. He has everything in his game, with the only possible weakness being his reading of it, and that will come in time as he learns it and develops.
But he can only do that on the pitch – and that's where we hope he is now to stay.