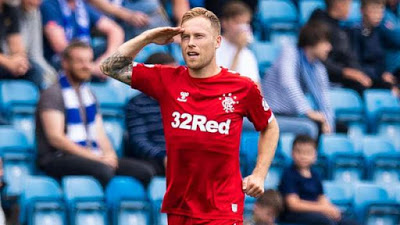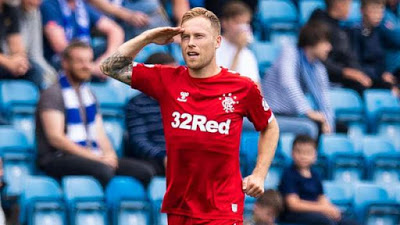 As Rangers' colossally hard-fought opening win over Killie comes to a close, Ibrox Noise brings you man-by-man ratings of the personnel who kept up the Ibrox men's stunning opening season fixture record. And managed to crack Killie at their own patch in the league for the first time since 2011.
Foderingham:
He didn't actually have a tonne to do here – good footwork again though, and caught quite a lot and mostly tightly. One or two weaker catches/spills but overall, solid. 7
Tavernier:
Modest performance in both defence and attack with a lack of linkup and his increasingly poor crossing – until, that is, a fine effort from the corner led to a goal. Looks like he's missing Candeias, a lot. 6

Goldson:
Aerially soaked up quite a few bits and bobs, and was useful defensively for the most part bar being exposed too much early on – but his goal was a tremendous show of hunger and power and not even BIG BAD KIRK could foul his way to stopping him. 7
Katic:
He was ok – he made one or two big errors, one of which should have cost a goal, but attack-wise his heading was a bit better. And he got a lot of the ball, but both he and Goldson were exposed a lot in the first half by repeated lobbed balls in behind. 6

Barisic:
Absolutely howling. Has no impact again, and but for maybe two reasonable crosses, just did nothing of note. Rangers aren't the team for him, and the SPL isn't the league for him. He'll never get it. We're done here. 3

Davis:
Off colour, frankly. Looking more like the off-form Davis of early this year, something hasn't been right with him the past few matches and he's making more errors and fouls since the split ended. It wasn't great from him. 5
Jack:
Impressive performance – steady as a rock, slightly lacking in an attacking sense but made up for it with vigorous tracking and solid defending. By some distance Rangers' best midfielder. 7

Aribo:
Thoroughly underwhelming, bar two admittedly fine runs, both of which led to potent shots. Otherwise looked slow for most of the game, and while he still used the ball cleanly, and won quite a few tussles, the strolling colossus he's been in midfield in recent weeks was most definitely AWOL – we hope he gets used to the SPL soon because while not quite a rabbit in headlights, he was clearly not up to the speed of the match. 5

Arfield:
Quiet from the Canada international, in truth. Worked hard enough but looked tired, and while his goal was poacher's instinct, it was an Arfield who looks like he needs a really long rest. Still not up to fitness and we wonder if more minutes really is the way to get it. Looks tired mentally more than physically. 6
Ojo:
The other SPL debutant summer signing, and rather than being selfish or selfless, he was just ineffectual. Struggled with the ball, couldn't link up with Tavernier to any major effect, and just, at this point looks like yet another Ovie Ejaria. Disappointing. 5

Morelos:
Jack aside, Rangers' best player. Sure, he was a bit dumb with one or two 'physical' moments, but his ball-winning, fighting, creativity, and shooting were all sharp, and he looked like he was actually playing for the team. When he plays like this, he looks like a team player and an asset. Solid. 8
Subs:

Jones:
Actually reasonable when he came on, a bright moment or two, and handled the crowd's reaction just fine. 6
Stewart:
No real impact.
Manager:
Steven Gerrard's team selection didn't seem to be the right one for this match, but 3 points vindicates the manager at a notoriously hard venue. His men didn't deliver in this 90 minutes, frankly, but a couple of clinical moments were the difference between winners and also-rans. He won't be happy with the overall performance, but he will be happy with the never-say-die attitude – this was a momentous 3 points, and while we must improve, Gerrard will know that, and hopefully the cohesion will come. 7