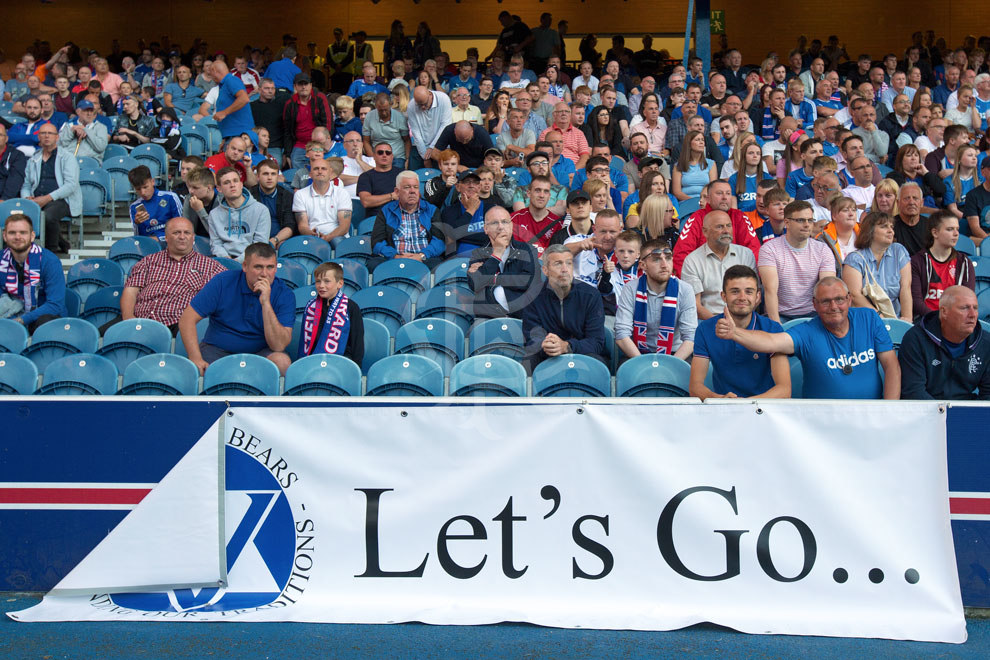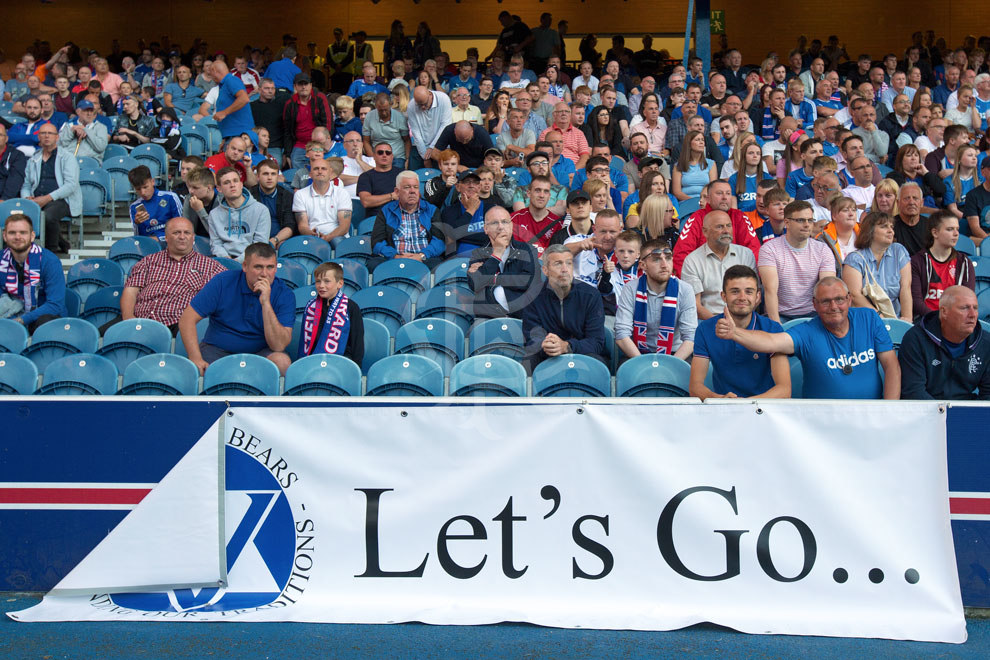 So finally Rangers fans yesterday got to sample their first true taste of the Steven Gerrard era at Ibrox, as English League Two side Bury came to town for a pre-season friendly.
Ibrox Noise takes you through the key points we noted during this outing:
1: The formation question may just have an answer – while it was fluid, it appeared to be a pseudo 4-1-4-1 which was an interesting solution Gerrard has gone with. Back four, McCrorie sat in front, with a bank of Murphy, Candeias, Windass and Arfield ahead of him, supporting Morelos, with Candeias and Windass taking turns to be slightly more central supporting the Colombian. It's a very interesting approach and we applaud the attempt at doing something a little different.
2: While it was Bury, and all due respect to them not Messi and Ronaldo, there was a real level of authority at the back – Connor Goldson and Nikola Katic were very interesting to watch. Goldson was the subtle one, composed on the ball, organising the troops and always watching and reading the game ahead of him, while Katic was the more physical unit, attacking every ball, blocking and willing to put his body into hurt – we already knew Goldson would be the more 'modest' while Katic would be the powerhouse, but it was fascinating watching it in action and early signs, while premature, are nevertheless encouraging.
3: Jon Flanagan was extremely intelligent with the ball and his own movement. He had excellent vision and could pick left flank runs out while seeing space, and while he didn't attack overly enthusiastically, he appeared to know when was good to advance more and when to recede. He read his position like a really top class fullback and we must admit Declan John lacks that in his game. Selection dilemma to say the least.
4: James Tavernier is not everyone's choice as captain – this is a call which Steven Gerrard has made and a recent poll on site did not endorse him being given the gig permanently. But we respect our manager's decision – we think he has done it because he feels continuity is key and the fans like Tav – well we sure don't hate him, but a Rangers captain we have doubts he is. Still, the decision is made and we've got to go with it and it also confirms he is 100% staying in this team unless a massive unrefusable bid arrives.
5: Alfredo Morelos remains staggeringly wasteful and all pre-season has done is taken some beef off his frame. We continue to be frustrated by the negative sides of his game which we'd hoped would be trimmed away by a manager like Gerrard, but if anything they were even worse. We can see this, if he remains a Rangers player (reports from various press outlets claim a bid of £2.6M was rejected), becoming a recurring theme.
6: Andy Halliday appears certain to play a serious role next season, much to the chagrin of a great number of fans. Heavily involved yesterday, he's been at the forefront of pre-season and the more it continues the more he appears to be part of the new era. And the more a lot of fans are going to start scapegoating him.
7: Glenn Middleton was an outstanding substitute – the Matt Damon lookalike was rampant on the right and managed two assists during his cameo – sure, he'll get tougher tests than Bury (again, all due respect to them) but on this showing it was an exemplary start to life in senior football for the former Norwich winger and showed why Canaries' fans were devastated to lose him. We may well see a great deal more of him in the first team now.
8: Scott Arfield very much reminded us of a slightly more advanced version of a younger Stuart McCall. Wore his heart on his sleeve, mobile, hard working, but with a touch of technical quality the wee man probably didn't have, Arfield is a truly marquee signing and was well-deserved MOTM.
9: Wes Foderingham is definitely finished at Ibrox. Not involved in this match at all, the ex-Swindon goalie hasn't played serious action now since Jak Alnwick took his place last season on the 22nd of April. He hasn't played a single minute since then and it's a case of finding a buyer.
10: Robbie McCrorie might be the surprise choice as deputy to Allan McGregor rather than Jak Alnwick – the ex Port Vale man started v TNS but McCrorie replaced him, and yesterday Ross' brother was the man on the bench rather than Alnwick. We'll see who's on the bench come Thursday.
There was a lot to chew through – what things did you good folk notice?