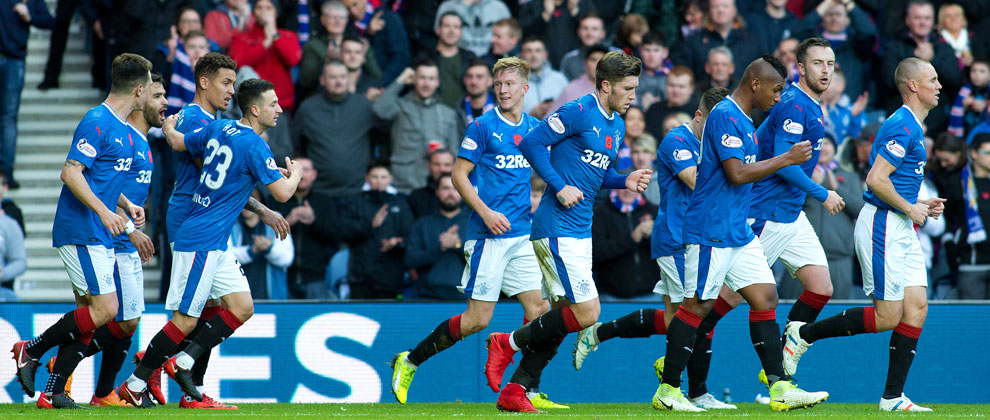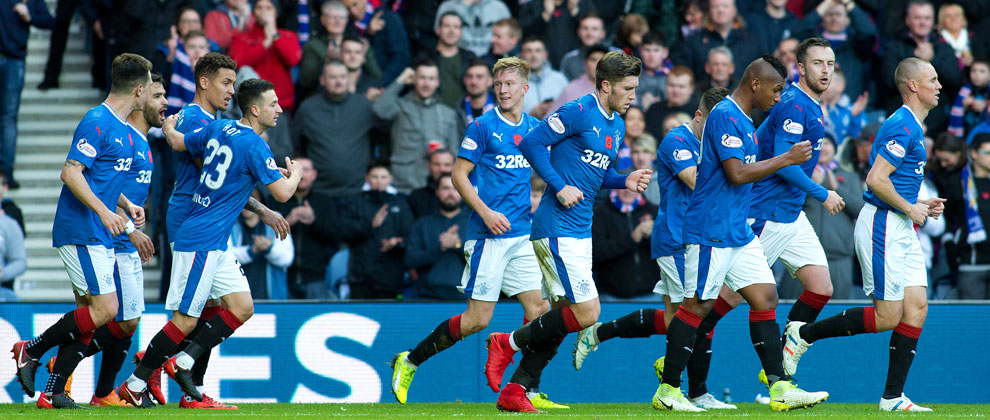 Yesterday's fine win over a very solid Partick Thistle side was enlightening on a number of levels.
Naturally we should not take these overly seriously given it is an interim manager who is extremely unlikely to be given the job permanently, but nevertheless when it comes to food for thought, the 3-0 victory at Ibrox certainly gave some.
Ibrox Noise takes you through the things we learned:

1: It took the ex-manager six months to manage two league matches in a row with 3 goals scored or more (Hamilton 1-4 then St Johnstone 0-3). Graeme Murty has managed it with ease against Hearts on his second debut and now against Partick. If ever there was a case for a manager failing to get the most out of his charges, that would help the evidence.
2: Ross McCrorie is developing into a truly excellent defender. He has made a healthy number of appearances now and only looked slightly vulnerable against Hamilton. He has excelled against Celtic, Hearts and now Partick and there is every case this lad could become a first pick. He is completely at home in this company and absolutely deserved his excellent goal. He can only get better.
3: Rangers did not miss Bruno Alves. Despite the positive stats from the Portuguese as we brought to you yesterday, nevertheless his absence was no weakness to a Rangers defence which completely nullified Thistle. Remember how Conor Sammon was such a threat in the two successive fixtures and actually troubled Cardoso and Alves? He was invisible yesterday.
4: Speaking of Alves, Graeme Murty showed cajones in having no qualms about leaving the defensive titan benched. Why change it from Hearts, essentially. He stuck with McCrorie at the back and the youngster did his manager proud. Again.
5: Jason Holt has had a new lease of life. This is one we will credit Pedro with – he did bring Holt back into play after the wee angry guy lost form and his place, and Holty has really sprung to life. He now finally looks comfortable with the SPL and is arguably one of Rangers' best players right now. Big Hugh Burns quite rightly gave him Man of the Match yesterday and it was completely justified.
6: Daniel Candeias is such an interesting player. Great crossing, and can score, and has pace to burn against everyone other than Celtic, the Portuguese has been, overall, the ex-boss's best signing. He works so hard in attack and defence, and his assists and goals are starting to become indispensible. We really like this guy.
7: Alfredo Morelos might be goal dry but he is such a workhorse and terrier up top – even when he is unable to find the onion bag he is working off the ball to help everyone else. It actually hurts to see him fail to score because he deserves to get back on the score charts. But the lad's got the heart of a lion and even managed to hugely reduce or even eliminate that little touch of play acting he has flirted with of late.
8: Kenny Miller's form is howling. Yes, he scored a big pair of goals in Edinburgh but he was otherwise poor in the match, just like he has been all season – and yesterday was no different. We are huge admirers of the lad but he is badly off the boil and has been since July. We hope he can get his form back.
9: Josh Windass continues to be blah. Yes, he has scored two in two and you cannot argue with that, so we will not, but his contribution elsewhere is sincerely lacking. He does not assist, he does not create chances, and while his workrate has improved and he is defending more, and we like that, one gets the impression his days in this team are numbered. Even Rangers TV's Tom Miller did suggest he is only there till the captain returns and Declan John gets shifted into wide left midfield.
10: Graeme Murty is doing a stellar job. Yes, the match went off the boil after the restart, but the damage was done with the first three goals. Job finished – we would have loved to have seen our lads go for the jugular, but sadly it was not to be and we had to content ourselves with the trio. And Murty gets every inch of credit. He has been a real touch of class – speaking well about the club, speaking well of his role, and admitting that while it would be hard to reject the job full time, it is not his aim to take the role. And we are fine with that. We are in safe hands under Murty's charge and we trust him with the youths when he likely returns to them in the near future.
11: Unless he is injured, and especially if he is not (he was at training this week), Carlos Pena is probably finished at Ibrox. Murty has excluded him from both match day squads and that speaks volumes. It is hard to see how a new manager will take to him. But, hey, crazier things have happened.
There is a feel good sense right now, with Rangers strolling their last two matches in a way we are frankly not used to – it shows how with better organisation and no caravans, barking dogs or Vegas, this squad is able to deliver closer to the sum of its parts than it has at any time this year.
And long may it continue – under this manager and the next.