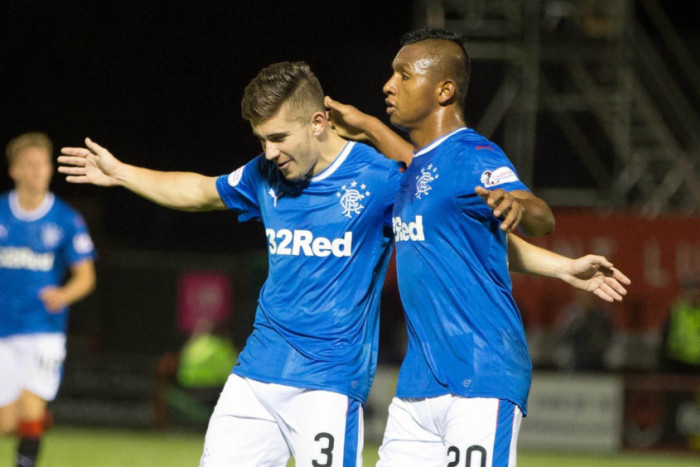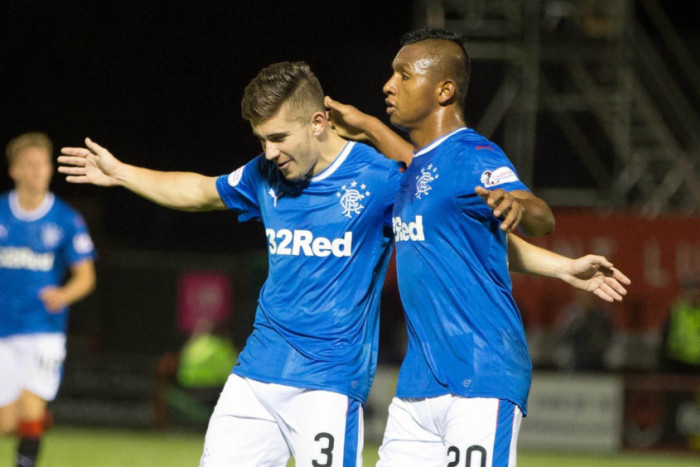 Last night, against a backdrop of pressure on both the squad and the manager, Rangers managed an ultimately comfortably victory over Martin Canning's Hamilton Accies, a victory, lest it be forgotten, that was at a tricky away venue on artificial turf and which was achieved in the face of conceding an early goal.
Ibrox Noise takes our readers through the main lessons we believe we can take from the night at the SuperSeal:

1: This Rangers squad has a bit of fire in its belly, but only now and then. There have been a few times this season where Rangers' backs have been against the wall; and unfortunately in matches like Celtic, Hibs and Hearts, there has been a lack of will to fight for the shirt. That will was finally in abundance last night – Pedro's men could have fallen to pieces, but instead they grafted hard, and earned four goals. It was one of the few times this season Rangers have rolled their sleeves up – Motherwell was another occasion. Was the football great? It was alright, but it was the manner of the comeback that was admirable.
2: The only time Pedro seemed happy was when Daniel Candeias scored. Observed by a number of fans last night, he was unmoved by Declan John's double and Graham Dorrans' penalty, but when Candeias scored, the Portuguese grinned and applauded. Some fans have wondered if this relates to a perceived dressing room divide between homegrown and overseas and/or favouritism on his part towards his Hispanic recruits.
3: Ross McCrorie still has a lot to learn. The lad was excellent in his first two outings, but last night got caught quite a few times and looked far less convincing than he has. He even conceded an idiotic penalty to add to it all. He seems a promising prospect but there are clearly still kinks in his game – he will develop.
4: Graham Dorrans is still being played too deep – at times he was closer to the defence than Jack was – but the few times he got advanced he looked infinitely more productive. His lofted through ball for Candeias' strike was outstanding (when even the BBC call it 'delightful' you know it is rather good), every inch as good as anything Kranjcar has ever done, and that is where the lad does his damage. Keep him more advanced Pedro, it might help save your job mate.
5: Rangers did not miss Miller. In fairness that is the third match in a row he has been essentially absent from – he got a cameo against Celtic, but otherwise he has been AWOL of late in any case, and his absence had no bearing on Rangers' display. Truth is his form has been poor this season, and he needed dropping. Whatever you believe about what is going on behind the scenes, when it comes to form, Miller is not in it.
6: Carlos Pena is a disaster. We are nearly into October, and while the guy does have a bit of vision about him at times, that seems to be it. Unfit, lazy, immobile, and seemingly totally unsuited to the Scottish game, the Mexican just does not fit in – he has scored one bizarrely fine goal since arriving, but that really is about all he has done.
7: Lee Wallace will be looking over his shoulder with regards Declan John. The on-loan Cardiff man seems, on form, right now, the better all-round choice. Two goals and a lot of useful running, the left back also seems to defend a bit more frequently than the club captain, and while we do not want to smear Wallace, you would have to say John is there not only on necessity, but merit right now.
8: Jason Holt is to be admired, respected, and praised – since being unceremoniously ditched some months ago, he got his head down, turned out for the youths willingly, kept his fitness and attitude up, and is being slowly reintegrated into the senior side but with more hunger and desire to produce at this level. And his cameos have been quite honestly great – loads of running, harrying, energy – everything we know he can do but with more gumption. He even won a penalty last night. We would not object to his selection against St Johnstone.
Any more, usual place folks.