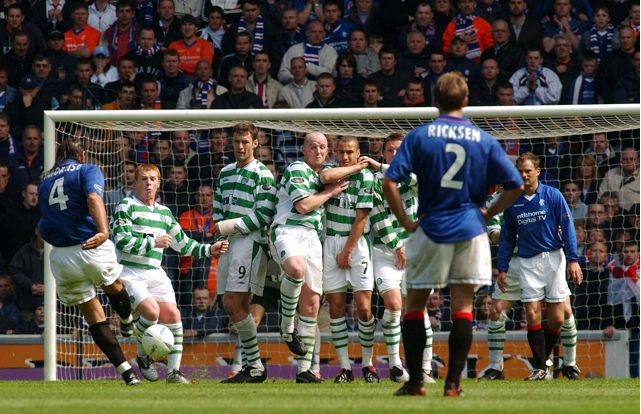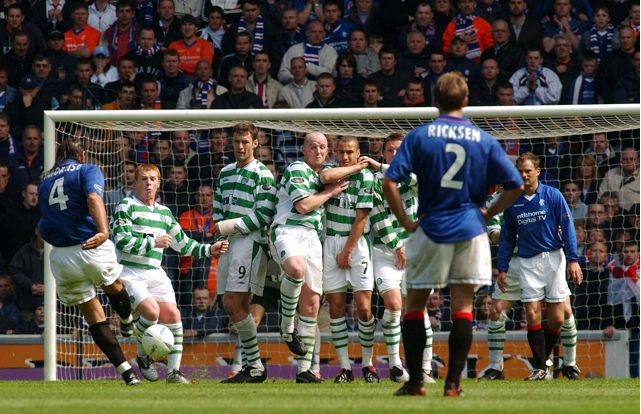 Article by: Martin Green, for Ibrox Noise
Celtic's unbeaten run
currently stands at 46 league matches and it is difficult to see anybody
putting a stop to it any time soon. After becoming Scotland's first ever
Invincibles and completing a domestic treble in 2016/17, Brendan Rodgers' men
will fancy their chances of extending their run well into the future. If anyone
is going to stop them, it will probably have to be Rangers, who now have a full
season back in the top flight under their belts and will see finishing second
as the bare minimum this season. To beat this impressive Celtic side, Rangers
will have to recapture the magic that has seen them vanquish their Old Firm
rivals several times over the years. In total Rangers have secured 164 wins
over Celtic, and here we pick out the very best of them:
Rangers 8-1 Celtic, January 1, 1943

As World War II raged on
and Scots awoke with sore heads following Hogmanay, the Old Firm derby played
out in front of just 30,000 fans due to a restriction in the size of public
gatherings. When George Young rocketed in a 50-yard free kick to put Gers 4-1
up in the second half, Celtic's Malky McDonald argued that a Rangers player was
offside and berated the referee. He was sent off and subsequently fined £10 and
banned for the rest of the season. Teammate Matt Lynch continued haranguing the
ref and was also sent off, leaving Celtic down to nine men. Rangers then took
them apart as Torry Gillick scored a hat-trick.
Rangers 3-2 Celtic, 1973 Scottish Cup Final
Celtic had just won the
title for the eighth time in a row and looked set to make it another double
when Kenny Dalglish gave them the lead in the cup final. But Rangers stunned
their rivals with goals from Derek Parlane and Alfie Conn, only to see George
Connelly level from the spot. The momentum seemed to be swinging in Celtic's
favour but Gers defender knocked in the winner with his studs and the Blue half
of Glasgow went wild. It was Rangers' first domestic trophy in seven years and
was made all the sweeter as it marked the club's centenary.
Rangers 5-1 Celtic, August 27, 1988
Celtic went into this
game as reigning champions, having completed the double a few months earlier,
but they were absolutely annihilated by an in-form Rangers side. Graham
Souness' men established themselves as the new superpower in Scottish football
as goals from Ray Wilkins, Kevin Drinkell and Mark Walters and a brace from
Ally McCoist spurred them on to a comfortable victory in front of a roaring
Ibrox crowd. That thumping win set the tone for the rest of the season and for
the next decade as Gers wrestled the crown back from their arch-rivals and went
on to equal Celtic's record of nine consecutive titles.
Rangers 1-0 Celtic, March 17, 1997
It may seem strange to pick out this one ahead of classics like
the 2002 cup final, where Rangers won 3-2 courtesy of goals from Craig Moore,
Ronald De Boer and Michael Mols, or the 3-0 victory where Rangers took the
title right at the end of the 1998-99 season. Frankly, there have been so many
great Rangers victories over Celtic over the years that it is hard to whittle
it down to five, but this scrappy win gets the nod for its significance. This
was the year Rangers made it nine wins in a row, and over the course of the
season they beat Celtic four times. But Celtic were closing the gap on them at
the top of the table by mid-March, and a beleaguered and injury-stricken
Rangers side went into this game knowing defeat could see the momentum swing in
their rivals' favour. But Walter Smith's side
secured a scrappy win
through a Brian Laudrup goal
and
effectively sealed the title. If Rangers are to stop Celtic this season that
battling spirit and scrappiness could come in handy. It might be too early for
Gers to win back the title after all these years, but the
latest betting
odds that have Rangers at 10/11 to win it without Celtic
look attractive. If Rangers can finish second, beat Celtic and win a cup you
would have to say that is a successful season.
Rangers 5-1 Celtic, November 26, 2000
Another rout to wrap things up. Rangers were reeling after a 6-2
reverse at Parkhead that August, but they exacted sweet revenge at Ibrox.
Lorenzo Amoruso produced one of the best performances Ibrox has seen by leading
Celtic a merry dance all afternoon. He capped his performance with a goal and
Barry Ferguson, Tore Andre Flo, De Boer and Mols piled the misery on Celtic. It
is a reminder of the fantastic calibre of player that Ibrox has seen over the
years. De Boer, Laudrup, Ferguson, Flo, Amoruso, McCoist, Wilkins, Hateley,
Paul Gascoigne Andy Goram, Richard Gough, Jim Baxter, Davie Cooper, John Greig…
the list goes on and on. The current crop is nowhere near that sort of level
but that should be the aspiration and there is a wonderful heritage to draw
inspiration from.
Author
bio:
Martin Green is an
experienced sports writer and tipster. He has been covering Scottish football
for many years.