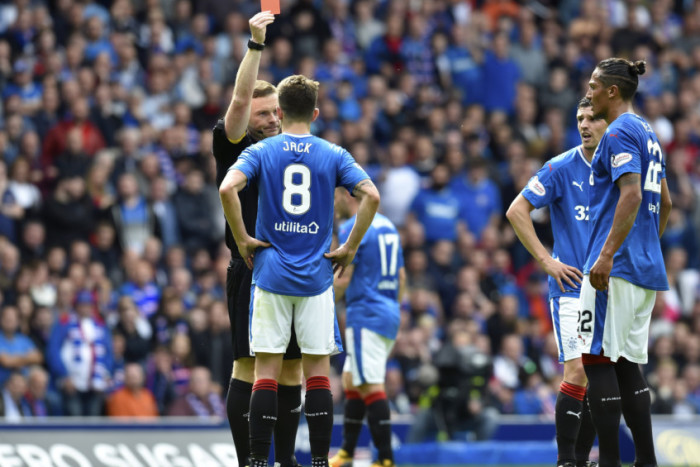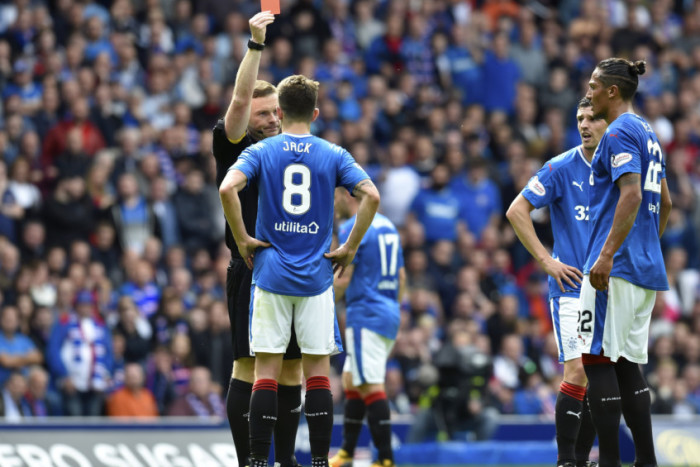 Article by: Ibrox Noise
If one thing is for sure, it is that the fall out from Saturday's titanic tussle at Ibrox between Rangers and Hibs continues on with nonsense over red cards, police action, statements, and every which way but loose.
Rangers fans are especially angry over the Ryan Jack red card, believing the defensive midfielder was harshly treated by referee John Beaton and should never have been sent off.

However, if Rangers fans remember back to Parkhead and the famous 1-1 draw, there was a call from then-referee Bobby Madden which had Scottish football in meltdown. As the minutes ticked out, and Celtic searched for a very late winner, Clint Hill pulled down striker Leigh Griffiths in a desperate last-man challenge which should have seen action taken by the man in black.
It was not, and Graeme Murty's men went on to secure a pretty admirable draw, with the home fans incensed at being held in the Meccanodome.
Subsequently, there have been strong arguments made that Celtic and their associates have just a bit too much influence in the corridors of power of Scottish football, and consequently could Saturday's red card have been a harsh 'evening up' of a perceived injustice from last season?
If we ignore Stokes' clear headlock on James Tavernier inside 5 minutes, well, we would be doing the same as Beaton did.
This is not meant as excuses, incidentally – Rangers were beaten (and Beaton) by the better team on the day – down to ten men or not. But that red card when Anthony Stokes had clearly done enough to earn maybe two reds of his own did strike of an evening up of a previous call.
How anyone can justify Stokes' WWE-attack on Rangers' right back while condemning Jack is just delusion – this is not, I should affirm, 100% justification of what Jack did. We have seen the videos – there was clear head movement and intent, albeit we have seen infinitely worse, and we do not even know that that was his sending off offence for sure. But there was definitely an uneven application of the law in that match, with Beaton standing out as incompetent.
Indeed, the powers-that-be have said as much in their decision to ditch him for this weekend's SPL action, and this does seem just.
And again, the site will not stand for excuses – John Beaton did not lose Rangers the match, Rangers did – but Beaton's incompetence or intentional/unintentional 'evening things up' must be called for what it was.
We do not really ascribe on this site to petitions about referee fairness – we have had calls in our favour many times (Hill being an obvious one) and we have had them against us. But Beaton, just like Jack, and just like Stokes, should be answerable to his decisions, whatever motivated them.
We only want an even playing field.