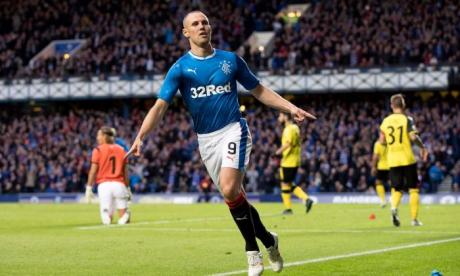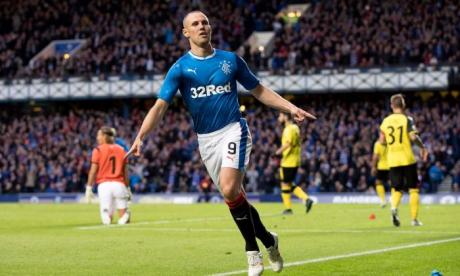 Article by: Ibrox Noise
Whatever Rangers' performance was on Thursday, whatever the result, whatever fans felt and managers said in the press, one thing remained as consistent under the Ibrox floodlights on the 29th as it did all last season:
Kenny Miller remains Rangers' most important asset, and in fact is growing in importance the older he gets.
Some in Scottish football might consider Rangers relying on a 37-year old striker to be a damning indictment of the squad at Pedro Caixinha's disposal, but on the contrary – most sensible fans would consider it a truly astonishing achievement for one of the country's greatest-ever pros.

Not in ability, perhaps – there have been better strikers than Kenny Miller to grace the Scottish (and English) game. But in attitude, professionalism and work ethic, Kenny Miller is among the best the nation has ever produced, and has no small ability anyway to compliment this astonishing focus.
The fact Miller is probably still a first pick is as much a reflection on his dedication to his sport, to his club, and to his body as it is anything else.
And the brutal reality is again he saved the day for Rangers, just like Dembele and Sinclair are wont to do for the green and white shower across the city. Just like Griffiths did for his country a week or two ago.
But this is not a bad thing. Too many Rangers fan think badly of the fact Rangers 'rely' on Kenny Miller – what the hell is wrong with relying on a player who can clearly still produce, whatever his age? Sure, maybe some want our star striker to be Alfredo Morelos, or someone younger with a more foreign sounding name.
But right now our star striker remains Kenny Miller – the silencer of the sheep, the tamer of the t*ms – over and over again. It does not matter if he is approaching the end of his career, he is playing like someone starting it.
And there is his incredible focus on his profession. Preparing for life after football by taking his coaching badges, coaching the youngsters at Ibrox, captaining the front of the team and leading by example – Kenny is a grand example of playing at the top of the game thanks to self-focus, dedication and love for his club.
He has gone as far as to pick up a touch or Portuguese and Spanish to help bed in the new Hispanic recruits, and that kind of work should not go unnoticed.
While Kranjcar's brilliance picked him out, it was Miller's pace, quick thinking and clinical finishing which showed why he is the best striker Rangers have, and while not the top-scoring, one of the best in the SPL.
Rangers are lucky to have this guy, lucky he was happy to sacrifice a cushy, well-paid gig in Canada to answer the call of his team – he came back when Rangers were still only League One – so Kenny has earned his way. He has certainly earned forgiveness for one or two indiscretions of the past – and then some.
If anyone has redeemed themselves, it is Kenny.
Forget a team of Davie We… forget those who truly tainted their legacy.
We all dream of a team of Kenny Millers.