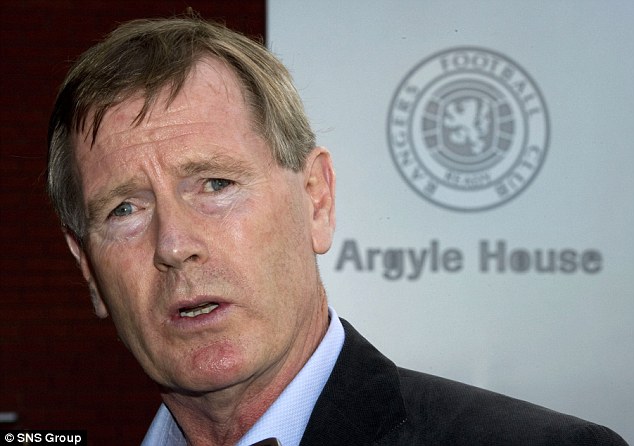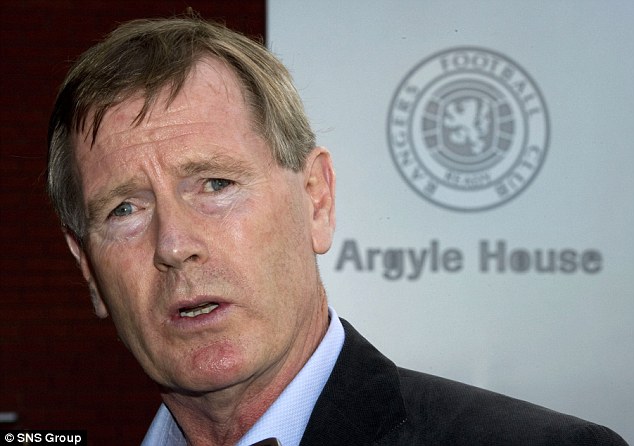 After the optimism of that surprising win over Aberdeen which was followed up by another clean sheet and win over Partick, the unrest caused by the continuing fall out from the Old Firm debacle has caused a huge amount of soul searching by fans looking for the answer somewhere.
More and more now the board is being held to account for a great number of the problems surrounding the performances on the pitch, and for the first time since he took office, chairman Dave King is under a touch of pressure from fans infuriated at the feeble quality of the squad and who do not envisage this summer seeing a spending spree.

The fact is Dave King promised fans the Earth in 2015. He categorically stated multi multi millions would be invested, with a ballpark figure of £30M being thrown around with gay abandon, and more and more fans are now beginning to wonder if money will ever seriously materialise with major expenditure on players.
When King made a statement in February, it was greeted with mild dismay;
"£18 million of the originally estimated £30 million investment has already been made."
Yes folks, King, who sold us a dream, has confirmed that two thirds of that grandiose £30M has already been spent – as we know we spent circa £500k in January 2016 and then another £3M the following summer. It begs the question; what did the other £14.5M go on? It clearly was not on players.
We know there have been renovations and upgrades, with repairs asunder, but truthfully fans want to see players worthy of the shirt arrive; instead it is being implied all monies are simply going into keeping the lights on and fitted correctly.
It is not the vision King sold us. His verbose strongly stated that Rangers would be the second best team in Scotland pretty quickly;
"For Rangers to become the second top club in Scotland should be achieved at fairly short notice."
Well it is over two years since he and his men took charge and we are nowhere near it yet. Instead Rangers fans are suffering an awful dichotomy of expectation over where Rangers should be and where they are; and it really is causing friction.
And it is even sad our ambition is simply to be runners' up at the moment. The fact is many fans peddled the King line, buying into everything he said and attacking other fans who did not. And £18M later with only Joey Garner to show for it, Rangers are in a worrying cul-de-sac.
There is the question of 'judging' based on the upcoming summer business, but do fans really expect serious signings when the press are linking the likes of Kyle Lafferty and Kenny McLean with a move to Ibrox? This is not to suggest McLean is a poor player, but unless Rangers are going to bid big cash, it is unlikely to happen.
And it all comes back to money. Fans were promised the moon and frankly it has not been close to being delivered. Rangers are nowhere near the second best team in Scotland and the decision to appoint Caixinha raised more than a few eyebrows at the time and is now being plain questioned following his weird start to life at Ibrox.
And that all falls back on the board. It is not just Dave King and his promises, but the whole board who do not seem to be impressing anyone. If it is not Stewart Robertson and his u-turns it is the complete media silence of Paul Murray this season, when he was only too happy to have a chat last. If it is not rumours of board friction it is stories of players being unhappy with the managerial regime. If it is not that it is something else.
And the problem is next-to-nothing is being delivered on the pitch to paper over these behind the scenes cracks.
We get asked on this site to discuss King and the board frequently; in fact among supporters in general it seems to be an increasingly regular topic of ire. And generally it is a subject we do not broach as much because the last time we got heavily involved in the politics we were slammed. For the record we cut the old board slack early on, initially gave Ashley our benefit of the doubt, then as time wore on and no progress took place there was clearly a groundswell for a change – which we totally supported.
For the record, as anyone who was with us 3 years ago will testify – we never wanted King and his men and strongly campaigned against them. But as fair supporters when they seized power we gave them the chance to prove us wrong. And in fairness to them it has not been diabolical – far from it.
It just is not what they promised. After two years of their stewardship a plan looked like it would be in place, with healthy levels of investment to boost the infrastructure of the club, expand the merchandising systems and most importantly get in the big players to push for top two.
The merchandise issue is understandably a problem of legal gravity – the retail sector remains Mike Ashley's and we accept there is not a lot King can truly do to resolve that one. It means for the foreseeable future we simply cannot buy shirts if we want that money to only go into Rangers. But therein lies a problem – King implied strongly the issue could be resolved this summer, and a proper shirt launch provided – but do we believe him?
As for infrastructure – repairs have been carried out, yes, and there have been improvements, but nothing mind blowing. Ibrox and Murray Park remain more or less as they did before King came along.
But it is the players, is it not? There is where the promises of big money, decent players and a Rangers to be proud of simply have not materialised. Instead we have seen circa £4M on players and that is really about it.
This is not to advocate £100M or crazy money. But Willie Henderson is dead on. We do need to spend around £50M to get a quality of squad that can push Celtic.
Think back to the last great squad we had. Bocanegra, McGregor, Papac, Whittaker, Edu, Davis, Aluko, Jelavic, Naismith yadda in 2011. These were international players of the calibre Rangers fans expect but they did not come cheap.
In order to regain a team of that class the same kind of money needs to be spent – and evidently it simply will not be.
It is not that we have a huge problem spending within our means – we do accept we do not want to go down the same irresponsible road. Our problem is with King's promises that we will throw big money into the club – then it just does not seem to happen.
To defend King, he did say:
"The Rangers fans have had a very difficult time. I think we are going to have a couple of tough years. There is a very substantial gap between Rangers and Celtic at the moment. For us to narrow that gap – as we surely will do – it has to be done on a judicious basis. It must never get to the situation where we put Rangers in financial distress chasing something that can be managed in a far more commercial and sane basis."
He is right, we do not want financial chaos again. The problem here though is his promises. He says on one hand how the next two years will be tough, but equally promises to pump in £30-50M?
This does not sit well. And if we have only spent £18M (of which £4M went on players) in two years then it was patently untrue as well.
Again, I am not wanting us to boast big spending – I am simply highlighting a paradox between what King promises and what he urges. And what he then does.
As things stand Rangers are not just years off a title challenge; the harsh reality that unless Rangers find a way to get on financial parity with Celtic, we are destined for years of upper midtable mediocrity. The only way back to the top is fundamentally with hard cash. And if fans do not want us to spend that kind of cash and end up in danger, and who could blame them, then the way things are now probably is more or less how it will be for the foreseeable future.
And that is tough for Rangers fans to take.
Equally do we want the board to just spend the money and give us the kind of Rangers we expect? Well they did promise…
It is worth noting the last three managers, Pedro and Murty included, all have very similar records in the SPL. Roughly half the matches are won, 27% are drawn, and the rest lost. Which is basically the record of an upper midtable SPL team.
Unless something drastic changes, that is yer lot for quite some time.