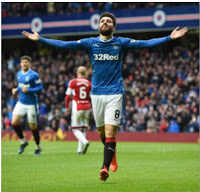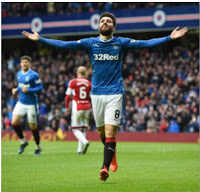 Mark Warburton played Tommy Wright's St Johnstone three times and failed to win a single encounter. Graeme Murty managed it on his first go, including under the duress of being a man down.
Warburton had struggled hugely against Hamilton last time the two played at Ibrox, managing only a draw, before scraping an ill-deserved three points at New Douglas Park in December. Graeme Murty's side put six past the same team.

While no one would pretend Murty is the answer to Rangers' problems, in the past two games Rangers have displayed, over the course of all 180 minutes, all the attributes fans would expect from a Rangers team, whatever its quality.
Against St Johnstone there was actually some good football in a first half where frankly the home side was in control. If the visiting manager was in any way auditioning for the Ibrox job, his performance was underwhelming at best. While not exactly a gulf in class, and while Rangers still had many players not delivering what we need, they showed a touch of quality in places not to mention the right attitude and work ethic to earn the two goal lead.
Unfortunately one lapse led to St Johnstone pulling a goal back before a bizarre new trend of stupidity on Rangers' players' parts (more on that later) saw Rob Kiernan sent for an early bath after an absurdly crude challenge which earned him a straight red. St Johnstone then predictably equalised but the home side finally started to fight for their corn, and Emerson Hyndman's late winner saw a Battle Royale go the way of Murty's men.
Then today we saw more hard graft – it was far from pretty on the eye at times, and Hamilton had over half the possession in the first half, but as we know from our last manager, that is far from the be all and end all. 6 goals for the day, even if two them were deflected and one was never a penalty saw Rangers deserved winners on the day even if the score was considerably flattering. And Rangers' work ethic and running was much more like what we expect, even if the quality on the day was lacking.
But it was Joe Garner's bizarre assault on Dougie Imrie that brought the most attention; the ex-Preston man simply ran up to the Hamilton flanker and kicked him in the leg, before laughing about it. Even more bewilderingly it was only deemed a yellow card, before he then ironically went onto score a hat trick. In any sane person's eyes it was a blatant red, but the only eyes that mattered were John Beaton's.
In the end that is now two wins in a row for a Rangers team who have been rightly under fire recently. With nine goals in 180 minutes, it is certainly a small answer for their critics, even if it more papers the cracks over than rebuilds the wall.
Rangers now need direction; whoever the new manager is and whoever the Director of Football turns out to be, a proper structure needs to be in place that works for the SPL. But if the players at least continue to show the application they have in the past two matches, it will be something to work with.