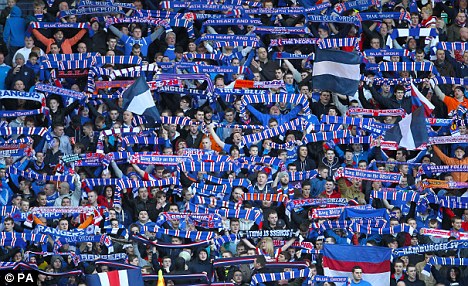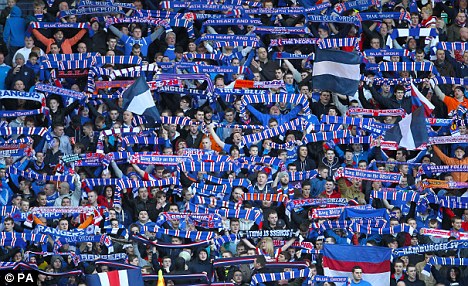 Article written by Richard Fillingham
With all the problems the Rangers fans have been forced to endure in the last 5 years, the one indisputable fact is Rangers fans have been nothing short of MAGNIFICENT!
1. The new world record crowds for any 3rd division matches played anywhere in Europe or in the rest of the world.

2. They continued to show up in their thousands after gaining promotion into League One, under the management of the awful, hard to fathom out tactics of (in my opinion) the worst Rangers manager of all time – Rangers legend – Ally McCoist.

3. When Rangers were finally promoted to the Scottish Championship league the crowds were even more incredible. Unfortunately, Hearts were deservedly promoted and Rangers lost out in the play-off with a fired up and much more talented Motherwell side.
4. Despite the embarrassment of not winning the Championship at our first attempt, the fans continued to stick by their team and support their new manager.
Mark Warburton was brought in to try and change Rangers situation of failing to get back into the SPFL at the first time of asking. He did turn things around in his first season in Scottish football. He does have talent as a manager, but unfortunately, like many other good managers and footballers, just not good enough for a team the size of Rangers.
I am immensely proud of our wonderful support who never stop caring so much about our world record breaking team – Rangers (WATP).
Now the supporters have to put up with some inferior Rangers players playing every week, especially in defence without a proper holding midfield player who can read the game and spot the danger of the opposition attacks.
The fans have to sit and suffer teams scoring so many corner kicks against us – what do they do in training to rectify this apparent problem?
The Rangers fans are not daft and we realise that trying to compete with a record breaking Celtic team with money to spend and an excellent, experienced manager of the calibre of Brenden Rodgers is going to take time and some investment. Oh I have a good idea – why don't we just sign much better players – or is that too much to expect?

Cheers to all the Rangers fans for all their efforts to try and get our own Joe Garner a Xmas Number 1, which was so much fun.
Thank you to every one of our 8000 fans who followed Rangers in freezing conditions in Germany last week and for the way all our support conducted themselves. Traveling to back the team in a nothing at stake friendly against RB Leipzig shows the world how big a club we actually are. Incredible!
Sweet Caroline – a-pal-of-mine from Carntyne wants Ed to also remember: –
Don't forget about all the fans who followed their team to Manchester in the European final in 2008. There could have been as many as 80,000 of us the night before the big match and around 250,000 Rangers fans in the city centre of Manchester on the day of the game. The amount of Orange bands marching into Manchester was a sight I will NEVER forget! Unfortunately, the police handled things very badly indeed as they soon discovered that too many people actually turned up to see and cheer their team. It was a massive show of strength by the Rangers fans. Many of them turned up wearing various Rangers jerseys from through the decades. Especially the older guys who wore their old style Rangers strips with great pride to the game itself. Two of the happiest days of my life!
I don't think Mark Warburton can spot a great player?
Rangers fans can see clearly that this team is like butter and too easy to cut through. How do we see things that he can't see?
Sidney who widnae kid ye from Riddrie comments: –
If Warburton was a really good manager, why would he keep making the same mistakes almost every week?
Why does Mark Warburton get his tactics wrong so often?
Why continue with a Barcelona style 4 3 3 tactic, when you have signed so many average players who cannot find enough space to score enough goals to beat bottom six teams at Ibrox?
Donny plays poker, he's also the joker from Yoker and agrees with me: –
If I was on the board, I wouldn't trust Warburton with big money to waste. His signings in 2016 have been extremely poor value for money. He cannot prioritise and this is his biggest failing. I appreciate that he is still a novice manager, but that is no use to Rangers at a time when Celtic are miles ahead of us in money and experience.
Do you agree with me, that Warburton has to go at the end of this season?
I for one have had enough of his lack of experience. Look what happened at Celtic once they got rid of Ronny Delia and replaced him with Brendan Rodgers and his experience.
Jim Hilt who is splendid in his kilt is from Castlemilk says: –
Excellent defenders would probably save Warburton's job, but he seems to think we already have them at Rangers. So he has no chance of staying with this shambolic defence.

What is the best thing about Rangers?
Without a doubt – the fantastic Rangers support. The 'Gers are always 100% imbedded in all our hearts and once a Ranger always a Ranger!
John the prophet from Moffat wants Ed to know: –
I have to agree with Richard once again. The fabulous Rangers fans always turn up in great numbers and we won't let our team die under any circumstances.

God bless the Rangers fans!