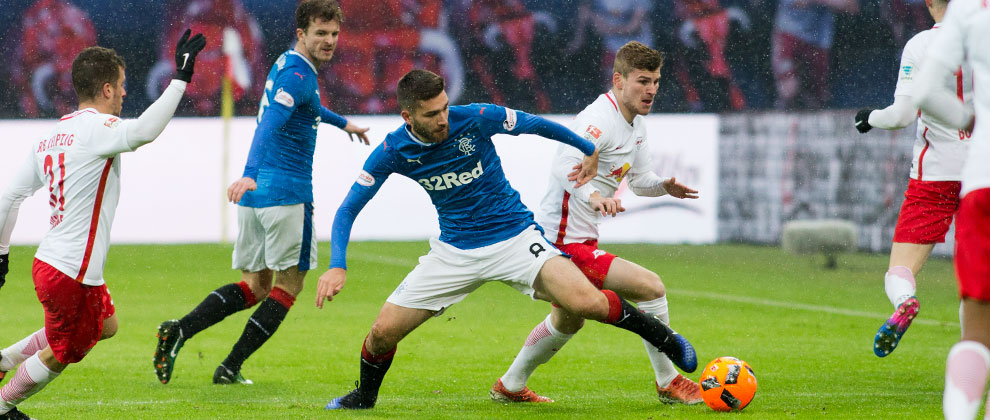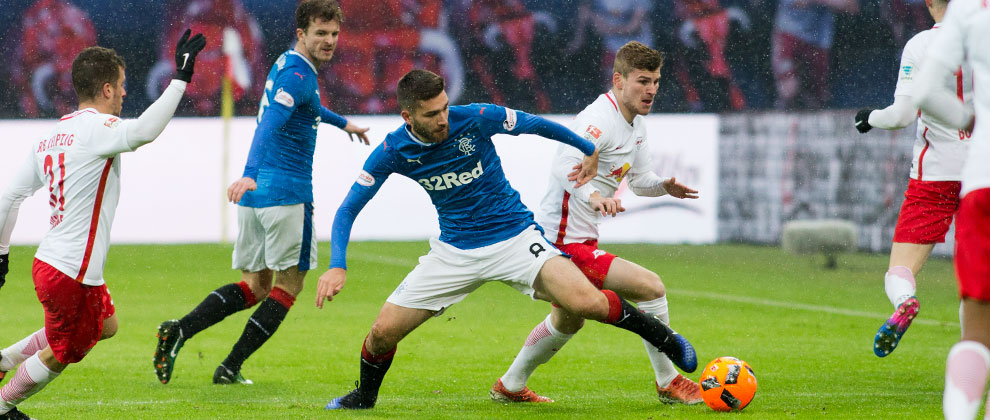 With no continental competition on offer for Rangers over the past few years for obvious reasons, fans have had little in the way of glamour ties to judge their side's progress under Mark Warburton. There were friendlies in Derby and plenty in the USA, but nothing truly relevant in context of European opposition against which to measure ourselves.
This all changed when a clash was arranged with German cracks RB Leipzig, a new side breaking every 'rule' in the book by rising to the top of the Bundesliga within seven years of their inception, hence giving Rangers really as hard a test as Warbs' squad could have had.
So, what did we learn by the end of this match with our high flying energy-drink fuelled opponents at the Red Bull Arena?

The first obvious aspect to note is how far off this level Rangers truly are. If the trumpings by Celtic did not give it away, this sure did, and while Warbs' XI made something of a reasonable attempt at playing football for the first 25 minutes, once Leipzig decided to join in, Rangers simply disappeared from the pitch. In short, they were considerably out of their depth, but then, what else did we actually expect? Rangers, currently a country mile behind Celtic in a truly pitiful league went up against currently the best side in Germany, give or take. I am not sure what good could ever have come from this fixture, glamorous though it was.
Secondly, the travelling support was absolutely brilliant. Despite full time greeting the Bluenose faithful with a miserable result and display, the support continued their backing of their team with song aplenty, a theme which continued throughout the full 90 and preceded the match in the build up too. One clear success this season at Ibrox has been the support, particularly on our travels, and the 8,000 fans who made their way to Leipzig are a credit to the Club.
Third, Josh Windass is deeply struggling to gain the level needed to play for Rangers. He looked to have the whole package early on this season and yours truly even saw Warburton building the team around him on that form, but it has faded dreadfully, possibly in concert with injury and loss of confidence. Either way, he is a passenger right now and offers absolutely nothing.
Fourth, Barrie McKay is clear and away Rangers' best player. One thing Warburton has nailed this season was McKay's loss of form earlier in the campaign – since his return, the odd quieter performance here and there aside, he has been electric, and has finally got to grips with the increase in standard of the SPL. He was Rangers' stand out performer in Germany, looking at every inch the level of our opponents. It has been some time since Ibrox produced a home grown talent of this quality – McKay is to be kept at all costs.
Fifth, Jon Toral has potential and for the first quarter of the 90 was neat, assured, skilled and even had a defensive edge. He faded dramatically and was switched at half time, but with time and fitness he could turn out to be a very astute signing, who seems one of the more intelligent footballers we have seen at Ibrox of late. But this was only a friendly so it would not be overly valid to fully judge him based on such a curious fixture to debut in.
And lastly, Rangers' decision-making remains poor. It stood out especially today; the opening seconds saw Windass clean through while Miller elected to ignore him, surprisingly, and this kind of poor selection is a recurring theme. We often see the pass to the right player being ignored in favour of meaningless ball retention, or the wrong player, and it is something Rangers were well and truly punished for on this occasion.
There were other aspects, such as Rangers' utter toothlessness up front (one, maybe two shots in the whole 90) and the fact that for a short period early on, if not matching RB, they played with a touch of composure, especially assisted by Toral, but ultimately a weak team went to a strong team's patch and got well beaten.
Did this really teach us anything we did not already know? Probably not.