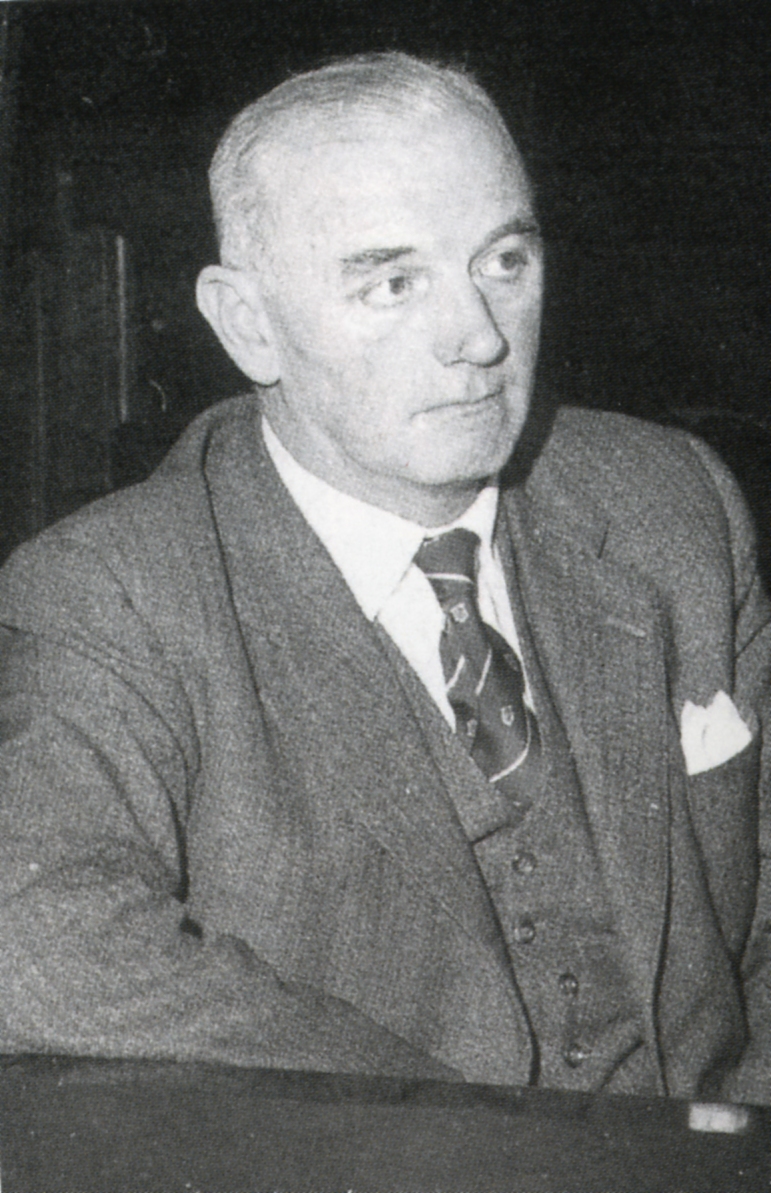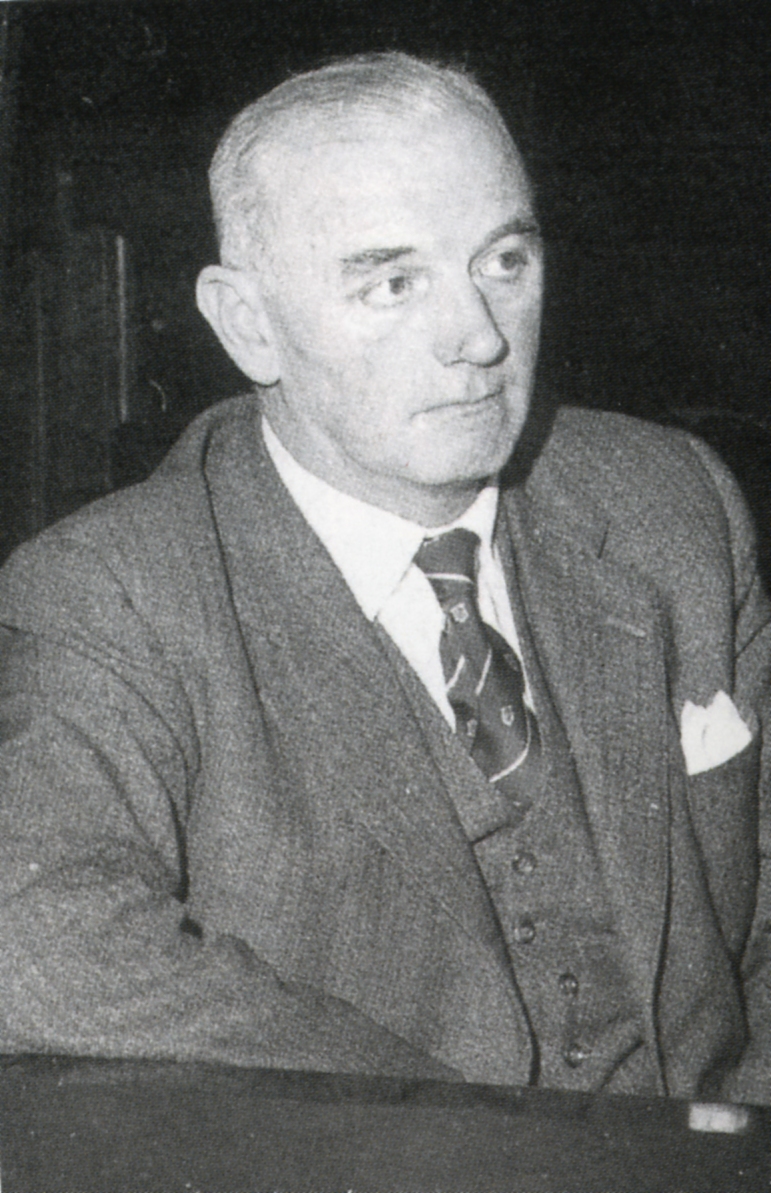 Article by Kenny Reid
The unenviable task of following the legendary Bill Struth was fittingly given to one of his former players, James Scotland Symon. In the summer of 1954 and having just finished his remarkable 34 year tenure Mr Struth stood down as Rangers manager. The shoes of this incredible man were massive ones to fill but perhaps only a Ranger could understand the enormous expectations of such a unique football club. It is therefore equally true that surely only a Ranger steeped in the success of the Struth era could adequately follow the great man so to that end Symon fitted the bill perfectly.
Scot Symon had already made a name for himself in managerial terms by taking East Fife (yes, EAST FIFE) to top flight promotion in his first season at Methil upon his 1947 retirement as a player. In addition to this they won the 1950 League cup defeating Rangers in the semi-final and also reached the Scottish cup final that season where the Rangers would gain revenge with a 3-0 win. This form led to him being appointed Preston North End boss and he led the famous old club to the 1954 FA Cup Final. All of this was being quietly observed by the powers-that-be at Ibrox which was essentially Struth himself. Subsequently Symon was asked to become Rangers' third manager albeit with the caveat of taking over from the club's greatest-ever manager an unwanted millstone hanging round his neck. The immediate post war period had spawned a great rivalry with Hibernian as their famous five attack was pitted against Rangers' equally lauded iron curtain defence. When you add Symon's East Fife, Hibernian, Hearts and emerging Aberdeen to our perennial rivals for the flag it was a highly competitive arena but as ever, We Welcomed The Chase.

Regrettably the last season of the Struth dynasty ended with the club finishing 4th as Celtic won their first title since 1938. It was something of a transitional period and Symon's debut campaign in the hot seat saw the Gers climb one place to third behind the enemy and champions Aberdeen. Managers at Ibrox do not set the standards, the success and history of our club set the barometers and the fact was that the Rangers had not won a trophy since the 1953 Scottish cup completed yet another league and cup double as Struth's tenure was coming to an end so Symon knew that he and the Rangers simply had to respond.
Normal service was resumed though in Scot's second season as the Rangers won the 1956 championship and with that came a place in the European Cup the following season. Having the distinction of leading the Rangers into Europe the history books have suggested that his record was poor but I'd disagree with that assertion. Sure, there were heavy defeats to both Eintracht Frankfurt (1960) and Real Madrid (1963) but in 10 campaigns on the continent under Symon, 8 of the teams who eliminated the Rangers went on to reach the final with 5 of them winning the competition (if we are including Leeds United who knocked the Rangers out of the 1968 Fairs Cup after Symon had left). As well as the Rangers being the first team to reach a European final (1961 Cup Winners' Cup), losing to AC Fiorentina Rangers became the first British team to play in two European finals when we went down in Nuremburg to Bayern Munich in 1967. Notable scalps taken by the Rangers included Cup Winners' Cup holders Borussia Dortmund, Red Star Belgrade, AC Monaco, European champions Inter, St Etienne, Sevilla, RSC Anderlecht, FA Cup holders Wolves and an astonishing 11-0 aggregate win over Borussia Monchengladbach.
Moving back to domestic matters he secured the club's 30th championship with the retention of the title in 1957 which included our inaugural European tie v OGC Nice which we lost after a play off in "neutral" Paris. Alas a third successive crown could not be achieved with Hearts the runaway champions and we will gloss over the league cup final of that year for fairly obvious reasons. Reacting to the Gorgie challenge a third championship in 4 seasons arrived in 1959 although not without some dramatic final day drama. Rangers went into the final day of the season 2 points clear of defending champions Hearts, indeed it was only a loss at Tynecastle in our penultimate game that ensured the race went to the wire. With the Rangers at home to Aberdeen it was naturally assumed the title would be but a formality.
Nearest challengers Hearts were also in Glasgow that day, at Celtic Park of all places so it looked as if we would have to take something from our game. An early Brand goal settled Rangers' nerves but the Dons struck back to level. However the half time standings were good enough to give Rangers the flag even considering Hearts being a goal up at Celtic Park. The unthinkable happened and shortly after the restart Aberdeen took the lead. Despite wave after wave of Gers attacks the equaliser just would not come. To a cacophony of boos the stunned Light Blues players believed they had thrown away a title that had only required the collection of a solitary point from our last four. Disaster was remarkably averted though as word filtered through that Celtic had rallied to defeat Hearts 2-1. Not quite sure how to comment further on that turn of events, were we to thank them?
A yet to be bettered run to the last four of the European Cup was perhaps to blame for the Rangers finishing in third place the following season although the Scottish Cup was won by dint of a 2-0 win over Kilmarnock. It is beyond reasoned debate that Symon's tenure can be split rather easily into three distinct categories, all involving one mercurial talent; James Curran Baxter. Those categories I will imaginatively call, Before, During and After Baxter. Before Baxter things had went reasonably well with three titles won in those six seasons. Standards at Ibrox are more demanding than anywhere else so whilst that return might have been more than acceptable for ordinary clubs not so for the Rangers. Subsequently the boss was looking to improve an already accomplished team. Symon sought to raise the bar and raise it he most certainly did. The subsequent arrival of Baxter from Raith Rovers in the summer of 1960 would have a seismic impact on the club. Indeed such was his impact over the next four seasons that it merits an article all of its own (perhaps). For a side that already contained stalwart figures like Millar, Brand, Wilson, Scott, MacMillan, Shearer and Caldow, the arrival of Baxter would prove to be the jewel atop a very polished crown.
The championship was regained from Hearts (a title clinching win 7-3 win v Ayr saw us take the crown) whilst the league cup was won, again 2-0 against Deedle's Kilmarnock. An impressive domestic season was boosted by performances abroad in the inaugural European Cup Winners Cup tournament. The Hungarians of Ferencvaros were despatched 5-4 on aggregate before Borussia Monchengladbach were beaten 3-0 in West Germany and remarkably 8-0 at Ibrox. Those aggregate victories coupled with a fortuitous bye saw Rangers through to their second consecutive European semi-final but thankfully Eintracht were not lying in wait. Instead it was FA Cup holders Wolverhampton Wanderers who were paired with the Rangers for a tie that was inevitably labelled the "Battle of Britain". A huge attendance of 79, 229 roared the Light Blues (wearing their white away kit oddly) on to a crucial 2-0 victory with Scott and Brand finding the back of the net. Perhaps having learnt his lesson the hard way after Frankfurt, Symon deployed a more cautious approach in Wolverhampton and an Alex Scott goal took Rangers to the brink of glory and not even a Wolves equaliser could alter the fact that the Rangers were the UK's first European finalists.
So seminal was this result that it was celebrated in song in the wonderful "Wolverhampton Town" and if I may go off point it is one of my personal favourites. Hopefully in the not too distant future I will put something together about the glorious musical tributes to our club and certainly Wolverhampton Town is top of the list so far as I'm concerned. Anyway, that success took the Gers through to the final against the Italian cracks AC Fiorentina. The Florentine club had posted notice of their prowess by becoming Italy's first European finalist when they lost 2-0 to Real Madrid in Madrid in 1957. They were as it turned out a bit more streetwise than us and won 2-0 at the Stadium and then 2-1 in Florence in what would be the only two legged final in the competitions history.
After such a season it was something of a disappointment for the club to win "only" the two national cups in 1961/62 beating St Mirren and Hearts respectively in the Scottish and League Cup finals. Surprisingly Dundee won the title and a look at the closing results showed that the 4 points dropped in our closing 3 games would have seen us as champions instead of the Dens Parkers had we won all three games. A run to the quarter finals of the European cup was halted by Standard Liege but after such a near miss, great things were just around the corner. Now it is impossible to write anything about the great Rangers team of the early to mid-60's without mentioning Baxter but also the iconic starting XI that is still rhymed off by fans more than half a century after these stars lit up old Ibrox. To those of a certain vintage or indeed anoraks like me the names of Ritchie, Shearer, Caldow, Greig, McKinnon and Baxter were followed by Henderson, McMillan, Millar, Brand and Wilson. I used to particularly enjoy when my Dad regaled me about this team as he got so excited that all the names used to just roll into one as his speech got faster and more excited with demonstrative arms thrown about for extra drama. This oft recited XI, whilst not statistically accurate (in terms of games played) was recognised and feted as the greatest side in our long and illustrious history.
Notice was posted as the championship was reclaimed in 1963 with quite a bit to spare. To that championship the Scottish cup was added with a 3-0 win over Celtic in a game so one sided that the Kings Park end at Hampden was empty with 20 minutes to go. Furthermore, such was our dominance that it was said by many that this was our chance to avenge the 1957 League Cup final score but rather than inflict maximum damage, Baxter chose to toy with the opposition with keepy uppies and other circus tricks. Now there was only one way to top such an impressive double and that was with the treble. Without a triple crown since 1949 although worth pointing out that we were the only club to have won it, 1963/64 was a season that would go down in history.
An opening day draw at Dens Park was followed by a home win over Celtic. The good start was cemented further by another 8 consecutive league wins and the Rangers went from strength to strength. From the middle of February Rangers racked up 8 wins from 9 games on the home straight rendering their final day loss at Muirton meaningless. Both cups were won with some aplomb as Celtic were beaten 3-0 home and away in the league cup section. Indeed so dominant were Rangers over the old foe that we also beat them 2-0 in the Scottish cup quarter final. Played five, won five against Celtic, scoring eleven for the loss of just one goal made pretty impressive reading. For the record the League Cup final was a real family affair with Jim Forrest scoring 4 and his cousin, Alex Willoughby netting the other in a 5-0 win over Morton whilst the Scottish cup was won v Dundee before 120, 982 by a 3-1 margin.
Regrettably we now come to the category of After Baxter as the slim one was sold to Sunderland in the summer of 1965 following a campaign that saw only the league cup retained from the Triple Crown accrued so spectacularly the previous season. A final placing of fifth was hardly the catastrophic fiasco it initially appears with the Gers a mere 6 points off the top position occupied by Killie. With Hibernian giving us our first Scottish cup defeat since 1961 the only other trophy available was the European cup. After victories over Red Star Belgrade and Rapid Vienna an eagerly awaited quarter final with holders Inter Milan was indeed an intriguing one. I started this paragraph as saying it was without Baxter and whilst he was still at the club for the ties in March 1965, he was injured following a devastating leg break in Vienna thereby ensuring perhaps our best ever chance to win the Champions cup was gone. It was close but no cigar despite a 1-0 second leg win at Ibrox as the Rangers slipped out 3-2 on aggregate.
Whilst the concession of the title to Willie Waddell's Kilmarnock in 1965 was a disappointment, the emergence of Celtic under Stein in 1966 to win their first title since the last season of Mr Struth's tenure some 12 years before was an ominous portent of events to come. So quickly had Glaswegian tables turned that from a 1964 treble followed by a season where Celtic finished 8th, only a Kai Johansen goal prevented a Celtic treble as Rangers famously won the 1966 Scottish cup final replay.
That crumb of comfort ensured Rangers would again be taking part in the European Cup Winners' Cup competition once more. A routine first round win over Glentoran preceded a most arduous draw against the holders; Borussia Dortmund. The slenderest of margins saw Rangers take a 2-1 win over to the Ruhr valley but a gutsy rear-guard action saw us progress to the quarter finals with a 0-0 draw. All of this was achieved despite an injury to Bobby Watson that saw Rangers play the entire second half with 10 men. Next up were Real Zaragoza and they were duly beaten 2-0 at Ibrox which was a lot more comfortable that the score suggests. However thoughts of an easy route to the last four were banished as we went down 2-0 in the return. In the days before penalties it was an even more ridiculous way to decide a tie as the ref tossed a coin to determine the winner. Thankfully Greigy called correctly. That stroke of luck saw us through to the semi-final where we were paired with the Bulgarian side Slavia Sofia. When a Davie Wilson goal in the Bulgarian capital ensured Rangers would go into the home leg a goal up a second European final was assured and duly confirmed by another 1-0 win for the Light Blues. Our reward was a second crack at a European trophy, this time against the emerging West German giants Bayern Munich. It is fair to say that the Germans, whilst formidable opponents, were far from invincible and were in that respect very much beatable. However with the game to be played in Nuremburg it made it a virtual home game for the Germans and they prevailed 1-0 in extra time. Rangers had chances and incredibly took to the field without a recognised striker.
That they played such a monumental match without a striker owes everything to the catastrophic Scottish cup defeat in January of that year to lower league Berwick Rangers who were marshalled superbly by goalkeeper and manager Jock Wallace (whatever happened to him?). In an act of stunning short-sightedness neither of Rangers' two strikers at Shielfield that fateful day would play again for the Light Blues. It was particularly harsh on Jim Forrest who had plundered some 35 goals domestically the previous season whilst his less prolific partner George McLean was no slouch in the goal scoring stakes either. So it came to pass that neither striker would play for the club against although arguably the club were not affected too much as we embarked on nine consecutive league victories after that fateful day in the Borders. Defeat at Dunfermline on April Fool's day was followed by a win at Stirling Albion but draws in our final 3 matches sealed our fate as we finished 3 points adrift. Truly, so near but ever so far and you cannot help but wonder what might have been in Bavaria as we faced our own Nuremburg trial.
It was not known at the start of the following season that it would be Symon's last at the helm and it began well enough with six wins and 2 draws from our opening 8 league fixtures leaving us proudly on top the old first division but incredibly, with the Rangers still top of the pile, Symon was sacked. His last game in charge had been a 0-0 draw at home to Dunfermline athletic on 28/10/67. The dismissal lacked any of the class associated with the club and hardly befitted a man or Mr Symon's stature. Given the challenge from the east end of the city his departure was perhaps inevitable, however a man of dignity, steeped in the ways of Mr Struth, Symon deserved better than to be sacked by a business associate of the Chairman, John Lawrence and unbelievably a person with absolutely no connection to the Rangers. It was a truly shameful way to treat a Ranger of such distinction or indeed any Ranger for that matter.
A remarkable man who has not been judged either well or indeed fairly by the annals of time I would suggest. This Rangers man built what many still believe to the greatest team in our history and one that is still spoken about in such hushed tones more than half a century after its star stopped shining. He was a pioneer of European football and whilst his detractors say he never quite adapted to the foreign challenge it cannot be disputed that he took us to two Cup Winners Cup finals, two European cup quarter finals and another semi. He also saw the Rangers bow out in three consecutive seasons to teams that would contest the final, indeed two of them won it (Spurs and Inter) and his last two Euro campaigns both saw Rangers being beaten by the eventual winners (Bayern Munich and Leeds United). Furthermore, another 3 teams would reach the final (with AC Fiorentina winning the tournament) after defeating the Rangers in Scot's earlier continental jousts. Those incontestable facts hardly suggest the European novice that he is made out to be, a heavy defeat in Frankfurt certainly going against him and a stick used to beat him with.
Domestically there are those who would say that a mere 6 championships in 13 years does not befit a Rangers manager, however this was arguably the most competitive period in Scottish football history with 5 teams other than the Rangers being crowned champions of Scotland during his tenure. Such a period of shared dominance has not happened before or certainly since Scot Symon's time. Add to those titles 5 Scottish and 4 league cup triumphs then it is fairly easy to work out that he averaged more than a trophy per season. The creation of the much lauded early 60's vintage deserves enormous credit and it is worth considering that from the arrival of Slim Jim in 1960, the Rangers were champions 3 times in the intervening 4 seasons as we collected 9 of the 12 domestic trophies available.
Capped by Scotland at cricket as well as football, it was, to coin a phrase not cricket the way he was dismissed at a time when the Rangers were on top of the league. However to end on such a negative note would be a disservice to the man and I will finish with a toast;
James Scotland Symon, history does you a disservice which hopefully I have redressed; you filled the biggest shoes there were to fill and you did it well.