In an epic article befitting an epic man, Ibroxnoise.co.uk's Kenny Reid takes us on a journey into the life of Mr William Struth – The Quintessential Rangers Manager.
When you think of Rangers Managers, there is one stand out custodian from the list. Mr Struth stands alone due to his longevity of service and also his unsurpassed trophy haul. Always one for a challenge I decided to pay homage to the man that his surviving charges still refer to as Mr Struth. I only hope I can do him justice and I feel as if I should be wearing a three piece suit whilst typing this.
As perhaps the greatest employee our club has ever had it is strange to consider that he was not a footballer by trade. Mr Struth was a stonemason and crucially an athletics enthusiast which was not exactly a combination that suggested greatness. However it would be his keen interest in athletics that would lead to his first involvement in the beautiful game at the less-than-beautiful surroundings of Shawfield as he was appointed trainer at Clyde in 1908.

Being something of a perfectionist it was natural to assume he would want to prove himself at the top so it was no accident that he ended up at Ibrox. He was appointed as trainer under William Wilton in 1914 having cut his teeth with the Bully Wee. With the Rangers looking to gain supremacy in an already fiercely competitive rivalry with Celtic, Struth and Rangers would forge a partnership that would last exactly 40 years but moreover a legacy that would last forever.
His succession to William Wilton whilst seemingly inevitable occurred under tragic circumstances. In May 1920 Wilton died in a boating accident the day after his Champions had completed the league campaign at home to Morton. Having been at the club since its inception some 48 years earlier his loss had hit hard and it would take quite a man to replace him. Opting for continuity the man they turned to was Struth and at 45 he became the Club's second manager. Putting his trade to good use he would spend the next 34 years carving his name in the Club's history and putting an indelible stamp on the club with an ethos of perfection woven into everything the Club strove to do.
That first season in charge for Struth saw Rangers again win the title but it was just the beginning for both the Rangers and also the new boss. Titles were duly secured in 1921, '23, '24, '25, '27, '28 and '29 but there was one rather large omission from his burgeoning CV; the Scottish Cup. The famous old trophy had not worn red white and blue ribbons since 1903 with Struth losing consecutive finals in 1921 and 1922 against Partick Thistle and Morton respectively. Mr Struth would not be denied for long though.
To the 1928 Championship the club finally added the Scottish Cup to complete the Club's first league and cup double with a 4-0 win over Celtic at Hampden. That campaign was also significant as it saw Rangers overtake Celtic`s total of championships to become the country's most successful side, status that, despite the best combined efforts of the SFA/SPL, we still proudly hold today.
Whilst the 1920`s were an unqualified success for the club with 7 titles won by Struth`s side, the new man was only warming up and four decades of almost total dominance would ensue. As demonstrative proof of this the Gers won every available trophy in 1930 as a league and cup double was added to by its reserve equivalent in addition to both Glasgow trophies being won by the light blues.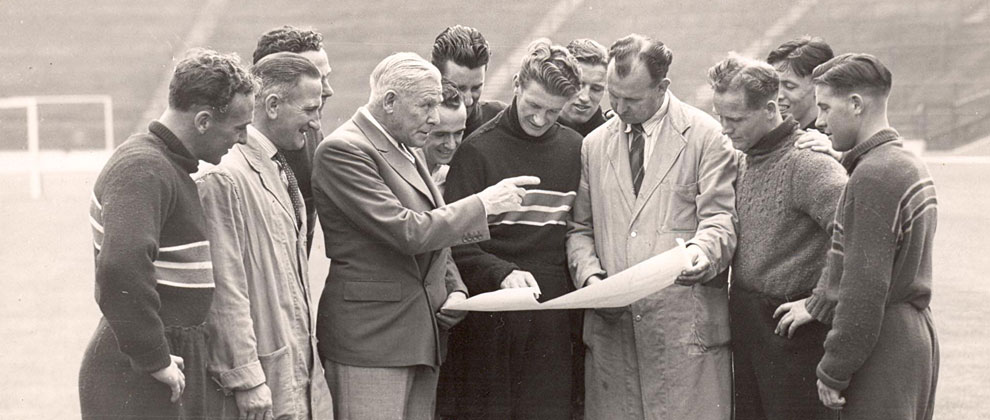 Such were the on-field standards set by Mr Struth that standards of consistency were taken to new levels and Ibrox became a fortress. Between 14th January 1922 and 26th October 1926 the Rangers only lost one league game at home. To further emphasise this, the club went through the entire league season undefeated at home on no fewer than seven different occasions in three separate decades (including two consecutive campaigns). The man wasn't in a different class to the rest, he was at a different school in another town.
His most famous quote summed up his attitude to that success and his confidence in the team as he famously said "let the others come after us, we welcome the chase". As the 1920`s became the 30`s only a Scottish cup final loss to Kilmarnock in 1929 prevented the Rangers from winning 3 consecutive league and cup doubles. The almost constant avalanche of trophies showed no sign of receding and refreshingly the 1930`s became another procession with titles in 1930, '31, '33, '34, '35, '37 and '39. That title in 1939 would be the Club's last peace-time championship with the outbreak of war just weeks into the new season. To further cement Struth`s legendary credentials the Rangers won all 7 championships that were competed for during the war. Indeed so comprehensive was Rangers` vice-like grip of the Scottish game that during the conflict they won 25 of the 34 domestic trophies available.
Away from the football pitch Mr Struth had a code of decency that was indicative of the times. Players were to be properly attired at all times as they were representing the Rangers in everything that they did. Players were sent home to change if the manager didn't like what they were wearing. In those more sedate times the population would often frequent the theatre or cinema and Struth would insist that his players would purchase tickets for the most expensive seats. This ethos extended to Rangers players who were selected to play for Scotland as the SFA were to find out to their considerable chagrin. On one notable occasion an expenses bill accrued by a Ranger on international duty was returned to the Club to be settled. Mr Struth perturbed by this duly sent it back to the SFA with a curt request to not select Rangers players if they could not treat them in the manner to which they had become accustomed. Suffice to say the bill was picked up by the SFA after Struth's intervention.
For a man about whom it was unfairly said had no football background he could spot a player. During the 1920's he signed Bob McPhail, Tully Craig, Jimmy Fleming, Dougie Gray and Jimmy Smith. The 1930's saw stalwarts Tiger Shaw, Willie Woodburn, Willie Waddell, Scot Symon and Willie Thornton arrive and duly thrive to show that the previous decade was no fluke. The 1940's had seen Struth again demonstrate his footballing alchemy to uncover Bobby Brown, Sammy Cox, George Young, Torry Gillick and Jimmy Duncanson. The pantheon of legends extends far beyond those named as Struth, not a football man remember, had an almost flawless success rate when it came to signings.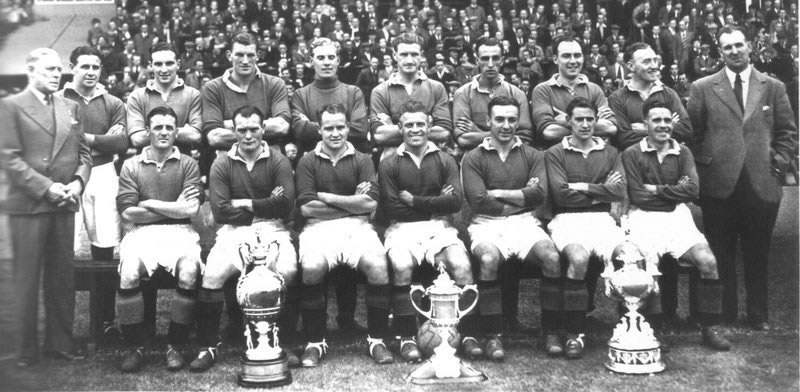 In addition to the success on the park he was a visionary who saw the true size and potential of the club and frequent glamour friendlies were played against continental clubs. The Club also embarked on an ambitious tour of North America in 1930 as the Rangers toured the USA and Canada winning all 14 games in the process. There were also numerous jousts with England's finest as the friendship with the Arsenal ensured that the two clubs played almost every season. When lists of the great British managers are drawn up from that era the name of his Arsenal counterpart Herbert Chapman is regularly listed whilst Struth was ignored. Now facts are facts and Chapman won three titles in a row for the Arsenal whilst Struth won three consecutive titles twice in addition to the five in a row recorded in the 1920`s and 30`s. The great man was not about personal accolades though. His achievements speak for themselves and for anyone to rate Chapman over Struth is doing both men a significant disservice.
Upon the cessation of hostilities the Rangers had carried on where they left off by completing our first NIAR in 1947 which was followed by Scottish football's first domestic treble in 1949. Despite the realisation that he couldn't go on forever he was still far too shrewd for those who underestimated him. After the Chairman Jimmy Bowie had suggested in 1947 that it might be time for the manager to step down Struth outflanked the board by engineering a boardroom coup to not only overthrow the existing regime but also orchestrate a place on the board for himself via an accumulation of proxy votes. Not bad for a gentleman in his early 70`s and in failing health. One can only speculate at his powers in his full pomp although a glance at the history books gives compelling proof of that power.
After 30 years at the helm the great man's powers were beginning to wane and the referee was looking at his watch. This was evidenced by the fact that in his 27 seasons (excluding war time) the light blues only failed to win a trophy in six of those seasons but tellingly three of those campaigns occurred in Struth`s last four seasons at the helm. His last Championship came in 1953 which was his 18th in total. Just for good measure the Scottish cup was added to complete yet another double, the 6th of Struth's career.
A disappointingly barren season saw Mr Struth retire at the end of the following campaign but sadly the great man would not be able to fully enjoy the fruits of retirement as he passed away in 1956 at the age of 81. A bust was created in 2006 to commemorate the 50th anniversary of his death and it can be seen halfway up the famous marble staircase as he watches over the club.
As we take a look at his achievements both pre and post-war, his first two decades showed remarkable symmetry as both yielded seven championships although the 1920's saw him TWICE record three consecutive titles, and five consecutive titles were won between 1927 to 1931. Incidentally those five consecutive titles would not be surpassed for some 60 years further underpinning the achievement. By the time the Second World War had abruptly stopped football in the UK the Rangers, under Struth, had won 14 of the 19 championships available. Clearly the days of Mr Struth are long gone but his legacy lives on both in his achievements and the standards set. What is still evident is when you hear the surviving members of his squad like Billy Simpson or Bobby Brown and they still talk about Mr Struth which shows the tremendous respect they continue to have for this unique man.
If we look objectively at his achievements his success belies logic. His detractors say that he had no tactical knowledge and whilst it could be argued that he inherited a good team from Wilton it can hardly be described as luck that he won 18 Championships from the 27 available in peace-time and let us not forget the 7 war-time titles won. Having exorcised the ghosts of the Hampden hoodoo in 1928 he ended his career having guided the Club to 10 Scottish cups and to complete the set he won the league cup twice. Again neither of these feats could be described as lucky. In addition to those competitive trophies there was also the small matter of 18 Glasgow Cup and 20 Glasgow Charity Cups in the days when such competitions drew six figure attendances so seriously were they regarded. His durability can be measured by him winning the title in four different decades to again blow any negative myths about Mr Struth completely out of the water. As well as the trophies won, the club only finished outside the top two twice out of 27 seasons and only once went two seasons without being champions.
Therefore not even the most fervent critic of the Club can claim with any shred of credibility that Struth was anything more than a unique manager whose achievements in British football are completely unparalleled. To inherit a successful team is one thing but how many teams would he have built over the 34 years of his tenure? A truly remarkable man who passed away having won all there was to win in the game and laying down the gauntlet for others to follow. Not surprisingly his achievements still stand alone and his legacy remains an inspiration to others.
If there was a Rangers dictionary there would simply be a picture of Mr Struth next to the definition of manager. There will never be another William Struth!