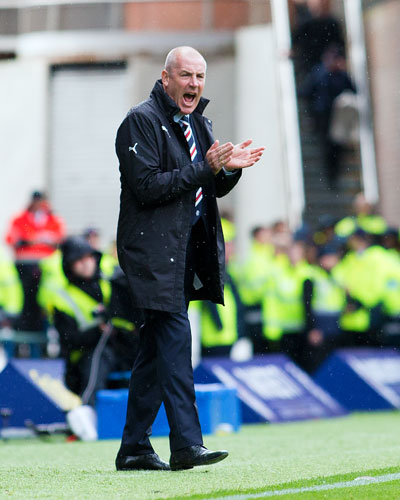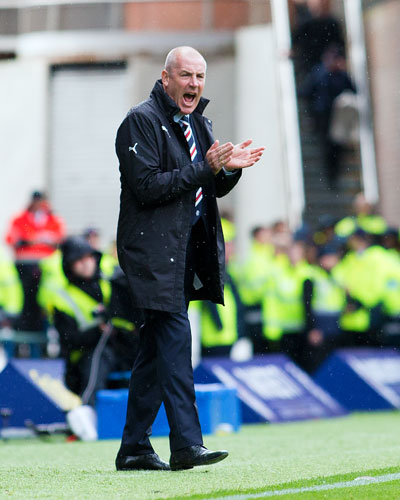 In all honesty, we have seen far worse Rangers displays than yesterday's win over Motherwell. Some of the darkest days of Paul le Guen, Alex McLeish and indeed messyrs McCoist, McDowall and even McCall saw truly painful excuses for performances, so it is vital to keep some context before we pick yesterday's disappointment apart.
But that said, it was indeed an excruciating show, devoid of any quality whatsoever and a truly worrying sign that Mark Warburton's previously progressive system is running out of steam, and may seriously struggle this season to compete.

Of course, perspective; we top the table. We are top. It is ridiculous to discredit that. Two wins and a draw, on paper, is a very good return after four years in the wilderness with a considerably weaker team than before admin took hold.
But nevertheless, if we examine some home truths, yesterday's display exposed a system which has no ability to adapt, a defence which simply cannot defend, and an attack which is increasingly stunted and flat.
It did grind out a good result, and the players do deserve credit, like at Dens Park, for not giving up.
But that predictability which mildly afflicted Warbs' system and management last season is starting to grate and before long will be punished.
Rangers were not just poor yesterday; it might be up there as the worst display since Warburton took charge. The complete lack of cohesion and form among so many players was quite unerring, and the fact Rangers took till effectively the last kick of the ball to scrape a barely-deserved win was telling.
Mark McGhee's Motherwell had a plan – to suffocate Rangers, but with intelligence. This was not just 10 men behind the ball ala the lower divisions – it was a well-organised and regimented unit which defended (mostly) with ease and repeatedly countered fluidly. It was not the overwhelming and clinical attack we saw from St Johnstone at Ibrox last year, but that it nearly did as much damage (but for brilliance from in-form Wes Foderingham) is disconcerting.
Too many players in Rangers' colours have not adapted to the SPL with any great comfort, and the new signings are barely featuring, never mind excelling.
The defence looks worse this season than it did last, and that is no surprise when Warburton selects the same back four. Tavernier, to his credit, has defended better this season thus far than he did all of last, and it has barely dented his attacking threat (the signing of Lee Hodson has pushed Tav a great deal, just like that of Gilks has motivated more from Wes), but that attacking threat does still leave the defence exposed, and it happened for Motherwell's (only) goal.
Rob Kiernan simply looks horrendously out of his depth, and he seems like he knows it too, with his attitude starting to become questionable, while his partnership with Danny Wilson (himself struggling at the moment too) is just agony to watch.
Even captain Lee Wallace has not really stood out in the expected way, being frankly rather ordinary thus far.
Joey Barton's mouthy approach has equally not been backed up by big performances; he has not been rotten, but he has not impacted the way we had hoped, and he should surely be getting up to match speed by now. Hopefully the Old Firm encounter will see him step up to the plate he has so vocally promised.
Jordan Rossiter, on the other hand, has been excellent – a truly shrewd capture, he is currently head and shoulders above his more experienced team mate, and is running Rangers' engine room. Harry Forrester, too, is a major reason Rangers are top of the table. His industry, running, persistence and goals have been critical and he has earned his place.
But up front it is all very disappointing. While much can be attributed to Waghorn's untimely injury, Rangers are far from a one-man team, and should not blame the absence of one man on a complete lack of form in attack. In truth, Motherwell second half in the League Cup aside, Rangers have not really performed this season to any great measure, with or without Waggy, and I absolutely loathe myself for saying this but Barrie McKay in particular is truly struggling with the upgrade in class.
He is been completely impotent so far this season, offering next to nothing as an attacking threat. The odd half-decent run and nice first touch now and then are not hurting opponents, and the star of last year has failed to materialise this.
Kenny Miller too is having a rough time – while he is getting big goals, and continues to work hard, the quality he showed in the second half of last season is absent, while Andy Halliday has actually been reasonable, if weaker yesterday. He has not quite delivered the full quality we would need long-term in the SPL, but he has been ok.
But ok is not good enough; when Niko Kranjcar appeared yesterday, he looked a man with a point to prove, and his awareness led to Rangers' winner. He is someone who clearly has class, but has not quite managed to consistently impress, and was stung by the criticism following Hamilton. This is one Warburton has managed well – by turning his role into cameo, the pressure has been removed and he now feels he owes something to Rangers and his manager – and his sub appearances are helping.
But Michael O'Halloran, after a great pre-season and impressive displays, still cannot get a foot in the door of the first team. He keeps on impressing when he gets his chances but Warburton is not listening, giving him only the sub appearances.
And lastly Joe Dodoo – after all the hype regarding him, he just cannot get a start. It must be frustrating to have joined Rangers for first-team football and always be understudy to an out-of-form 36 year old.
In the end, yesterday, Rangers won a very gritty battle – that was the only pleasing aspect, that the team did not give in. But Mark Warburton really has some thinking to do.
He has been widely and justifiably praised for what he achieved with a near-blank slate last season at Ibrox, but he too is not adapting to the SPL in the way many expected. Predictable team selections, predictable substitutions, predictable play style.
It is fine, great even when it works, and it did many times last season; but Rangers fans cannot keep going through stressful 90 minutes every week when we try our damndest to win the match after being worryingly matched by our opponents.
Surely some changes are needed. Some freshening up. Playing players on form and giving new signings more of a chance. Only two new signatures started yesterday, of 12 secured (some were not available, true, but some were plain overlooked).
And Rangers are looking stale for it.
Time for Warbs to admit (even if only to himself) that his team and system are struggling right now, and he needs to try something else.