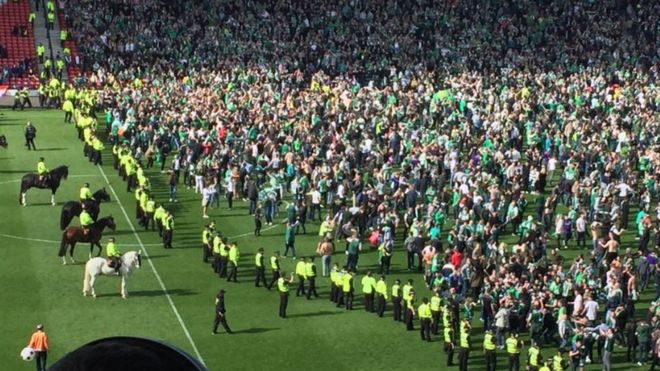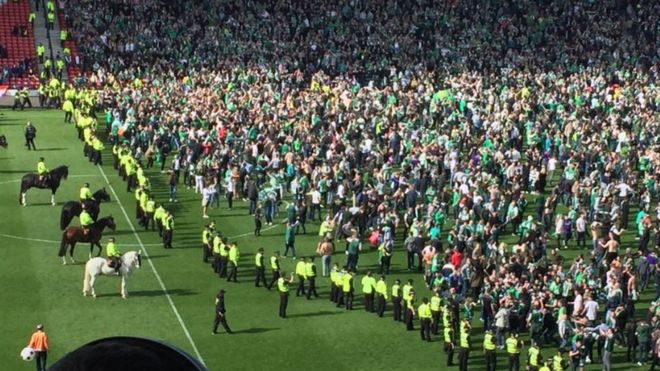 Finally the SFA-commissioned 'independent report' has been published today, and predictably, it is filled with near-admonishment of Hibs supporters and mild condemnation of Rangers fans for being 'taunted'.
In summary, we all saw the events unfold live – either we were at the match itself watching the chaos unfurl around us, or we saw it from a birds-eye view on Sky Sports, the horror of seeing Rangers players assaulted by Hibs fans, of hundreds nay thousands of Edinburgh's finest roam the pitch looking for someone to hurt.

We saw the fighting, and we saw the aftermath.
We saw the videos from outside Hampden, and we saw what happened.
We saw what was there.
But the commission?
Gone is the ability to see impartially and give the fair blame to the swathe of green and white supporters goading Rangers fans, attacking Rangers players and staff;
Instead both sets of fans, a 'minority' of each (despite the clear video showing thousands of Hibs fans in fully-fledged attack mode) are condemned.
"Whilst the vast majority of Hibs supporters who went onto the pitch did so in a spirit of jubilation a small number, probably no more than 200, behaved in a manner which went well beyond a manifestation of high spirits"
We have a brand new 'over-exuberance' now, folks, it is called 'a spirit of jubilation'.
Anyone who believes only 200 Hibs fans were guilty of malfeasance is utterly deluded and simply has not paid attention to the evidence.
"The violent scenes which caused apprehension to many within the ground, and wider public condemnation, were caused by the minority who behaved in the manner indicated in paragraph 7.1.2 above. The hostile and irresponsible attitude of that minority requires to be addressed"
Again that glorious word 'minority'.
There is simply no evidence that only a minority of Hibs fans, 'no more than 200' was guilty of this. The swathes of supporters who took part in these acts of malevolence was enough to fill the pitch, and that was at least 500 if I am being generous.
In short, this report is a complete cop out, and a whitewash of what actually happened.
Yes, it does condemn Hibs fans to an extent, but critically, the 'recommendations' section does not advocate any action upon their fans or their club.
They basically got away with this more or less Scot free.
What else did you expect?