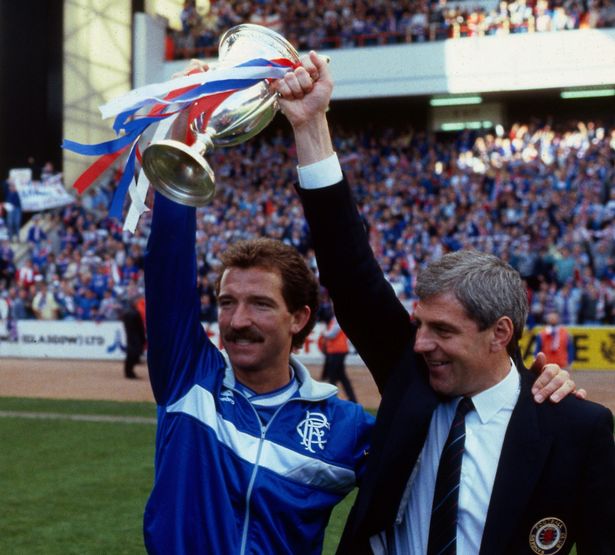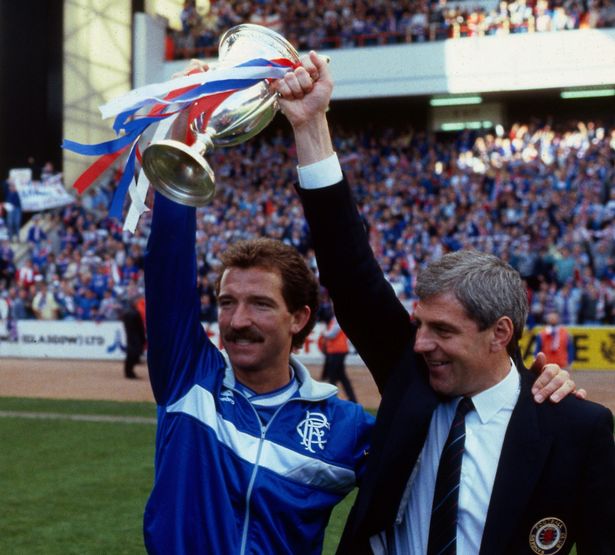 Article by Richard Fillingham
Graeme Souness was Rangers' first player-manager from April 1986 to 16 April 1991; he signed from Italian side Sampdoria for a fee of £300,000 and effectively succeeded Jock Wallace. Financed initially by the Club's then-owner, Lawrence Marlborough, chairman David Holmes embarked upon a bold strategy of reclaiming the footballing ascendancy that Rangers had been desperately seeking in Scotland after years in the wilderness due to the dominance of arch-rivals Celtic, and the emergence of the 'New Firm' of Aberdeen and Dundee United.
Souness' appointment as Rangers' manager attracted most attention, but his arrival as a player was also of team-changing significance. Graeme arrived at Ibrox with a reputation as one of Europe's leading midfielders – due to his immense success at Liverpool. His signings were unusual in that Rangers had never been able to sign any top-quality English international players before or even since his days in charge.

The 'Souness Revolution' began with the arrival of Terry Butcher, who was the current and best England international centre back, and Chris Woods, England's second-choice goalie. Then we had top signings, English and international, such as Mark Hateley, Trevor Stevens, Gary Stevens, Trevor Francis, Ray Wilkins, Mark Walters, Mark Falco, Graham Roberts, John Brown, Kevin Drinkell, Ian Ferguson, Pieter Huistra, Terry Hurlock, Oleg Kuznetsov, Jimmy Nicholl & Nigel Spackman. Souness was able to offer the lure of European club competition, at a time, between 1985–90 – when English clubs were banned from Europe in the wake of the Heysel Stadium disaster. Rangers' signing policy drew on their relative wealth to compete, for the first time, directly with England's more powerful clubs.
A rejuvenated Rangers began to dominate Scottish football, winning the League and also the League Cup, beating Celtic 2–1 in the final, in Souness' first season in charge. Two more League Titles were to follow, in successive seasons 1988-89 + 1989-90, and a further two League Cup victories, over Aberdeen 3–2 in 1988–89 and Celtic 2–1 in 1990-91. We were back at the top.
His most noteworthy act was the controversial signing of Maurice Johnston in 1989. Rangers – historically a team supported by Protestants – were widely believed to have implemented a policy of refusing to sign Roman Catholics for most of the 20th century. Although there had been many Rangers players of Catholic faith, particularly before the sectarian divisions hardened after the First World War, none of them were as high-profile as Johnston.
It was also significant because Johnston, a former Celtic player and coveted Scottish international, had days earlier at a press conference at Celtic Park publicly declared his decision to return to his former club. Graeme's main consideration was that Johnston was an extremely good player, but he also believed that by signing Mo, it would severely damage Celtic's chances of winning the League for as long as he stayed with Rangers.
When Graeme was Liverpool's enforcer-and-playmaker, he could pass long and short, score goals, tackle and intimidate. He had the prized ability to seize a game by the neck and shake it into a different shape. I wonder what he might be worth in today's transfer market.
Souness made 49 appearances for Rangers and much of his time as player was blighted by injury. His final appearance as a player was at Ibrox in a 2–0 victory over Dunfermline Athletic in Rangers' last home game of the 1989–90 season, when he brought himself on for the final 20 minutes. No wonder he is a legend to all level-headed Rangers fans, for what he achieved in such a short time
Souness said:
"I don't know if it was belief in my own ability or stupidity or an over-inflated opinion of myself, but I never had any fear to go abroad and play or coach. I had the most ridiculous self-belief. I don't know where it came from"
It stood him in good stead throughout his fabulous career.
Unfortunately, Souness left Rangers, to take over as manager of Liverpool, in 1991, and was replaced by his assistant, Walter Smith, four games prior to the end of what was to become another championship-winning season.
Recently, Souness stated that:
"In my time at Rangers, and looking at the facts, Murray is easily the most successful chairman ever. So he must have got a hell of lot of things right."
Rangers' fall under Whyte was a long way from his arrival in 1986 as player-manager. Souness looks back with great pride and says he became immersed in the job. He said:
"When I came in Rangers hadn't won the league for nine years. We did a good job and when I left they were in good shape. We'd laid the foundations. I take great pride in my five years at Rangers. I was fearless. It was a great time to be at Glasgow Rangers. It's easily the best job I had."
I for one, will always be extremely grateful for him bringing us the much required quality, to make Rangers a great team again – well done Graeme Souness!