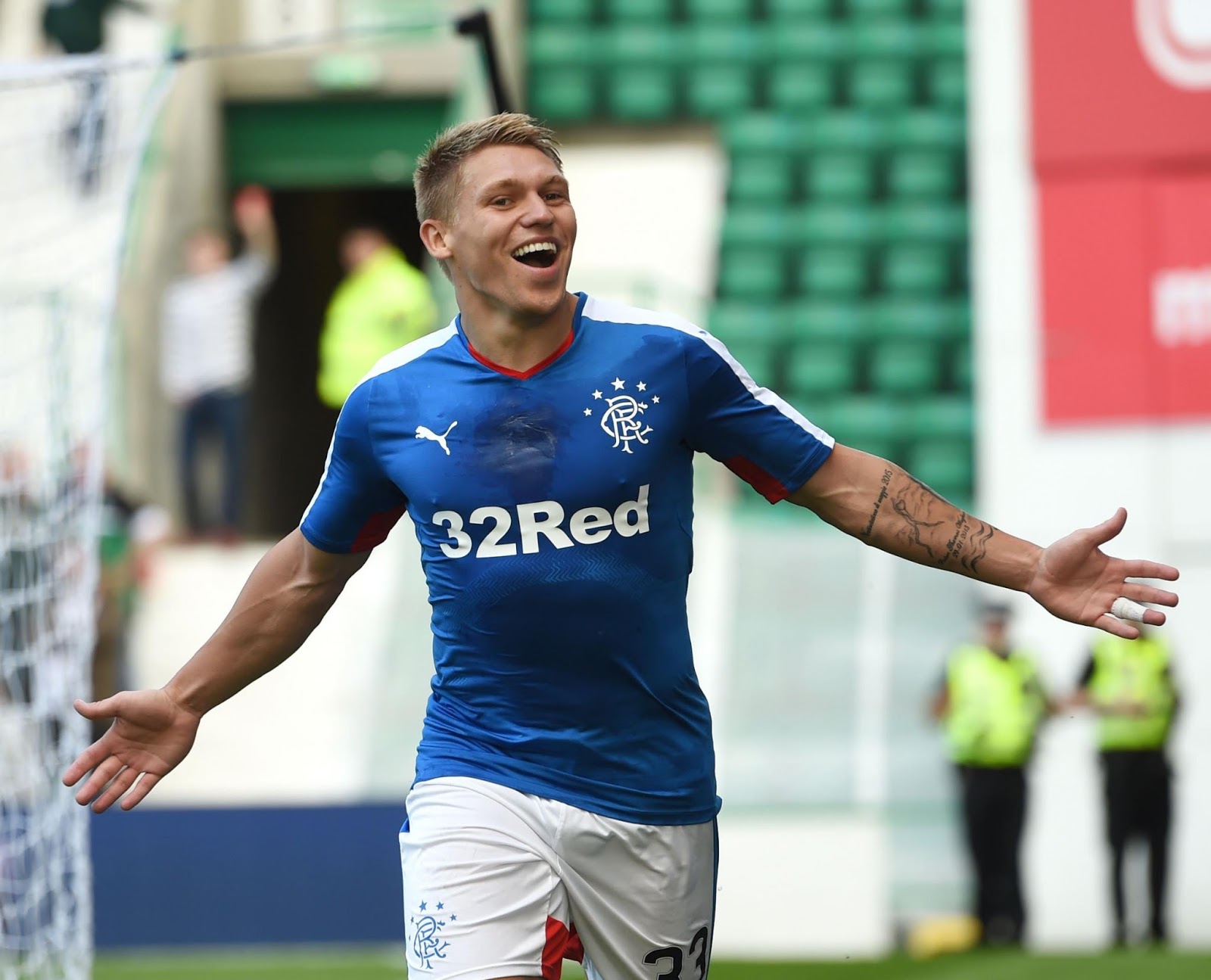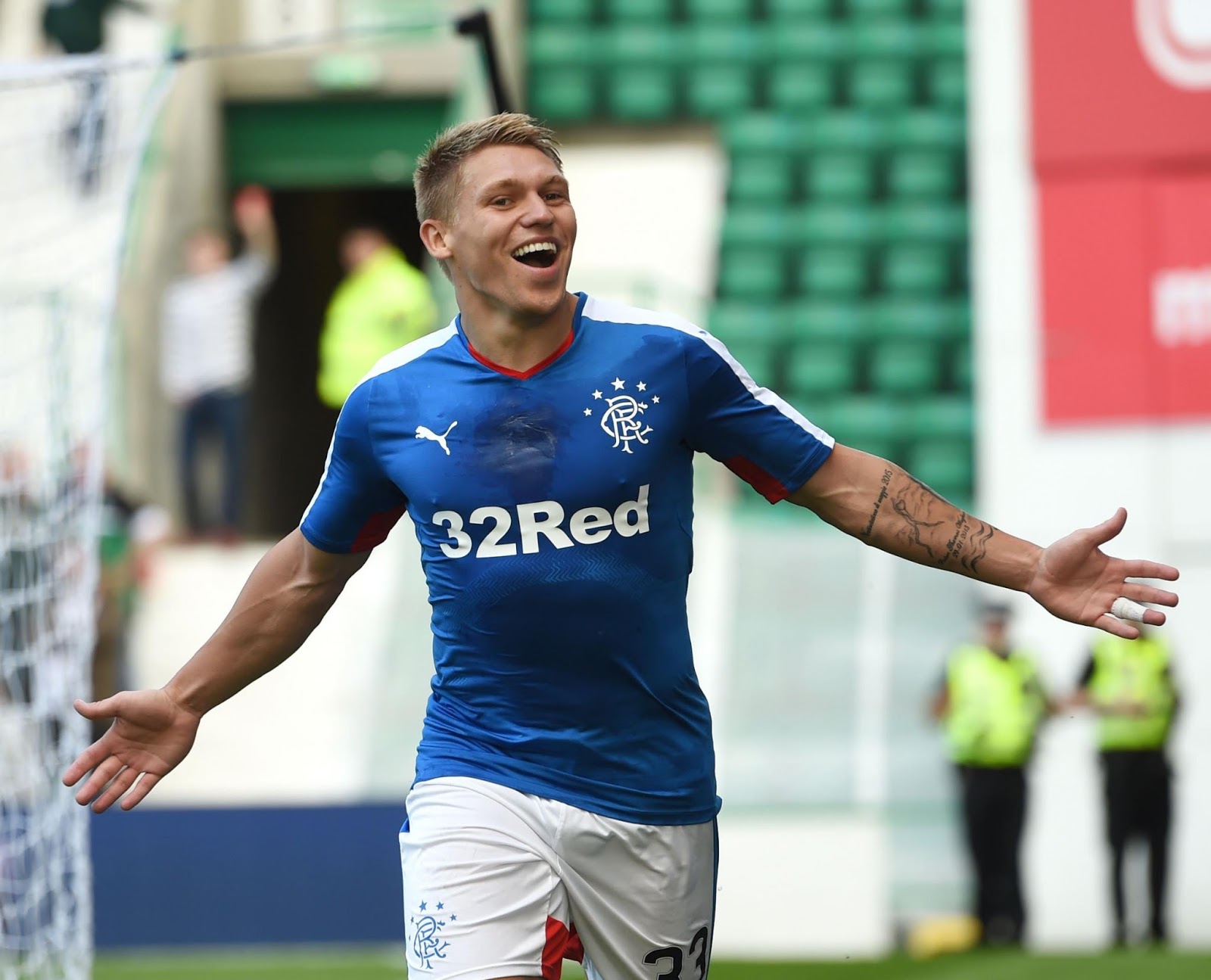 Richard Fillingham
Martyn Waghorn has never been a major scoring success at any other club except Rangers – for the following reason. The 5' 10" Englishman is NOT a prolific top class striker. He scored goals last season playing for Rangers, in a superb attacking team that continued to create many wonderful
opportunities for him to score.
We still have the services of our 36-year-old experienced striker Kenny Miller at our disposal for next season. He quite rightly earned another one-year contract with the club, due to his exploits in the team, coupled with his outstanding performances of playing exceptionally well in 43 appearances and scoring a very decent total of 21 goals into the bargain.

You do have to remember of course that last season Rangers were up against inferior and substantially weaker and much cheaper players than they were used to playing against in Scotland, before 2012. It was such a shame that the short-sighted and brainless SPL chairmen, along with their simpleton supporters, agreed, then voted, to try and crush the mighty Rangers, forever! Thankfully, Mark Warburton, David Weir and Frank McParland were well aware of the step up required for the Premiership, hence the higher standard and quality of players they targeted and signed, for this coming season – well done once again guys!
I really hate pointing out that Martyn's goal scoring record at all clubs, with the exception of Rangers, is absolutely deplorable! I think he is an exceptionally good player to have in your team, and he has an abundance of talent at his disposal. Let's be honest, you cannot buy a 26-year-old top striker for only £200,000 (if they actually paid as much as that for him), and when Rangers approached Wigan for his services, they certainly didn't stand in his way – that alone tells you everything!
If he doesn't score 20 goals or more next season, you have been warned! But if he scores more than 22 goals – thank you very much Martyn, and I will be 'over the moon' to be wrong about you!
Summary of his goal scoring career between 2008, when he was only 18 and to 2016, at 26.

Sunderland, played 7 games and scored 1 goal
Charlton Athletic, played 7 games and scored 1 goal
Leicester City, signed for £3m and played 116 games and scored 19 goals
Hull City, played 5 games and scored 1 goal
Millwall, played 14 games and scored 3 goals
Wigan, played 41 games and scored 8 goals
Rangers, played 34 games and scored 28 goals.
I am totally convinced, that the solution is to sign a top class striker (or two) and play Waghorn in a free flowing, attacking midfield position. His main objective would still be to continue scoring as many goals as he can, and he would be involved in more goal scoring opportunities from that most important position. He is a very intelligent player, and can help to set up chances for others into the bargain. He can see a pass, has a bit of dig about him, as he is a very solid player who fights hard for every loose ball. He would give our engine room a sturdy presence and make us even more competitive in that department. Martyn is a very clever player, who is fit and exceptionally strong in the tackle, due to his build. I would love to see him play for six games in a row in the midfield for Rangers, to confirm my opinion of his potential to become an international player, of the future, but not as a striker!
Ergo, as we know, top class scoring strikers do not grow on trees, and usually come with a hefty pricetag. Rangers are heavily linked with Walsall's Tom Bradshaw but the League 1 side planted a £1M fee on his head which no one has matched as yet, and while he may be worth that kind of cash, would King et al sanction such an outlay?
Please vote to see how many of you want Rangers to pay for a new striker – and not just sign another free transfer hopeful.
Should Rangers pay for a top quality prolific goal scorer? The choice is yours!
customer survey