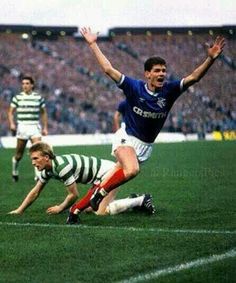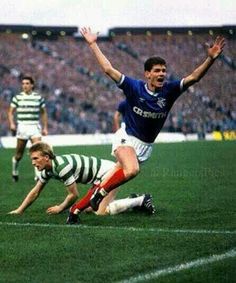 Richard Fillingham
Our wonderful manager Mark Warburton has decided to bring in another of his own trusted staff members to take over the U20's coaching duties formerly bossed by Ian Durrant, effective immediately, ready for the challenges over the next few very important seasons.
As a member of our Ibrox Noise team, I can admit that this new appointment did
not surprise me at all. I believe that Mark gave Ian the first opportunity to see what he could do with the U20 job for a full year, to see what results he would achieve and to judge his knowledge, handling and everything the U20 job entailed.

Mark, David Weir and Frank McParland – as a team – make all the football decisions between them, and they have obviously come to the conclusion that they can bring into Murray Park someone tried and tested to their way of thinking and with good working ethics, that suits the gang of three, and will probably turn them into a four-man team, anytime soon.
Frank McParland is our Head of Recruitment and Chief Scout, so it is my guess that the suggestion came from him, and after some thought, agreed by the other two. It makes perfect sense to me, as the job is so very important long term for Rangers to start bringing players through from the academy, all the way to be given an opportunity to be involved with the first-team squad as often as possible for their continued improvement and eventual progress.
If this happened fairly regularly, two things would arise from the process:

1. Young players would want to sign for Rangers if they knew they would eventually get a chance of playing with the top squad. Their parents would start encouraging their kids to sign, instead of warning them of the dangers of going to the best team in Scotland, but never getting a sniff of a chance of the first team.
2. Players like Matthew Knox from Livingston would jump at the chance, if he and his dad could see the path to the top opening up for them. Why don't we sign the 16-year-old and potentially great player, and keep him playing for the Livingston first-team next season, and carefully watch his steady progress? At his young age, this could suit both parties and wait until next season before bringing him to Rangers full time. This makes sense to me – the one thing about common sense is – it is not too common!
You need your own men in crucial positions and only the best will do for Mark, Dave & Frank. The new man will be in charge of the youth squad, or don't be surprised if they bring in two great coaches for the huge job ahead of them over the next 3 or 4 years.
The U20's struggled for results last season and they will take part in next season's Challenge Cup, with a new man in charge. This should be good experience for the team in a knock-out cup situation.
I loved Ian Durrant as a player and I had the pleasure of meeting him on occasions – what a funny guy – full of good patter – and great company. He is also a true-blue and I believe that when Ally McCoist and Durranty started their antics around the dressing room, they were hilarious and had all the players rolling about with laughter.
There is no doubt in my mind that if Ian had not sustained that sickening Neil Simpson knee tackle up in Aberdeen, he would have become a world-class Rangers and Scotland player, and you know how rare they are. It was a career threatening crunching tackle and everyone knew immediately that it was a brutal challenge and that young Ian was in severe trouble and racked with pain. It led to him missing out on first team football for 3 years.
I had the privilege of being a part of the thousands of fans who turned up to Ibrox Park to see his return in a Rangers reserve game. It was decided to play the game at Ibrox to accommodate the very large expected crowd, who wanted to see him play in a Rangers jersey again. Great idea, but more than twice the number of projected fans turned up and they had to open up three sides of the stands to allow all the fans who turned up to see the game – absolutely amazing scenes that day – and all because of what the Rangers supporters thought of Ian Durrant.
I wish Ian all the best and perhaps there is a coaching job at Kilmarnock for him, as he did play for them at the end of his playing career. He has been part of the coaching staff at Rangers since 2005, after a very long playing career at Ibrox.
He even had his own song made up for him exclusively by the supporters – because he was considered a Rangers superstar – what an accolade!