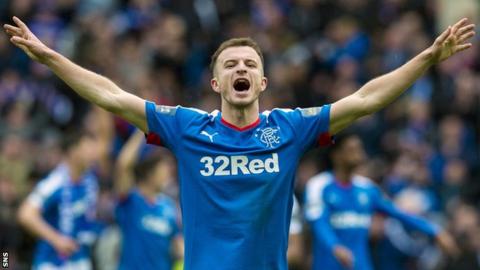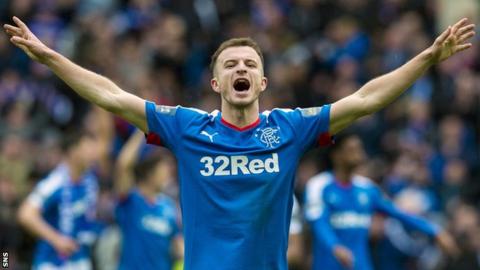 Andy Halliday last season took on cult hero status before he even kicked a ball in anger at Ibrox. After all, he was a boyhood Rangers fan, growing up just a stone's throw away from the stadium itself and had willingly sacrificed hard offers from other clubs in order to take a trial at Rangers and risk being out of a club entirely had Mark Warburton et al not liked what they saw.
Naturally they did though and the rest is history, with the attacking midfielder being one of the Magic Hat's very first acquisitions in his complete overhaul of Rangers' first XI.

The unfortunate side for Halliday though, the 'catch', if you like, is he never really got a sustained chance to prove himself in his ideal position; for without having a single truly reliable defensive midfielder, the former Bradford man found himself deputising in that role, a position he had never before played in.
Mark Warburton evidently did not trust young Andy Murdoch in that berth, and put him on loan to Cowdenbeath (then to QoS), while defensive-minded Dominic Ball, for the early part of the season, was tried mostly in defence as Rangers looked for their most suitable duo at the back.
Ergo, fate was not dreadfully kind to Halliday – out of position in a slot he was not truly comfortable with, the attacker made no secret of the fact that he hoped former Derby anchor man John Eustace would sign as he was a great tutor in that position. In truth, of course, Halliday probably wanted the holding midfielder in the DM slot so he himself could be deployed further up where he felt he would be more effective.
Alas, it was not to be, Eustace departed Murray Park eventually and Rangers remained without a proper DM, although Dom Ball did start getting played there more. However, Jason Holt (and later, Harry Forrester) was always first choice for the attacking midfield role leaving Halliday slightly deeper still even when Ball took up DM, never truly getting the proper chance to have a sustained run in that creative slot.
Now, this summer window spells more competition in every department of midfield; Rangers do now have several options for holding midfield. Joey Barton, Jordan Rossiter and Matt Crooks to name just three are absolutely perfect for that role, meaning Halliday's services there are most definitely surplus. Unfortunately for him though attacking midfield is now bursting at the seams with quality and competition has become incredible. Josh Windass, Harry Forrester, Jason Holt and inevitably it seems Niko Kranjcar are all superb options for that role, and Halliday might just be a little worried as to how he fits in.
The bigger problem too is nearly all of those players are quite capable more centrally as well, as Rangers basically have seven excellent options (excluding Halliday) for the three midfield roles. Add Halliday to that, and it is eight, and you have to accept he may just struggle to get the same kind of run he did last season.
Naturally, Warbs may remain loyal to him, and give him a chance in his proper position to see if he can earn the slot by right – and that would be a very fair approach – he never really got the proper opportunity to prove himself as an attacking midfielder last season, or even on the wing, a position he was quite potent in for Bradford.
But one suspects Halliday will face an uphill struggle to remain consistently in the team; more out of bad fortune than a complete lack of ability, of course.
That said, competition for places is what Rangers should be about; and having a pool of excellent quality in midfield is exactly what fans demand. If Halliday remains, it will surely be by merit, and he will have evidently proven himself worthy of being ahead of the marquee signings Rangers are making.
We will see how it unfolds.