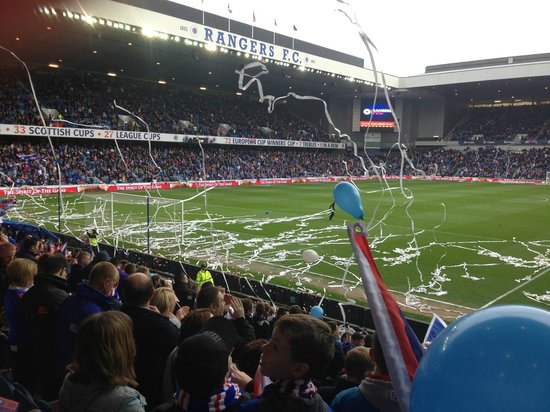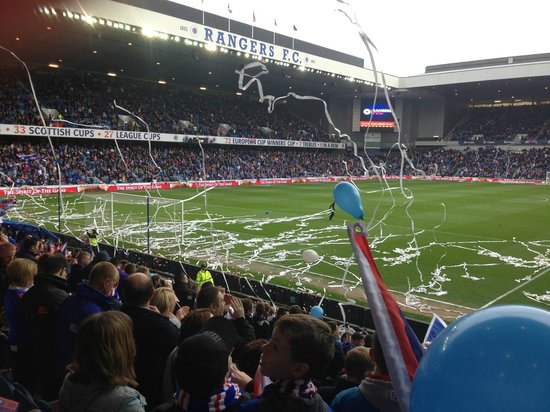 Summing up the nightmare Rangers fans have gone through over the past four plus years is an impossible task. From the Lloyds debt threat nonsense of 2011, to the overhanging Big Tax Case, to the plunge into admin thanks to a crook owner, then an exodus of mostly the entire playing squad, Rangers fans have had it anything but easy in the past half decade.
That 2012's admin and Third Division demotion was simply the clear starting point for the upcoming grief fans would go through is neither here nor there; for four years Rangers supporters have gone through the wringer with diabolical teams, diabolical management, diabolical board members and diabolical infighting between the supporters themselves; at more than one point many feared the Premiership was becoming a pipe dream, and that Rangers would end up like Leeds – stuck in the lower leagues for longer than they deserved. Utd, of course, are still in the wilderness.

But tonight Rangers finally end their exile from the SPL. Obviously one is expecting a win from Mark Warburton's men – failure to take all three points from lowly Dumbarton on a sellout night would be something beyond disappointing. As such, the players, despite recent shaky form, will surely deliver a party in front of their adoring supporters, fans who deserve happiness after the limbo state the Club has been in throughout the past years.
Rangers belong in the SPL – there is not a single serious football person on planet Earth who denies this. The only denials come from a mentally ill section of Scottish football who considers the Club dead, and are too arrogant to accept we are not.
Indeed, even all those employees of a Celtic persuasion both past and present want to see Rangers back at the top, and encourage it to happen. Neil Lennon himself referred clearly to 'The Old Firm' in present tense; and plenty of his peers have backed that up.
But either way, who truly cares what a bitter small section believes? It really is all about the Rangers, and tonight we finally end a truly horrible period of our proud history by sealing a well-deserved place at the top of Scottish football's table.
Whatever you feel about the McCoists, McCalls, Easdales, Jardines (RIP), Greens, McDowalls, McCullochs, Mathers, Stockbridges – all these figures and more played pivotal roles in the journey for good or for bad, and they shape the Club we are today. Some deserve praise, others deserve to serve time, but all of them are part of the warts and all history of Rangers, and that history sees a new chapter tonight as the Magic Hat's men finally end the purgatory we have endured for too long.
Many fans have admitted tears will be shed; and many are ready to plain celebrate. Whatever reaction you have to promotion tonight, it will be deserved.
There remains much to do, of course; summer tweaking of the squad is seriously required and there do still remain some divisions in the support.
But all of this is for another time. Rangers are back where we belong.
We Are The People.