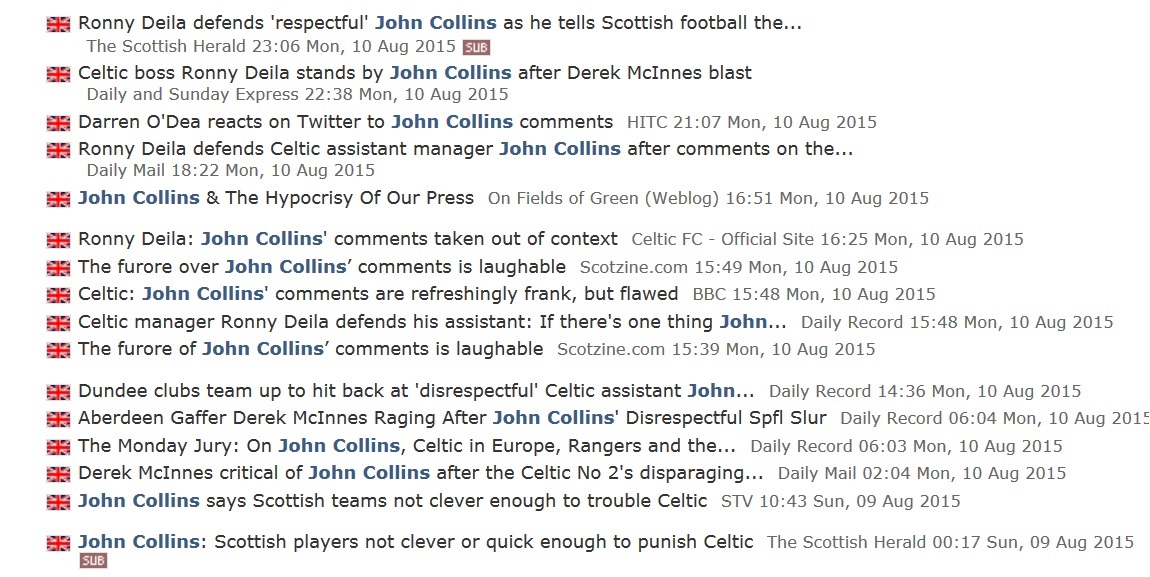 "We conceded too many goals in Europe last year. If you become open and detached against
good players and teams you get punished. It's something that doesn't happen in Scotland. No
disrespect to teams here but they're not clever enough players or quick enough
thinkers to punish us."
-John Collins, 09/08/15
This controversial comment provoked
a cascade of outcry, of objections from the likes of Paul Hartley and Derek
McInnes to name a couple. General views were critical of the presumption, the
arrogance, and the sheer disrespect it gave to the Scottish game. Only, if you
paid attention to the coverage it received in the media, you would believe it
was not a significant issue, with the majority of articles either defending or
opposing his views, rather than focusing on the views themselves.
In other words it was presented
as interesting comments which saw a colourful debate. All a bit of 'craic',
really. Even more amusingly were the number of articles which focused on the 'furore'
when in actual fact there barely was one.
Look for yourself: how many
headlines here are focused on the comments, and how many on the debate?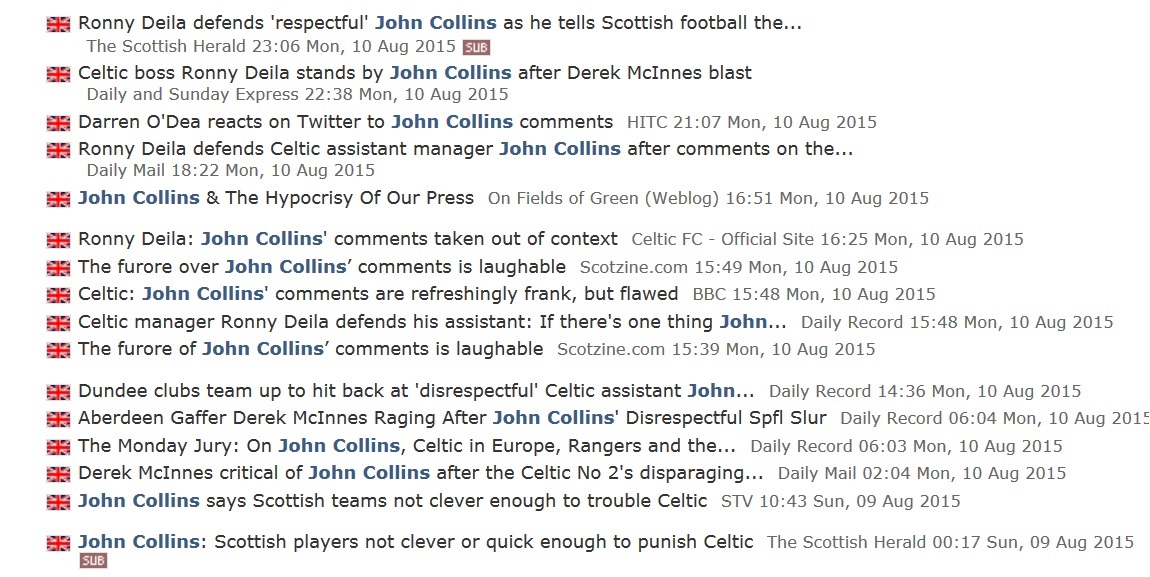 On Sunday, Rangers winger Nathan
Oduwa produced a moment of magical skill, something to be applauded in the
Scottish game; only, as we know from yesterday's article, it was heavily
condemned. Almost all articles focused on attacking the Ibrox player by proxy of
Colin Hamilton, and almost none praised him. Look for yourself.
The difference is subtle, but
noticeable.
Collins attacks the Scottish game
as a whole, and only a couple of outlets actually focus on the comments, while
Rangers' Oduwa's skill at the Indodrill is castigated heavily by a glut of publications.
In other words, Collins
disrespects the whole of the Scottish game, but that is fine, while Oduwa shows
incredible skill to entertain supporters and to impress, and he is 'disrespecting'
the sport.
So, the disrespect is ok, but the
skill is disrespect.
And they wonder why Rangers fans
are sick of the Scottish press.
As an Inverness
fan (who is far from having affinity with Rangers) said to me:
"Mallan runs past through Dundee
to score a great goal and gets praise, Rangers player does skill, gets slated
because he's Rangers. Starting to notice that it's simply the media likes to
take the sh*t out of Rangers."
Are we both paranoid? Are Rangers
fans paranoid?