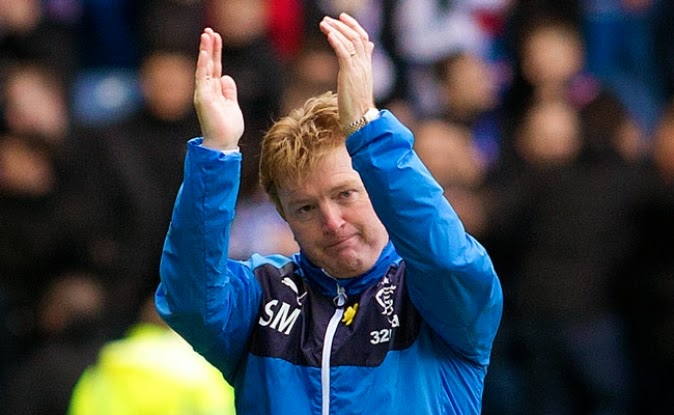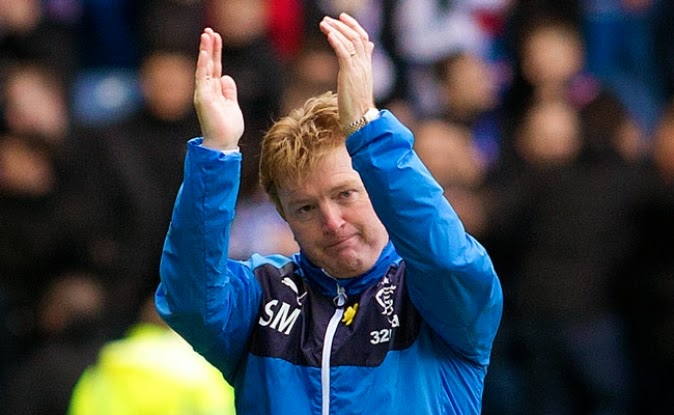 Four weeks ago, Tuesday 10th
of March, then-manager Kenny McDowall led Rangers to yet another dismal,
insipid, dull and frankly awful draw at home to Queen of the South in his final
match in charge. Despite the regime change four days earlier, the glaring
inadequacies of the McCoist/McDowall alliance were once again Rangers' undoing,
and yet more points were dropped.
At this point promotion was as
good as gone, the team was crumpling from one failure to another and morale was
on the floor.
We now turn our attention to this
afternoon's clash, the big one against champions Hearts.
The Gorgie side have been head
and shoulders above everyone in the league, with only one defeat suffered all
season, and they are deserving champions. But Rangers went into this match buoyed
by new manager Stuart McCall's fresh ideas and energy, with 2 wins in 4 and no
defeats. One of those wins was against Alan Stubbs' Hibs, themselves having a
fine season, at Easter Road.
After 27 minutes, and Miller's
opening goal, it became apparent this is simply a different Rangers to the
disaster McCoist led.
While McCall's revolution took a
few matches to cough into life, Rangers have shed all the cobwebs of the
downright disgraceful McCoist era, and every player looks hungry, angry,
energised, spirited, and willing to dig in while playing some half-decent football
along the way.
Not even Lee McCulloch's best
attempts to hijack the result was able to succeed, as the Rangers captain's red
card may have changed the complexion, but while McCoist had a terrible plan A,
McCall has a smart one, coupled with a B, C, and D, and was able to adjust this
match to cope with losing a man.
On 37 minutes Slovenian
midfielder Haris Vuckic extended Rangers' lead before his captain lost the plot
just before half time, but the difference with McCall is the fans' willingness
to trust him. And here is that plan B.
His decision to sacrifice Vuckic
drew criticism from most, but it was absolutely the correct call. With Rangers
down to 10 men, they needed off-ball running and compression, and speedily at
that. Vuckic may be talented in attack, but he is not a hard worker nor is he
quick – as popular as he is, it was the right call as guys like Clark, Miller, Shiels
and Law are. And they made sure Hearts had little time on the ball despite the
man advantage.
Many also gasped at the sight of
Mohsni on as McCulloch's direct replacement, but they need not have feared. We
saw the potential Mohsni, the one all-too-often missing, the colossus in the
air and the fearless on the deck Mohsni who soaks up everything and fights
endlessly. His concentration was 100% and he did his manager proud.
And yes, you may have noticed a
reference to Law as 'hard working'. In this match he was absolutely titanic,
constantly channelling up the right as an outlet and doing fantastic work both
offensively and defensively. This is the Nicky Law Stuart McCall recognises,
and that Rangers fans have rarely seen.
If he keeps that kind of level
up, he will earn a place at Ibrox in the SPL next season.
The most painful part of all this
is the difference McCall would have made if appointed three years ago.
Stuart McCall even has Ian Black
looking like a hard grafting midfielder.
Simply put, the manager has made
all the difference. He knows how to make these players work, how to make them
tick. The previous 'dross' are now looking like the SPL quality most of them
actually are, and one wonders if McCall can even make a RB of Richard Foster.
Despite Hearts' late goal from
Zeefuik, Rangers' grit, determination, anger and will to win held on and we
finally saw the Rangers Way
we all expect.
If only McCall got here sooner.