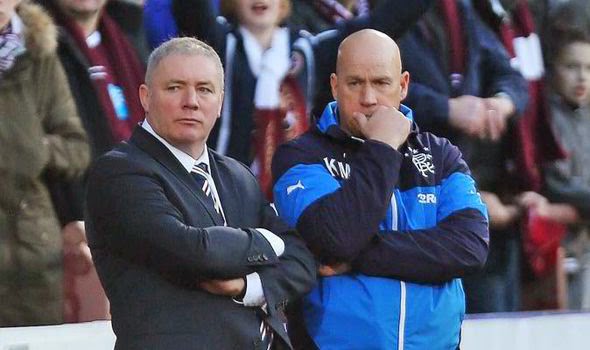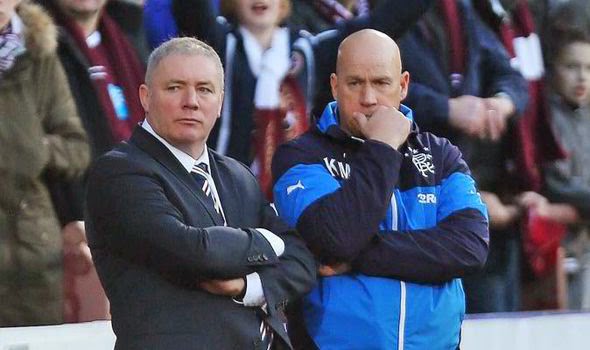 When Rangers dropped a diabolical
two points at home to fourth-bottom Alloa, the majority of fans reacted with
bedlam and horror. The overriding sense was that manager Ally McCoist had put
out a team with absolutely no spark or passion, and that the display was a
pathetic, meagre, and unacceptable performance worthy of scathing criticism.
I felt like I was about the only
fan willing to cut McCoist a little slack, which was in itself bizarre given my
general stance of willingly providing a torrent of negatives about his
credentials. My case was essentially that one draw in ten matches was itself
not the end of the world; that two goals conceded in 600 minutes and a run of
victories including one over St Johnstone had been rather prematurely and
unfairly dismissed because of this one bad result and display.
Fast-forward to Saturday and once
again, another bad result had fans overwhelmingly asking for Ally's head. This
time I had to agree.
It was the head-to-head title
decider v Hearts, the top-of-the-table clash which had been described as
'must-win' given the Ibrox men's 6 point deficit in the race for first place.
The hype about this match had
been tempered somewhat with the usual off-field shenanigans which surround the
Club these days, but once match day arrived it was all (temporarily) forgotten
and fans waited with baited breath for McCoist's team selection.
The reaction to its release was
abject misery. Mohsni, the flamboyant, eccentric and slightly temperamental
defender had been brought in from the cold to replace a 'not-quite match fit'
Richard Foster, with McGregor shifted out to his less favoured RB position to
accommodate the Tunisian. Once again, absolutely no sign of Lithuanian stopper
Marius Zaliukas, and Foster was curiously enough on the bench.
The other decision which had fans
scratching their heads was the inclusion of Ireland's Jon Daly at the expense
of Boyd. Yes, he had had major impact as a sub in recent matches, and Boyd's
form was not sparkling, but it was a curious change to make for such a big
match. 'Freshening things up' was how Ally put it, and it was certainly a
gamble.
And, in total truth, on the pitch
Rangers showed a side of their game rarely seen this season – passion. It was a
high-octane dominant display, with the defence rarely tested as the likes of
Nicky Law (his best display since September last year) pressed high and
constantly caused trouble at Neil Alexander's goal. Indeed, even beyond Steven
Smith's unfortunate red card (I have definitely seen worse tackles than that)
10-man Rangers still held their own, and even continued to threaten to take the
lead.
The problem was no goal came, and
Daly was the one player having a really bad day, committing foul after foul and
failing to get anything on target. Then the opening goal came, but
unfortunately it was for the hosts, and fine goal though it was, it was not
scored on merit.
But these things happen – and
this moment was where McCoist was truly tested. And just like his failure in
2011 to compensate for losing Steven Naismith and the subsequent loss of a
15-point lead in the SPL, he was unable to make the right changes here to fix
what remained a promising situation. Yes, Hearts had scored, but they were not
the best team, and a few tweaks to 10-man Rangers and the visitors could at
least have accrued a point out of this fixture.
The first change was completely
understandable – Miller, having been booked, was vulnerable to a second yellow,
so got hauled. Problem was it was Foster who replaced him.
This left Daly as Rangers' only
striker in a match where a goal was desperately needed. Yes, there was quite a
'stramash' as the visitors came agonisingly close to getting the equaliser, but
the fact is luck was not there and neither were the tactics.
Why Miller did not get replaced
with Clark (like for like) is beyond me –
McCoist was completely unwilling to take the risk of going two strikers when
down to ten men, despite the fact that a risk was essential to try to glean
something from this match.
Instead McCoist appeared to be
going damage limitation, then committed his second ludicrous sin. He brought on
a striker – for Rangers' best player, Lewis Macleod. Yes, it is fair to say
young Macleod was not having one of his better matches, but you quite simply do
not take off your finest asset when you desperately need a spark of
inspiration. It seemed to suggest that Ally does not trust Macleod when the
chips are down, and even stranger was his choice of bringing in out-of-form
Boyd to replace him.
So now we had Daly and Boyd – one
having a wretched match, one with no form at all.
Then on 80 minutes Clark finally made his entrance, at the expense of Daly.
It was just too late for the
former QotS man to make a difference. In fact, thanks to a clumsy challenge from Ian Black in the box after all the subs had been made, a conceded penalty (albeit a slightly harsh one) compounded matters worse and made the match completely irretrievable.
The fact is no one blames Ally
for Smith's red card – it was a bad call from referee Thomson, especially as he
only booked Miller for a near-identical tackle. What McCoist does hold responsibility for is not making
the right changes at the right time.
The biggest 'joke' was fans'
reaction to his constant arm-folding. If arm-folding was the only thing needed
to be a manager, McCoist might just be the finest around. His unfortunate
expressions of cluelessness and procrastination in times of need seems to sum
his management up.
This match was there for the
taking, but negative substitutions at the wrong time was not the way to clutch
it.
A poll after the match found 72%
of Rangers fans would like McCoist to end his tenure as boss. It has been
likened to the dark days of John Grieg's time at the helm, when 5 years elapsed
before the Greatest Ranger knew the game was up and admirably stepped down.
9 points adrift of Hearts and the
league title now out of Rangers' hands would force the conclusion that McCoist
is not the man to close the gap.