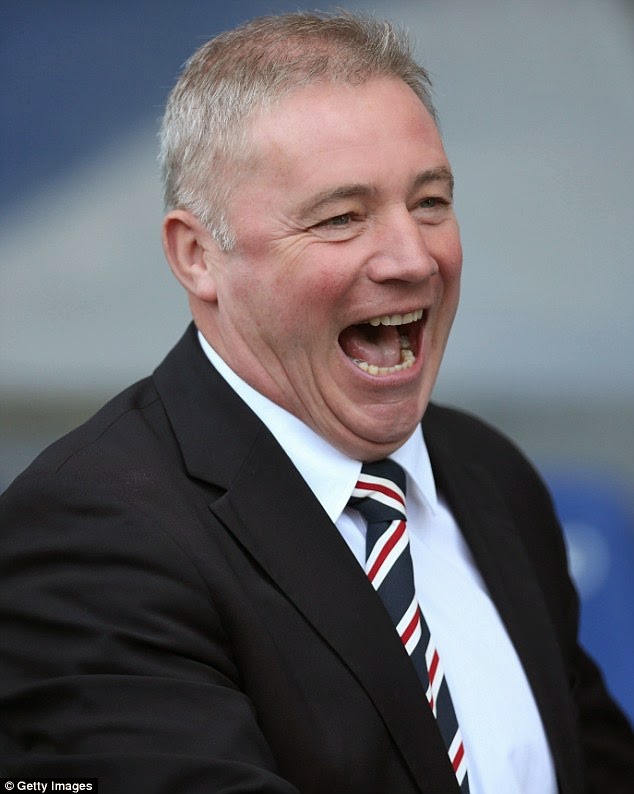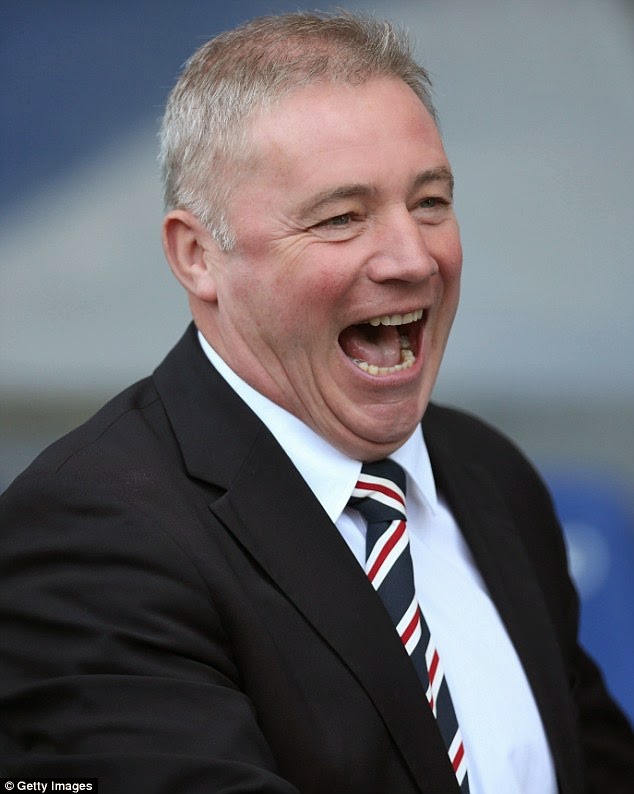 Life seems a little better for Ally.
Taking a little hiatus from
writing due to 'life' matters getting in the way, it is safe to say my time-out
has coincided with a truly unexpected renaissance from Rangers. By no means are
the Govan men out of the woods yet, but the past two matches have given a
modicum of grounds for optimism, given 8 goals v returning hero Barry
Ferguson's Clyde outfit, and another 4 against Neil Murray's Dumbarton.
First off all, let us get one
thing perfectly straight. During the hysteria, from myself included, by fans swept
off their feet during two matches where Rangers looked like a team, it cannot
be forgotten that these performances were against sides of almost no quality. Ferguson's Clyde "have been in the doldrums too long"
(Barry's words, not mine) and currently sit sixth in Scottish football's bottom
tier, with one win and two defeats to their name. They are a truly abysmal
team, and even by their own low standards played atrociously at Ibrox. Indeed
they "let themselves down" (again
Barry's quote, not mine) and were truly ghastly in Govan.
As for Murray's Dumbarton, they are bottom of the
Championship, with two goals to their credit (one of which was Mohsni's own
goal) and three defeats. They have not a point to their name and are well and
truly the cannon fodder of the division.
In short, Rangers' last two
excellent displays have been against sides barely of the quality of training
ground opposition.
However…the past two seasons the
complaint from fans has been consistent. That the quality of football has been
abject, the tactics a shambles, and most crucially of all we should be
decimating such meagre opposition with ease. When we play such a rotten team,
they should make us look like Real Madrid. The fact Rangers had struggled
against Clyde et al in previous seasons is testament to the absence of this
occurring.
Yet here we are now destroying
these dreadful teams and what is the criticism?
We should be destroying these teams.
So, if we do not destroy them, we
should be, and if we do, well, we should be. There is a catch 22 if ever
I saw one.
Regular readers of this blog will
know I have been outspoken against the displays and McCoist's management in
recent times. And tonight's test at the Excelsior against a Queen's Park in worse
standing than Clyde will not illustrate a
great deal should Rangers win. But I will stand willing to be corrected if
Saturday's visit of the Championship's second top team, Queen of the South,
also sees a comfortable win for the men in blue.
McCoist's techniques have been
dubious at best and catastrophic at worst, and fans have been justifiably
clinging onto any sign of hope, including myself. I am by no means defending
Ally and the team in recent matches, there is still a great deal of work to be
done, but the signs have shown incremental improvement, and if the form can
maintain over the next two matches and the run of wins smoothly continues, then
maybe, just maybe I and other detractors were wrong about the manager and maybe
he does have what it takes to manage our great Club.
After all, Crystal Palace
apparently want him as manager…
But, at the end of the day, any
defeats will undo all the good work and lose every ounce of momentum the Club
and fans have gained in the past two matches.
Here is hoping that does not
happen.