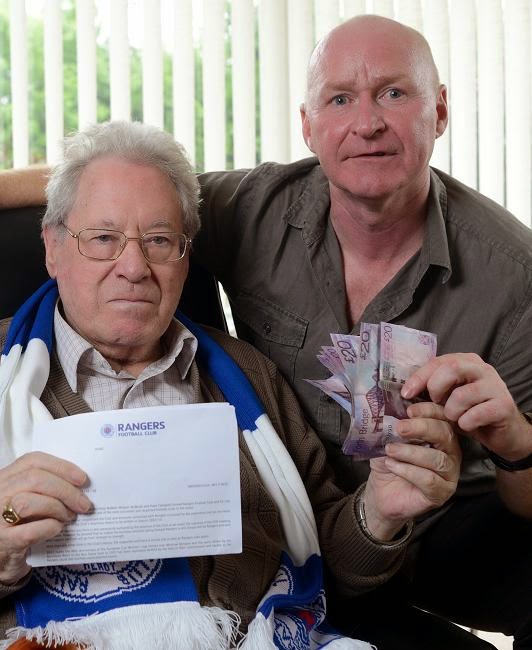 About a year or two ago, John
"Bomber" Brown waded into the Ibrox chaos with two infamous and reprehensible
gaffes.
The first was his embarrassing
Tommy Sheridan-esque "show us the deeds" speech from the steps of Ibrox, where
he had suddenly become a self-appointed judge and jury to Rangers' hierarchy,
and where only his approval of what he might or might not be shown was good
enough for the club and fans as a whole.
The second was even worse. Brown
posed in the Sun newspaper with elderly Rangers season ticket holder Tom Hobbs
in a grotesque image which saw the lifelong fan handing Brown hundreds of
pounds because he trusted him with his season ticket cash over Charles Green.
It was never reported that this money had been returned.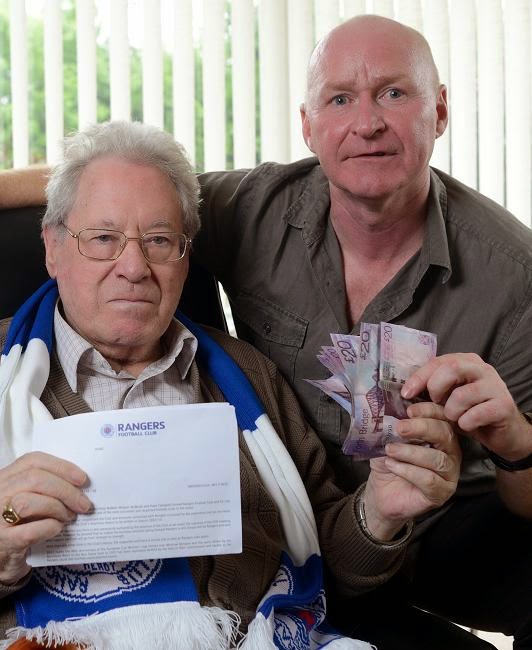 One of these days we might hear he got this money back.
The moral of this story is
simple; ex-Rangers players should never ever get involved with the politics of
the club. They either end up looking foolish, naïve, or they get the backs up
of the supporters who disagree with the stance they have taken, which can harm
the legacy of their playing days irreparably.
Even the great Walter Smith
slightly damaged himself with his boardroom and political involvement once he
left as manager. He will always be a hero and a legend, but his displays in the
boardroom and following his ill-fated takeover attempt left a slightly sour
taste.
Which brings me to Richard Gough.
Richard is a good man, a man with honour; but sadly he appears to be another
legend of the club with his finger a million miles away from the pulse and
disconnected from what the majority of fans feel.
Firstly he opposed the Tannadice
ban – if ever a Rangers legend showed a complete lack of knowledge regarding the
supporters' position, this was it. At the time Utd were a big enemy – the lack
of refund from that abandoned game was one thing, their chairman Stephen
Thompson's public condemnation of the Ibrox men quite another. Whether the ban
was right or not was irrelevant, it was the stance Charles Green took and fans
were quite happy with it.
In condemning the ban, Gough showed
his naivety:
"If supporters want to support their team,
they should have the right. I don't think the head of the club should come out
and say we're not taking tickets."
This might not completely wrong,
but it showed another Rangers legend well out of touch with Rangers fans and
what they wanted.
Now, sadly, he has got involved
again, this time with the Union of Fans Trust plan backed by his personal
friend Dave King. The idea for the UoF is that with such a trusted legend
supporting their cause, it will encourage supporters to buy into their scheme.
Regular readers of my blog will know I am not in favour of any plan which could
kill Rangers, and withholding season ticket cash is certainly one of those
plans. However, that is irrelevant to this piece.
What matters is that once again
Gough, like so many legends before him, has picked a political horse to back,
and this is an increasingly troubling precedent. In this case it is most likely
influenced by his ties to King, which does suggest he is easily led, but that
really is not the point.
I polled Rangers fans recently to
gauge opinion on UoF's plans. I asked who would be renewing regardless and who
was putting their faith in the scheme. The final figures were nearly 3 to 1 in
favour of renewing their season ticket.
So the fact is the majority of fans do
not subscribe to this scheme, yet here we have another club legend wading in
with his size 11's and taking a stance. You could admire him for doing so, for
having the cajones to stand for what he believes in, or you could say he is out
of touch and just doing a favour for a friend.
And just like John Brown's
shambolic escapade with Mr Hobbs it once again sees fans having to invest their
own cash in something they cannot be sure of.
No wonder the majority ignore it.