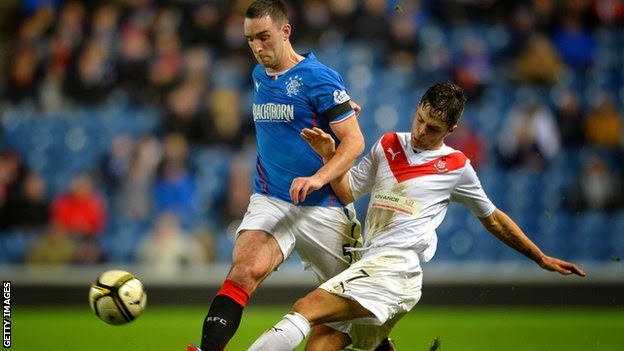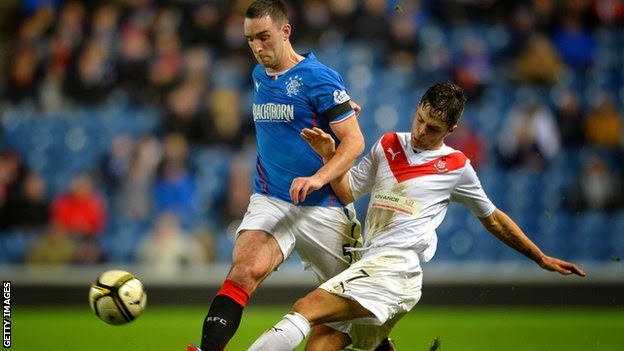 Very rarely have Rangers fans
feared a transfer window as much as they did this one. Yes, the January 2012
equivalent was not miles off, with realised fears of the departure of star
striker Nikica Jelavic, who of course did move onto pastures new at Everton on
deadline day itself. However times have changed, and instead of losing a star Croatia striker to one of England's top
clubs Rangers fans instead feared 2014's winter window for the potential loss
of left back Lee Wallace.
Wallace is without doubt Rangers'
most coveted trophy – on the fringes of the national team due to his employers
being in the Scottish lower leagues, Wallace is easily the best Scottish left
back around, albeit, being realistic, that position is pretty slim pickings for
Gordon Strachan. Wallace's contenders are Phil Bardsley and Steven Whittaker.
Both of them are naturally right backs and Whittaker in particular is very poor
on the other side; but both play in the English Premier League making them more
likely to be selected.
As mentioned though, there is no
competition among his countrymen where it comes to natural left backs. Wallace
is miles and away the best this country has.
Consequently Rangers fans dreaded
this window, especially with not only speculation about Wallace's future but
confirmed bids received from English Championship cracks Nottingham Forest.
Wallace's namesake CEO Graham dismissed all Forest
bids, reported to be anywhere from £500,000 to £900,000. It was further
reported that the Ibrox club had placed a bounty of £1.4M on his head, and while this
was never officially verified, Forest's
failure to capture the maurauding full back at £900,000 suggests the claim
holds some water.
The bids they meted were
rejected, and they went onto pastures new, capturing ex-Celt Danny Fox for that
position on loan.
Once deadline day passed, and
fans breathed a sigh of relief, Wallace himself provided his thoughts on the
whole affair:
"It was easy to
ignore all the speculation. That's just the type of guy I am. It's just Rangers
for me and always has been. You obviously hear about the speculation, but I was
just solely focused on Rangers. If a bid
had been accepted I would have dealt with it, but now I'm just delighted I
can play my part in helping the club move up the leagues and getting us back to
where we belong."
Wallace has received a great deal
of praise, all deserved, but it really must be accepted that he did not reject
any move, Rangers dismissed the bids instead. As highlighted above, who knows
what would have taken place had a bid been accepted.
As it is though, Wallace has done
nothing but conduct himself with utter dignity since joining Rangers. He took
the 75% wage cut, under duress or otherwise, he willingly transferred his
contract over to Rangers International Football Club plc and he has now
publicly, again, sworn his future to the club.
Without any doubt Wallace wants
to be part of Rangers in the SPL again, and he has sacrificed a great deal to
achieve that. This transfer window aside, like McCulloch and Alexander, he was
a high-profile player who stayed loyal when the supporters truly needed it, and
that kind of commitment will never be forgotten. Manager Ally McCoist, himself not a stranger to such loyalty, will be absolutely delighted to have held onto his star man.
Fans admitted they would have
been 'gutted' had he left this window, but no true Ranger would have begrudged
him the move to a better league given what he has given this club in such a
poor one.
Admittedly also the financial
loss of around a £1M is not exactly ideal, and leaves the club still bereft of
income. But, for once, let us try to forget the depressing off-field nonsense
and focus on the fact we kept our best player despite bids received. Indeed,
hats off to CEO Wallace for not buckling at such miserly bids (as old regimes
used to), because clearly the player is worth at least £2M+.
Lee Wallace, and Graham to an extent
– thank you.