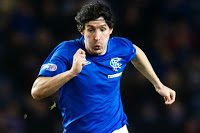 Earlier this week news broke that Rangers striker Francisco Sandaza had unwittingly been exposed by a radio phone-in, with the phone call made by 'Tommy in Glasgow' being recorded and uploaded to various social networking sites. Initially there was confusion regarding whether or not this call was a Sandaza impersonator and the entire thing a hoax, before news emerged in the press that this had indeed been the Spanish forward and notorious Celtic supporting 'shock jock' Tommy had managed to illicit some uncomfortable information the former Dundee Utd star would have preferred to have kept confidential.
These details included his significant wage, and the fact he would not have signed for Rangers had he truly understood the level the club was playing at. He admitted money was a major cause in his decision to join.
After this call was confirmed as legitimate, Rangers took the dramatic step of suspending the player from the club's operations until further notice:
"Francisco Sandaza has been suspended by the club pending an investigation into comments made by the player in a recorded telephone conversation. The club, Francisco and his agent have had discussions and manager Ally McCoist also spoke with the player, who did not take part in today's training session. Francisco will not return to the club while the investigation is underway. Rangers regard this is an extremely serious issue but there will be no further comment until the inquiry, which could take a week, has been completed."
These revelations have shocked many supporters, but breaking it down, is it even as remotely as awful as it appears or has Sandaza truly been exposed as a mercenary who does not have any affection for the club who employs him.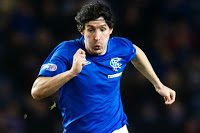 Sandaza's time at Ibrox has not been plain sailing
First off, it is imperative to be as fair and impartial as it is possible for a supporter of the club to be; to expose the facts as they exist and not as part of a pre-ordained agenda against the player who has never truly won supporters over.
As such, let us look at all sides of this unsavoury affair. What is clear is Sandaza joined Rangers for the money and for a comfortable life:
"I have been playing all my life to get a good contract for me and my family, so that is why I signed here. I wanted a contract that solved my life."
As a supporter the above reads quite negatively. All he wanted was money. Problem is exactly what is the issue with this aspect? Do we all not want to make our lives comfortable and the same for our loved ones? Yes, it is not nice to hear a player does not dream about his employers in the same way a fan does, but it is the harsh reality of football. Players want the best deal they can get.
He further affirms his intentions here:
"I signed for the money and because they are a good club."
Is this really that bad? Player in 'wanting to join a good club who pay well' shocker!
He makes it 'even worse on himself' here:
"The money is good. The club is amazing – itis a very, very big club – and the supporters are amazing."
The supporters currently smearing Sandaza for what he has said in this phone call are the ones he is praising. In this phone call. Is this a case of hearing what you want to hear and ignoring the inconvenient truths?
Francisco added his desire to leave if offered something better:
"Obviously if I get a better league and more money I would go."
Again, I am struggling to object to this. The third division is horrible and even high-quality SPL-level stars like David Templeton, Dean Shiels and indeed Francisco Sandaza are not performing as we know they are capable. So is there really anything criminal in him admitting this to be the case? Or is it only acceptable for Charles Green and the supporters to be desperate to leave the country for a better league and not a player who is 'caught' saying the same thing 'off the record'?
"I didn't sign for the level, I signed for the money. I'll get another contract after Rangers."
Would any of the players Rangers signed last summer have joined because it was Division 3? And I also struggle to see the problem with Sandaza planning for life after the club. Presumably fans would prefer any player who leaves Rangers to end up out of work and not playing the game? Does hearing the notion of a player saying they will move on after their contract has expired truly offend supporters?
Looking at the content of this call, the only thing Sandaza has truly been guilty of is stupidity, and being gullible enough to share his innermost thoughts with a conman.
Reality is just about all the players who signed last summer did so for the money. It is my understanding that even Rangers fan Dean Shiels did so, with his father Kenny admitting on Sportscene that his son just wanted the money for his family. I was reliably informed of this by a fellow good supporter with no reason to lie so I am inclined to trust them.
Sandaza is not the first who will move for money – he will not be the last. The flak he has taken over this is harsh, but it is also harsh reality hitting home to fans.
Welcome to modern football.