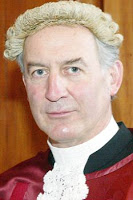 'Cheats'. 'Liars'. 'Criminals'. 'Tax
dodgers'. Ah, the list of accusations levied at Rangers since Craig Whyte's
tenure turned sour goes on and on. All and sundry have pointed the finger at
the club, with the slightly amusing moniker of 'Big Bad Ranjurs' being taken
100% seriously.
As this blog has commented on
more than once, it was as if all Scottish football's problems were being
transferred to Rangers and the Govan club being blamed for every issue
afflicting the game north of the border. This even translated to social
castigation, with blame being proportioned to the Ibrox institution for the
majority of Scotland's
social aberrations. So many in the media targeted the club and carried out
nothing short of a witch-hunt on it, and this abhorrent behaviour was not just
isolated to the Scottish media.
Channel 4's Alex Thomson famously
mounted the anti-Rangers bandwagon and decided to investigate 'financial
mismanagement' at the club – which was his cover for attention-seeking attempts
to turn Rangers' plight into a promotion for his own career; fuelled by lies,
condescension, bias, and a complete absence of facts.
So then, let us take a look at
the two occasions where Rangers have ended up in court and appraised by law –
after all, given the accusations meted at the club, it was inevitable that
McCoist's men would have to answer to PC Plod eventually.
And they did. The first notable
occasion related to the quite preposterous transfer embargo the SFA inflicted
on the club as a result of administration. So taken aback by this action were
the club that they took it to court. Surely banning them from making any
signings for a year (on top of the £100,000 fine) was an absurd course of
action. And Lord Glennie, in a court of Scottish law, agreed. The judge overruled
the action stating the SFA did not have the power to enforce it. Rangers had
been vindicated, but even though the law of the land had ruled the SFA to have
taken action outwith their jurisdiction, Stewart Regan ignored it. Quite
simply, screw the law – if you want to play football again in our country, you
obey our ridiculous sanctions.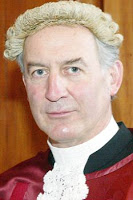 Lord Glennie
But of course, this was a
precursor to the gargantuan news of Tuesday. As we all know, Rangers have been
fighting the 'Big Tax Case' for years. HMRC were absolutely convinced Rangers
had dodged the taxman via use of EBT transactions, and everyone in Scotland
outwith the club and a few select journalists agreed.
For the past few years and
particularly post-Whyte, Rangers have been accused of cheating their way to
titles, to paying players with money which had belonged to HMRC. In effect,
Rangers were 'guilty' of tax evasion.
The BBC's Mark Daly won a
Scottish BAFTA for his 'investigation' into Rangers' tax affairs, programmes
which categorically painted Rangers as 100% guilty of everything they had been
accused of. Of course, it referred to the old company, but the club as a whole
was being tarred with the brush the majority were using.
A blog, dedicated to 'exposing'
Rangers' tax crimes was even set up, one which monitored this blog and smeared it as full of lies.
But on Tuesday, after years of
waiting, the outcome which would prove Rangers' crimes came out and showed
Rangers to have been guilty of everything Celtic, Scottish football, the media
and everyone else had been accusing them of.
Except, of course, it did not. In
a court of law, as deliberated and analysed by a truly independent tribunal (hear that word 'independent', Regan?),
Rangers were cleared of everything.
The entire tax evasion accusation was thrown out and these EBT transactions
were shown for what they were; completely legal.
The huge near-£100M tax case
instantly caved to nothing; the RTC blog got deleted, sensible journalists
could not resist a 'told you so' to the majority of the Scottish media, and the
angst from Pacific Quay with their 'former' and 'new Rangers Football Club'
swipes on Reporting Scotland were a picture of amusement.
Rangers won. All those years of
accusations of 'tainted titles' had been crushed; the club 100% vindicated,
once again, by a court of law.
The two times Rangers ended up
judged by the law, the Ibrox side came out smelling of roses.
Never before in Scotland has a
persecution been so vehement and unjustified. All us bloggers who preached
about Rangers' innocence and lack of evidence of wrongdoing can now smugly
point the finger at our enemies and expose their lies for what they were:
unfounded, baseless accusations aimed at an easy target without merit. Quite
simply, it was tantamount to bullying.
Alex Thomson: will you investigate Hearts now? Will you go after
Mad Vlad and his non-payment of PAYE and NI? Will you investigate their 'financial mismanagement'? Oh,
and is there any chance of an apology to Rangers at all?
Mark Daly: you refused to show your evidence on screen because you
did not have any. You happily showed
emails proving things we already knew, but you refused to show on camera the
hard evidence proving tax evasion and the illegality of Rangers' use of EBTs.
Because you had none. Any chance of an apology from you?
Phil Mac Giolla Bhain: you wrote a book illustrating the big bad
Rangers and the reason for their 'downfall'. 'The truth' you called it. Any
chance you might apologise for the lies you espoused?
Brian McNally: you joined the rest of the lynchmob. You threw
around the same nonsense based on petty hate of Rangers and your adoration of
Celtic. At least you admitted Rangers' fans did not sing the famine song, but
will you admit the club did not break the law too? Any apology?
Graham Spiers: ah, Chris Graham exposed you on national TV for the
liar you are. I will leave you alone!
Rogues gallery – can you name them all? One image has a clue!
There are others who I have
probably forgotten, but it is clear, with the victory in both cases, Rangers
have been 100% exonerated. No more 'tainted' titles, no more 'tax evasion'. Of
course, it is all sadly and criminally too late and the club ended up immorally
banished to the third division. But Rangers fans can hold their heads high and
be proud of their club, themselves, and their players. We are honest, our club
is and always has been honest, and it was high time this was exposed.
Thankfully, it is now high time.
Doubt Mark Daly will hand his
BAFTA back though…