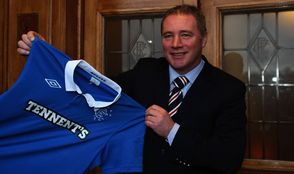 It is a distinct taboo at Ibrox
to discuss manager Ally McCoist's position. Any criticism of perceived mistakes
or poor tactical selections leads to angry exchanges between supporters,
between fans who consider McCoist beyond reproach due to what he gave the club
in the first half of this year, and those who would dare point out said errors.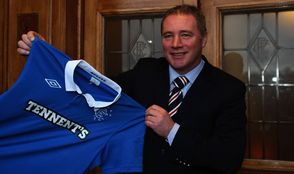 We will always love this man, no matter what happens.
Twitter is often full of angry
tweets after a bad result suggesting that anyone who criticises or wishes
McCoist to be relieved of his position could kindly find another team or
'depart gracefully'. Indeed, there seems to be an increasing divide between
supporters; those who remain astutely loyal to McCoist regardless of results on
the pitch, and those who feel they have the right to question his managerial
choices.
It is a worrying trend.
Who is correct? Are the steadfast
fans quite right in shouting down any criticism given McCoist is a club legend
who grew to God-like iconic status during the dark days of administration and
deserves much more slack than other managers, or are those who wish to question
his formations, selections and coaching prowess doing the right thing?
It is hard to know where to start
with this one such is the incredibly freakish nature of the circumstances the
club now finds itself in. So the arguably most relevant direction to go in
would be his managerial performance during the periods where the club was not
in any serious trouble. Effectively July 2011 to February 2012 and July 2012 to
the present day seem the fairest places to explore. The first thing to point
out is as a rookie manager in his first season McCoist always deserved some
time to find his feet, especially after the club was dismissed from Europe in
such a poor manner to Malmo then Maribor. Domestic competition was all McCoist
had left by this point, and until the injury to Steven Naismith in October
2011, the team was absolutely flying.
Somehow, McCoist had found a
system which got the best out of the majority of the players, but which did
overburden itself on the aforementioned Naismith whose importance simply grew
and grew until it became clear Rangers were a one-man team. After his injury
the performances caved in, results became patchy and inconsistent, and Celtic
overhauled the vast gap between the two. McCoist had tried everything he could
to fix the absence of the Scottish international, but he had been unable to
succeed. Signing Sone Aluko, adjusting team selections and formations, trying
new slots for players – none of it worked and Rangers were on the slide well
after Christmas.
The signing of this man last season failed to stem the bleeding.
This was significantly before
administration.
We now leap forward to this
season, and the side's home domestic form has been mostly imperious with some
huge scorelines enjoyed at Ibrox. This level, however, has not been replicated
on the club's travels, with no victories picked up at away grounds.
Be it attitude, tactics, formation or sheer effort, the side has been found
thoroughly wanting away from Ibrox, and the situation significantly worsened
when the SFL-exclusive cup tournament the Ramsden's Cup came to Ibrox in the
form of second division outfit Queen of the South who not only held Rangers to
a draw in Govan, but prevailed on penalty kicks. It was a very, very dark night
in the club's history on the pitch. For the first time this season the away
form had enveloped the home displays. After the previous trip to Annan which
yielded a 0-0 scoreline, it had been assumed the imperious home form would
return as has been the pattern this season. But it did not, and a stale and
turgid performance which even saw the home side go behind resulted before being
kicked out the cup.
Unsurprisingly the infighting
between those who blindly support McCoist and loyally give him infinite time
and those who feel they have the right to criticise started in earnest.
Having explored the general
debate and the results which have led to it, I feel it is only right I now
express my opinion on this issue rather than copping out with a neutral
conclusion.
I fully understand the reasons
for sticking by McCoist, and I agree with them – the man sacrificed nearly
everything for Rangers, and gave more than anyone ever has (bar those we lost
in the disasters) in the name of the club. That does undoubtedly earn more
breathing space than would be normal. However I feel that when someone dares to
criticise anything about McCoist, it is wrong to tell them to find another club
or to 'depart gracefully'. No one is above constructive criticism. Not even
Ally McCoist. If he makes a mistake on the pitch, gets a selection wrong, uses
the wrong tactic or chooses a bad starting XI, supporters, who still love the
man, are allowed to make constructive observations about it. It does not mean
they hate Ally McCoist, it just means they love Rangers.
Of course, those who go further and
use expletives to express their disapproval of him, making it personal, are not
helping anyone, least of all themselves. That is not welcome criticism in the
slightest.
But McCoist himself has publicly
stated, very honourably, that he should now be judged on results, and while he
accepts the administration period does make his position slightly unique, at
the end of the day, he would deserve criticism if things do not go Rangers'
way:
"I believe I'll get as hard a time as
any manager will get if I don't get results. I don't think for a minute I'm not
going to get any stick if we don't get results. Obviously fans will look at
different scenarios within a manager's remit in the period he's at the club.
That aside, I'm duty bound to the supporters and the club to get football
results and get us out the division, and that's what I intend to do. If I don't
do that I'll get as much stick as the next man. Our target this season is to
get promotion. If we don't do that
there'll be a big disappointment – a massive problem."
With the club lying in a very
disappointing fourth place with only 9 points amassed from a possible 15,
McCoist is correct to express potential concern. Both about the club's position
and his own. Failure to be promoted from a one-horse race would be disastrous.
Today's match against visitors
Montrose is a massive encounter. With that vicious away form creeping into the
home dressing room, anything less than a victory will see a huge backlash – we
must hope for Rangers', Ally McCoist's and the supporters' sakes that the
manager and team delivers and a route to 3 points is subsequently found not
only this afternoon, but in the following away matches too.
Ally, it is over to you.