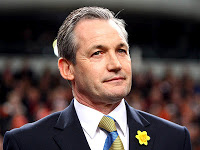 In a break from the usual, I have decided to change my focus this entry from the normal subject of Rangers, and focus on something on a grander scale; that of the 6 home nations; Scotland, England, Northern Ireland, Wales, Republic of Ireland and Team GB. It is a very topical area to look at right now, with Euro 2012 a distant memory and the performance of our home athletes at the London Olympics being so stunning, bar the football teams, and as such it really does throw up a great deal of debate.
Let us start by profiling, briefly, the position of each team before making a radical proposal; the concept of abolishing the national teams of these isles and putting all our energy into club football.
Scotland. As a Scot, I am fairly familiar with the activities of the national team, and even more so of the association which governs it. Quite simply, the state of the national game, and strictly speaking the national side which represents it is absolutely chronic. Diabolical does not begin to cover how poor the condition of Scotland's national team is.
Having failed to qualify for a major championship in the last 14 years, despite a temporary rise under the mercurial management of Walter Smith and then Alex McLeish, the national team has been in terminal decline for well over a decade. The Brown era (which included qualification for Euro 96 and World Cup 98) ended with sights on radical change and the descent into turmoil began. Berti Vogts transformed the team from average to aghast. His successor, Walter Smith, saved the team and achieved miracles, as did Alex McLeish following him, but since the truly pitiful George Burley regime, the team has deteriorated.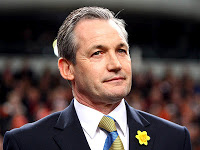 The Stewart Regan of international football management.
Admittedly current manager Craig Levein has not quite achieved a level of laughing stock, but his side is stuck in a rut of no growth – the former Hearts player does not seem to know what he is actually doing, and compounds it with regular contradictions and hypocrisy. His latest oddity is admitting he would not pick Rangers players if he had a fit squad. In other words, Lee Wallace and Lee McCulloch, after having been capped for their national teams several times, are suddenly inferior players now they are in the Third Division. Call me mad, but is Carlos Bocanegra now suddenly not fit to captain the USA? Is Dorin Goian suddenly not good enough for a similar role with Romania? He has picked Ian Black but then insults him by saying he would not get in if others were fit. Classy work Craig!
I am not even going to touch on the atrocities that are the SFA, it has been said all before too many times.
England
. They are often called perennial underachievers, that they let their country down at the big events. The problem is England were never very good in the first place. They won the world cup in 1966, but the best teams in their history were that one, then 1996 under Venables, and 1990 under Robson. Since then they have been in a similar state of mediocrity as Scotland albeit on a higher scale. If that makes sense. Every tournament they go in as big-hitting England, and then proceed to fail every time. Indeed the Euros this summer was the first time there was little expectation – and even then the side could not deliver. The problem with England probably coincides with
the growth of their premier league. 1996 was the last time England were good, and that around coincided with the Premier League and Sky's big TV money bursting onto the scene. The league became saturated with quality foreign big-money buys, and home-grown talent of the standard of yesteryear faded into the scenery. The league became more important and valuable than the national team. Examples supporting this are Spain and Italy, the Euro finalists. Arguably the strongest 2 other European leagues historically, their big teams are mostly dominated by native talent – Barcelona and Real Madrid have plenty of world class Spanish players, and Milan and Juventus had many many representatives in Ukraine's Italian contingent.
This is not to say these leagues do not have foreigners in their ranks, they do; plenty. But there is not the saturation of England's top sides. Chelsea and City – the CL and EPL winners respectively – the key England players here are Lescott, Richards, Hart, Barry, Milner, Terry, Lampard, maybe Sturridge, Cole and Cahill. Not all of these always play, and the rest of the teams are entirely big money continental purchases. There just is not a depth of world class talent for Roy Hodgson to get his teeth into. And every new tournament is another failure for them.
Poor Roy has no chance.
Ireland. Their embarrassing showing this summer was pitiful. Since records began, their results were the worst ever at the Euros. Trapattoni did work miracles getting this side to Ukraine, but they were horribly out their depth. There is a mitigating factor that their group was vicious, with Croatia, Italy and Spain alongside them, but since their impressive showing in USA in 1994, Ireland have achieved the grand total of 1 win at a championships; that being Japan in 2002. They did manage to get there at least, but departed with only a 12th place finish to their name. Despite some decent players such as Robbie Keane, Damien Duff and Shay Given (now retired), they are another national side going nowhere.
No wonder he retired.
Northern Ireland. Quite simply this nation has achieved absolutely nothing of any note in national football, pretty much in its entire history. It has made the world cup 3 times, but not since 1990 have they qualified for any significant championship. It is a small nation, and a proud one at that, but not one which produces many great footballers.
Wales. Have achieved even less than Northern Ireland, with 2 qualifications for the championships in their entire history, and absolutely nothing since 1980. Whatever you think of Ryan Giggs as a man, it is a shame for his football career that he never got to represent his country on the bigger stages. Despite actually having a reasonable current squad with the likes of Gareth Bale, Craig Bellamy, Joe Ledley, Aaron Ramsey and Robert Earnshaw, Wales are just yet another home nation going around in circles.
Team GB. Contrived for the purpose of representing Britain at the Olympics, they were the very symbol of the underachieving home nations. Struggling against Senegal, they went onto struggle against UAE despite the flattering scoreline, before scraping a win over Uruguay then eventually losing on penalties, as usual, to South Korea. A team with the likes of Micah Richards, Daniel Sturridge, Craig Bellamy and of course Ryan Giggs could not overcome a fairly ordinary South Korea team.
If she'd played for the womens' team they might have had a chance.
What does all this teach us? It suggests to me at least that the home nations are saturated with players who utterly underperform at national level – who do not produce when it counts. Even given home advantage, the football team could not even come close to emulating what the England '66 or '96 sides managed. The massive number of gold medals hauled by British athletes was mindblowing; even Andy Murray, normally just off overcoming the big 3 in tennis was able to do so this time, thrashing the mighty Roger Federer to win Olympic gold. Ennis, Farah, Wiggins – incredible athletes who did it when it counted.
But the footballers this country have produced do not seem to be able to do likewise. As I alluded to, a strong reason for this is the influx of foreign talent, a problem which does not apply to most other sports. But it also does not excuse the superb home-grown players who do make it – and then fail to achieve anything with their national setups.
Great Britain made its choice in the 90s – club football is what every fan on these isles lives for. There is the pride of their country too, but Britain is just better at club football than national – and for that reason I stand by my proposal of abolition of the national teams. They are going absolutely nowhere and that is never going to change. Scotland is a backwards football nation, England struggle to achieve what they feel they should, Wales are way better at rugby, ditto Ireland, and Northern Ireland should have low expectations anyway given its size. As for Team GB; a complete waste of everyone's time.
I cannot bring myself to support Scotland such is the shambles of the national game, and the rest of Britain, as mentioned, also has reason to be disappointed by their national sides.
Maybe time to give up?