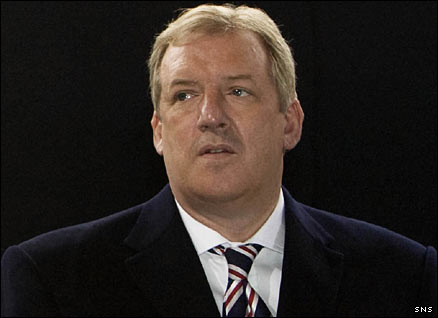 On the 13th of February, it was announced that Rangers had lodged legal papers 'signalling its intention to go into administration'. This was, naturally, news which broke the hearts of millions of devout supporters globally, and brought about a general feeling of incredible shock. The notion of administration had been banded about loosely at the tail-end of Sir David Murray's tenure, but it had never been spoken about as an 'inevitability'.
Not until Craig Whyte took over.
There appears a general notion among fans to discuss what led to this point. Many blame SDM for his fiscal irresponsibility and debt accumulation during the Advocaat era, along with the 'dubious' use of EBT schemes. The two problems with this area of blame are; firstly the massive debt from this period was actually cleared almost entirely to the level of £5.9M by late June 2006, and secondly the big tax case resulting from the EBT scheme is complicated at best given these schemes are completely legitimate. They can indeed be unscrupulously used for tax evasion, and that is the case HMRC are using, but it is extremely difficult to prove Rangers did this.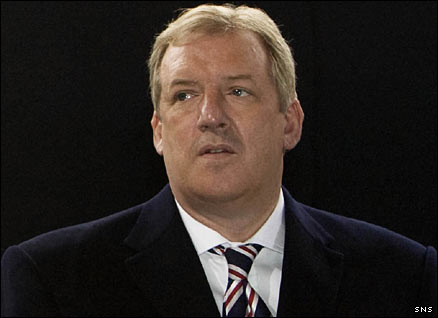 He's no innocent, but he is not responsible for administration.
So neither of the above meant a slippery slope to either administration or liquidation for certain. Indeed, the club could quite happily have continued on with the tax case being settled quietly given HMRC do not have the strongest case. If, that is, Murray had managed to sell to a benevolent individual with the club's best interests at heart. Instead, he sold to Craig Whyte.
The manner of the takeover itself was shrouded in smoke and mirrors. Whyte, an entirely unknown commodity, had sprung from nowhere; a supposed lifelong Rangers fan:
"Obviously I'm a massive Rangers fan and have been since I was a boy. I'm here first and foremost because I'm a Rangers supporter. I also see a great opportunity and think that Rangers can be a great worldwide brand. I believe there are many commercial activities that can be expanded on."
He purchased the club for a symbolic pound coin, and then supporters, furiously looking for information on him, found themselves struggling to clarify anything about his past. With assets rumoured to be worth £1B, it was absolutely extraordinary that so little concrete information could be acquired. The only thing which seemed to be reported was his company 'Wavetower' had taken on the £18M debt the club was now in thanks to the second Walter Smith era and changed its name to "The Rangers FC Group Limited". This company, based in London, was created for the sole purpose of owning Rangers. But quite who its personnel might be is unknown.
I'd add a pair of horns but I'm no good with Photoshop.
Then the press started to investigate and Whyte's shady past and dubious credentials became exposed. The BBC in particular, and Mark Daly, investigated Whyte, tracking him to Monaco and exposing his ethically questionable operations. They went as far as to suggest he may have been guilty of criminality, and as a result, not only did Whyte withdraw co-operation with them, but Rangers fans felt this confirmed the BBC had a vendetta against the club.
Unfortunately, what has surfaced since has just about vindicated the BBC, and we supporters now know Whyte engaged in illegal activity. While at Rangers.
It is why we are in administration.
His systematic and deliberate retention of income tax, or PAYE, which was paid by the players in good faith, but not forwarded to HMRC by Whyte, is the single sole reason the club is currently in the mire. When the tax man got wind of the near-£10M which Whyte had kept from his entire tenure as Rangers owner, they were determined to take action and force the club into this situation. Whyte managed to appoint his own men for the club, within the deadline, those men being Duff & Phelps, which supporters regarded as a small victory, but that action rings hollow now.
Furthermore, the amount of PAYE was not just the £9M initially reported, but closer to £15M.
It is genuinely staggering to consider the criminal activity Whyte has undertaken, and the scale of it. It is categorical tax evasion – something Harry Redknapp and Milan Mandaric were both on trial for but cleared of. Whyte has kept millions of government revenue in his back pocket, and surely he will stand trial similarly in the future as a result. If there was no case for tax evasion, we surely would not be in administration.
The destruction one man has brought to Rangers is almost unfathomable. But what is equally astonishing is HMRC themselves do not intend, for the moment, to bring him to court over the PAYE disgrace, considering it, for now, tax avoidance:
"Our position is that the PAYE and VAT have not been paid but they have been accounted for. In other words, there are records there which say that Joe Bloggs has been paid so many pounds and tax has been deducted. So, because that record is there, it's not a fraudulent act, in the same way that not paying your electricity bill will not result in a criminal case against you – you'll simply have your electricity cut off."
This stance is absolutely baffling. Redknapp and Mandaric stood trial for amounts barely touching £190,000, yet Whyte appears to have escaped without any punishment for an amount approaching £15M. It seems that Whyte's done nothing more serious than forgetting to pay his energy bill.
Why did he do all this? We will never truly know. Just as we still do not fully comprehend his background.
Maybe it is best we never do.