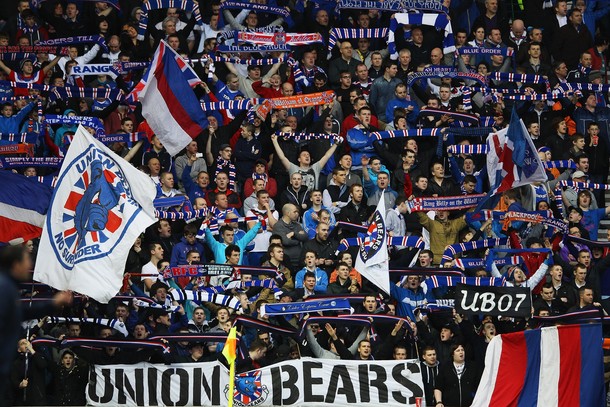 Since being plunged into administration on Valentine's Day (not much love shown there), fans have been subjected to a barrage of bad news. Every day appears to wreak new revelations about the running of the club, mostly focusing on claims that particular avenues of the business have been nigh-on illegally conducted. From owner Craig Whyte's reported retention of PAYE tax, to fresh allegations that some players have been employed via simultaneous dual contracts, undeclared, rather than the legal sole contract which is registered with the SFA.
There have been, effectively, two positives in the past 3 or so weeks. One was the inspirational display at the Caledonian stadium – a 4-1 romp which saw 3 youth players particularly excel and some very fine goals scored, particularly Aluko's. The other has been the galvanising conduct of the manager and fans, McCoist with his dignity and leadership plus rallying cries, and the supporters who have not walked away and have packed out Ibrox twice since administration took its grip. Overall this is not really a great deal of positivity, but it is something. Because the stark reality, and the purpose of this blog, is to explore the future, the potential outcomes of the club's current plight.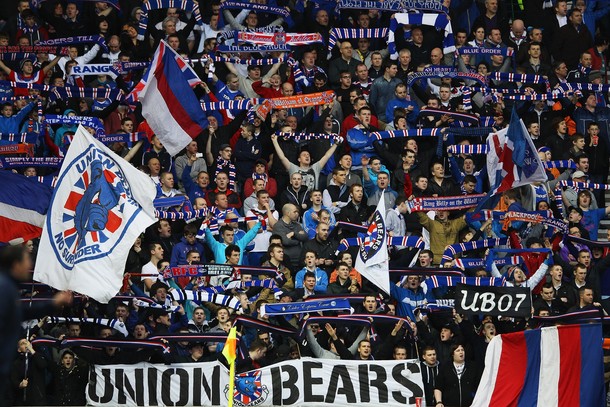 Those supporters packing out Ibrox again.
There are a number of eventualities to prepare for, and I will illustrate my interpretation of what I believe they are.
First off, I will get it out of the way and go for the worst case scenario. The worst case scenario, as we all fear, is that of liquidation, asset stripping and the end of Rangers FC as we know it. It is the worst fear of any club going into administration, which, in layman's terms, means a club (or indeed any business) is unable to financial sustain itself and requires stark cost-cutting measures. The problem arises is once the administrators engage in finding these methods to save cash, they struggle to achieve it. This appears to be the sad fate of English side Portsmouth, who find themselves on the edge of an abyss and staring oblivion in the face. Rangers, mercifully, have not as yet encountered this catastrophe, but Duff & Phelps have stated a shortfall of around £4.5M is bleeding through the club, and this gap has to be plugged. Effectively, Rangers require to save £1M a month up till around June – and if this is not achieved, by hook or by crook, (on top of the tax case) the worst case really is the end of Rangers. A winding up order, caused by a failure to retrieve the financial leaking and an inability to settle the HMRC case. At the start of administration Paul Clark announced that this scenario was unlikely, but of course that was only an (admittedly educated) guess. The club could still go out of business altogether, and it is not a fantasy to state it. A phoenix club may well rise as a result, but that is for another debate.
Paul Clark of administrators Duff & Phelps.
The second scenario is a little better. The club remains afloat, and through vicious cost-cutting, such as mass redundancies throughout the organisation, manages to supply the shortfall and save the required £1M a month. The tax case gets settled (almost certainly not for the amount HRMC want) and the club finally emerges from administration around the summertime, battered, bruised, and with a pretty young and threadbare squad, which would have struggled to get second place in the SPL. Most likely a third or fourth place finish, and of course, no Europe. It may well have had to sell its most valuable players like Naismith, Whittaker, McGregor and Davis in order to sustain a potential new lower wage structure, unless said individuals were content with a massive wage loss. Another alternative is said players would have been sold in order to contribute towards cost-cutting and generate revenue to settle the tax case. Where Rangers would go from there is unknown, and it is an equal mystery to me whether Craig Whyte would still be around in this situation.
The villain of the piece?
The third scenario is the second most optimistic one. This sees mass players negotiate new contracts and lower wages, and the vast majority of the squad manages to stay with the club. Redundancies overall are kept to a bare minimum, and the wages combined perhaps with the sale of one or 2 players see the financial holes plugged. The tax cases are negotiated and Rangers succeed in settling them for vastly reduced amounts. The side clutches onto second place, and the 31st of March deadline for Europe is somehow clinched, and Europa League qualification is assured.
The final scenario is scripted for Hollywood. A sugar daddy, be it Paul Murray's consortium, Brian Kennedy or anyone else rides in on a white horse and literally saves the day. From their reserves, they plunge vast amounts into the club, saving it from administration, settling the tax case and even giving Ally money for players in the summer. The sun shines above Ibrox once more and Lionel Messi joins from Barcelona. Well, I did say it was scripted for Hollywood.
Maybe Rangers need a little intervention from here?
Of course, everything I have just compiled is naturally my own guesswork, as is any scenario anyone else composes. We cannot truly know what scenarios await our fate, and anyone claiming to have a crystal ball on this one is lying.
We are powerless as to the fate of the club, but we have strength as a support and belief in one another that one way or another, Rangers will never end absolutely and will survive to one extent or another.