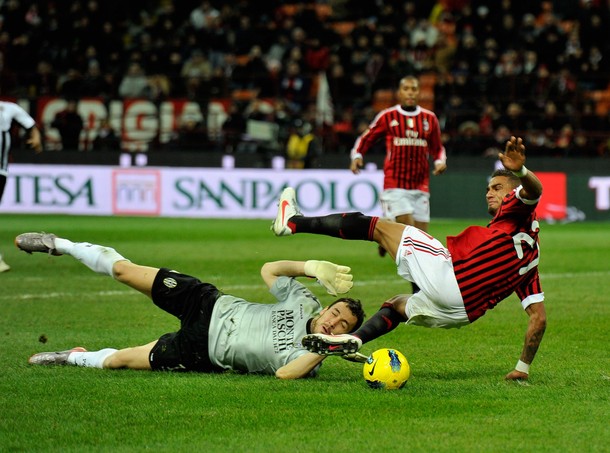 This blog is a Rangers blog, and as such the focal points are always going to be mainly about issues affecting the light blues. However, with my second team being Milan, an incident occurred on Saturday involving former Portsmouth midfielder Kevin-Prince Boateng which bore chilling similarities to one involving Rangers' winger Sone Aluko, which moved me to write this blog. Both incidents resulted in the respective sides being awarded penalties, and both penalties were clinically dispatched.
I am of course referring to that of simulation, which is a polite and politically correct label for diving. I personally prefer to call it 'cheating'.
As a football supporter, I loathe cheating. I despise it when it happens against my sides, and perhaps hate it even worse when a player from my team(s) undertakes it. From feigning injury, to pretending to be assaulted, to blatantly conning the referee in a manner befitting Greg Louganis, dishonouring the game has become more and more prevalent in the last 2 decades, with an increase in cameras at games capturing incidents for greatly inflated scrutiny compared with previous eras.
My recent ire at this act gaining undeserved reward began with Aluko's dive against Dunfermline. There has been much debate about exactly how much contact Dunfermline's Hardie had with the Nigerian, featuring up close pictures depicting possible contact – but the fact that such a level of examination still did not prove anything one way or the other shows how clever players are at pretending they have been felled. Of course the contention is that if it did not prove anything, where is the certainty of the dive? The answer to this is repeated real-time viewings of the incident – none show convincing contact in real time. The fact that match ended as a 2-1 home victory with the penalty having been #2 strongly lends credence to the argument that Aluko cheated to gain his side 2 points. This is not to absolutely condemn Aluko, he did what he felt he had to do for his team, but had it been committed against Rangers the outcry from the Ibrox faithful would have been thunderous. It is plain cheating and muddies the game horribly, taking a great deal of beauty out of the beautiful game.
The second incident to prompt this article was Boateng's act of simulation against Serie A struggles Siena. The Ghanaian's bizarre hurdle over Siena's goalkeeper looked for all the world a blatant dive, and the referee's yellow card came out. Only to my and the commentators' surprise the card was to the stopper, and the penalty was duly awarded, convincingly dispatched as it then was by Zlatan Ibrahimovic. Replays showed zero contact between the midfielder and goalkeeper, and moved me to feel a level of extreme disappointment in the player.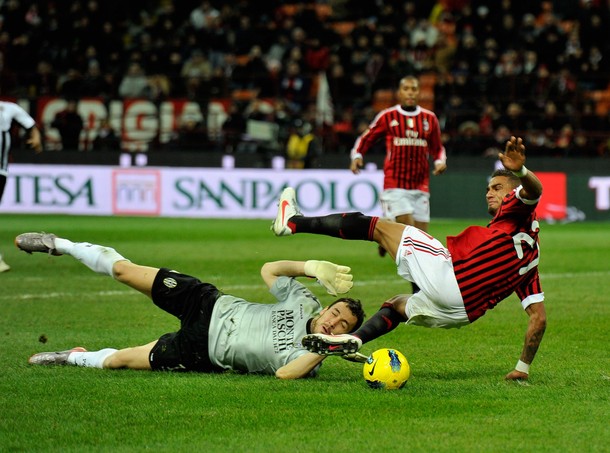 Kevin-Prince Boateng falling to earth.
Some pragmatic supporters suggest that it is the way of the world, that when it happens for you it is in some way condonable, that the player did what was needed to earn his side a point or 3. They add that it is only outrageous when it happens either against you, to cost you 2 points or 3, or in a neutral match where you can be more objective and honest and concede a dive as a dive.
For me, this is not enough. Call it cheating, simulation, a dive or some vile act besmirching the gentleman's game that is football, it is an universally unacceptable way of gaining an upper hand by means outwith the laws of the game. There is nothing honest or noble about cheating.
Does this extend the whole way? If Rangers or Milan were in title deciders in their respective leagues, and Jelavic or Ibrahimovic dived to win a penalty to win the league, would I still be as outraged?
I suppose I am only human…